Safe and Secure
Ecommerce Development Solution
Streamline Ecommerce Process
Deal Efficiently with Supply Chain Disruptions
Move Your Customers Offline to Online
Expand Your Customer Reach Globally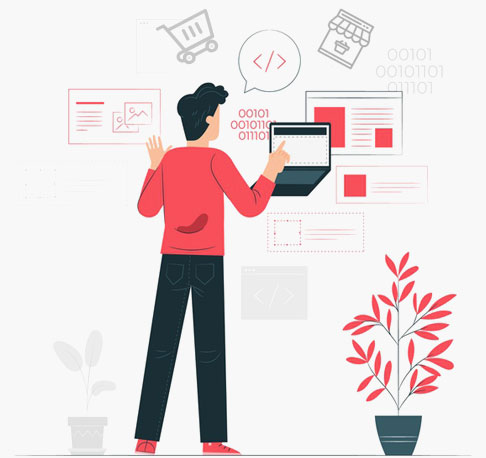 Increased Customer Satisfaction, Sales & ROI
Secure Electronic Transaction Option
Keep Track of Inventory Levels
Scalable, Feature-Rich and SEO-Friendly Ecommerce Solution
Choose the Powerful Platform
for Your Ecommerce Store!
Do you have a specific choice of ecommerce platform? Our Development team can work on all major ecommerce platforms including Magento 1 and 2, Drupal Commerce, WordPress WooCommerce, OSCommerce and Laravel Bagisto. We will glad to provide a custom ecommerce solution with a complete set of admin & management tools to streamline your business. We can also help you to choose Platform for your online store. It all depends on the Complexity of your Online Store, how much number of products, Your Financial Limits, Revenue Goals, Timeline and more.
Ecommerce
Development Service
Build a New Growth and Create a New Future for Your Medium or Enterprise business or Retail Store with Ecommerce Solution. Give Your Brand a vision to the world and go beyond for your business to achieve more.
In Today's Digital World, it requires to adapt the market scenario with changing times. Physical Stores can only serve your customers located nearby. But with the Ecommerce Storefront, it opens opportunity to bring the customers from the world and allows revenue to grow exponentially. We bring the Best Ecommerce Development Solution for Small to Medium business, Enterprise and Corporations with their minimal investment to achieve their goal.
From Ecommerce Store Design and Layout to Complete implementation of your online store, we have years of Experience to make your Online Store successful! A Great User experience, the speed of the website and its responsiveness are just some of the criteria. We take into account all of them and thus turn your visitors into customers.
Whether developing a brand new Ecommerce Website from the ground up or Redesigning an existing Ecommerce Store, our team of experts can provide you an end-to-end Ecommerce Solution from design, development and search marketing services.
We provide Ecommerce and Shopping Cart Solutions that will drive your business moving forward, freeing you to do the work of delighting your customers. We have developed delivery methodologies that are tailored to address specific business processes and workflows for our clients.
All in One Ecommerce
Shopping Cart Solution Capabilities
Module and Theme customization
Shipping and
payment gateway integration
Maintenance and Support
Security Updates
External module Integration
SMS Gateway Integration
SEO friendly Ecommerce Store
E-Mail Marketing Integration
(MailChimp, myEmma)
PCI DSS Compliance
CRM Integration
Site Speed & Performance Compatible with Google PageSpeed
Content Management Capabilities
Promotions and Discount Codes tools to Improve Sales
Import Thousands of Products in Few Seconds
One Page Checkout
Shopping Cart Abandonment to Improve Conversion Rate
Analytics and Reporting
AI Chatbot and Predictive Analysis Tool Integration
Conversion Optimization
Multiple Payment Option
(Credit Card, PayPal, PO, etc.)
Omni Channel Experience
Ecommerce Store Redesign, Re-Platforming or Migration
API Integrations
Compliance and Security
An Integrated Article and Blog Section
Google Shopping and Social Media Shopping
Smart Product Integration
Delivering Full Suite of
Ecommerce Development Service!
Ecommerce Store Analysis and 360° Strategy
A Better Results always requires a Better Planning and Strategy. In order to develop a brief Strategy of your Online Presence, we must first analyse your business, research competitors, audit your website, analyse your current market position, purchase process and targeted customer base. We follow the very first and must step of providing a strong 360° strategy for developing your online store.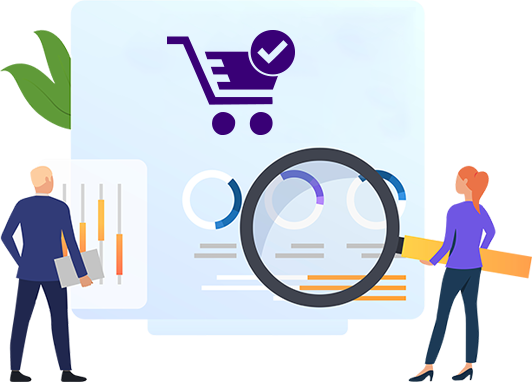 Ecommerce Store with User-Friendly Design
A visually attractive and user-friendly Ecommerce Store is all about to Give Your Customers a reason to come back. A strategic design approach will guide your customers through all steps from searching a product to checkout page. Provide your customers an advanced and great user experience with user-friendly, understandable and powerful responsive design compatible with all devices and the best UI/UX practices.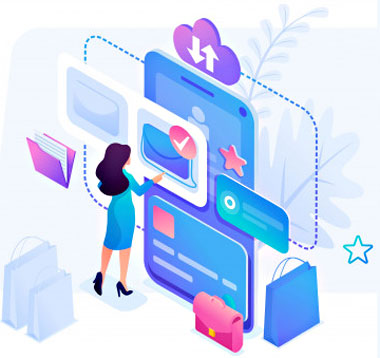 Expertise Ecommerce Store Development & Maintenance
We develop and maintain your Online Store with latest technologies and Ecommerce Trends. We customize your store which saves your time. Our In-House Developers deliver easy to use, support and synchronized Ecommerce Solutions. Even after your Online Store is Complete, we continue to take care of all technical challenges and Increased Sales Objectives.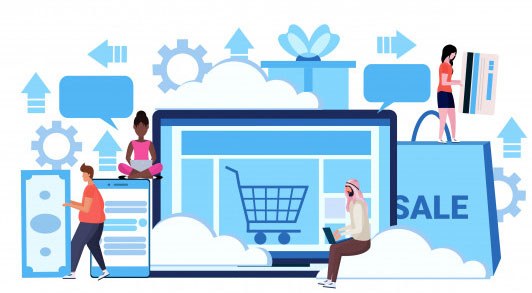 SEO-Friendly Ecommerce Store
Transform Your Ecommerce Store Visitors to Buyers. Take advantage of Our Digital Marketing and SEO Service to Take Your Online Store's Position to forefront of Google. The Growth of Online Store is not only depending on the quality functionality of your store, but it also depends on whether your customer can find you in targeted opportunities. Our Marketing Team provides you a strong marketing strategy to increase your Online Store's Traffic, Ranking Position and Sales.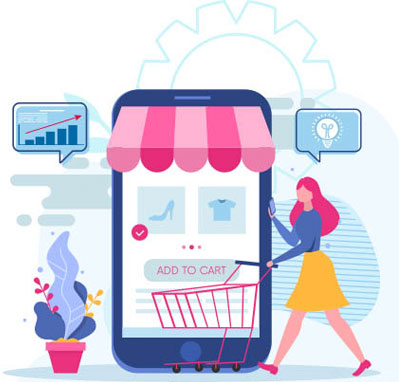 Boost Your Sales with Ecommerce Promotion Strategies!
Want to Gear Up the Sales of Your Ecommerce Storefront? Take the Advantage of Our Ecommerce Store Promotion or Digital Marketing Service. We deliver Multiple Strategies including Promotions, Discounts and Coupon Codes, Reducing Abandoned Carts Solution, Email Marketing Campaign, Personal Reach to Your Customers, Retargeting Customers, Strategy for Returning Customers, Google Shopping, Social Media Shopping, AI Chatbot Integration, Smart Product Integration and many more.
Previous
Next
Let's Talk About Your
Ecommerce Project
We don't just create a Website, We rise Digital Experiences which Connect Your Customers to Your Business! Let us Know About Your requirements and We'll Get back to you as soon as possible!
Request Free Quote
Already Have an
Ecommerce Store?
Discover More Opportunities with Free Website Audit!
Let us know about your project and we will send you free website audit report for free - no risk, no obligation.
Schedule It Now
We Build Your Online Storefront from the Scratch!
At Skynet Technologies USA LLC, we stringently follow the Best Practice and Proven Work methodology for providing an end-to-end
Ecommerce Solution. The Phases of our Ecommerce Web Development Process are:
Step
1
Step
2
Step
3
Step
4
Step
5
Step
6
Step
7
Step
8
Step
9
Step
10
Step 1 : Understanding Type of Ecommerce Store and Requirements
In the first phase, we thoroughly understand the client's Ecommerce Store Requirements, Products, Purpose, Business Goal, Targeted Demography and more.
Step 2 : Choose the Right Ecommerce Development Platform
According to Client's Requirements, We help them to Choose the Best Ecommerce Development Platform from Magento 1 and 2, Drupal Commerce, WordPress WooCommerce, OSCommerce, Laravel Bagisto and more for their Brand!
Step 3 : Ecommerce Store Planning & Sitemap
In this stage, We create a planning and an intuitive sitemap of ecommerce store which allows our client to have a clear idea on web pages, navigation and structure.
Step 4 : Define Scope of Work and Timeline
Once the Ecommerce Store Development planning is approved with mutual understanding, We define the complete scope of work along with project timeline which help us to streamline process & delivery project on-time.
Step 5 : Ecommerce Store Development
As per the Planning & client's requirement, We would develop the ecommerce storefront functionalities, Module Customization, Categorization & Product Management, payment gateway integration, Security Updates, API Integration, and many more.
Step 6 : Mock Up Design
In this stage, we create a mock-up design or wireframe for our client's brand new ecommerce store which allows them to have a clear idea on how the ecommerce store would look visually.
Step 7 : UX/UI Design
In this stage, the client's online store would finally take a shape. After the Mock Up would be approved from client, We create an elegant visual structure of the Ecommerce Store including navigation, categories, product structure, one-page check out, etc. & Branding it with logo, images, content, copyright and many more.
Step 8 : Testing and QA
This is the most important phase before we deploy the final ecommerce store to the client. It goes through various meticulous tests and inspections to ensure that there are no bugs or issues.
Step 9 : Deployment
Finally, it's time to launch the ecommerce store. We make the website live and again perform some of the testing to ensure everything is working properly to ensure there are no any bugs or issues.
Step 10 : Maintenance & Support
The web development process doesn't end after deployment. We also help our client to keep their Ecommerce Store up to date with current trends, content updates, security updates and other website maintenance services.
Stay Up-to-Date with Our Recent Ecommerce News and Blog Posts