Overview
Harness the power of hyperlocal marketing by crafting proximity campaigns in minutes with our platform to reach potential customers at the right place and at the right time. With Bluetooth-based technology, you target your customers with hyper-personalized information based on their proximity to your service and drive them to engage with you.
Get a Free Demo
Connect Customers with Your Business With 
Our Multifaceted Features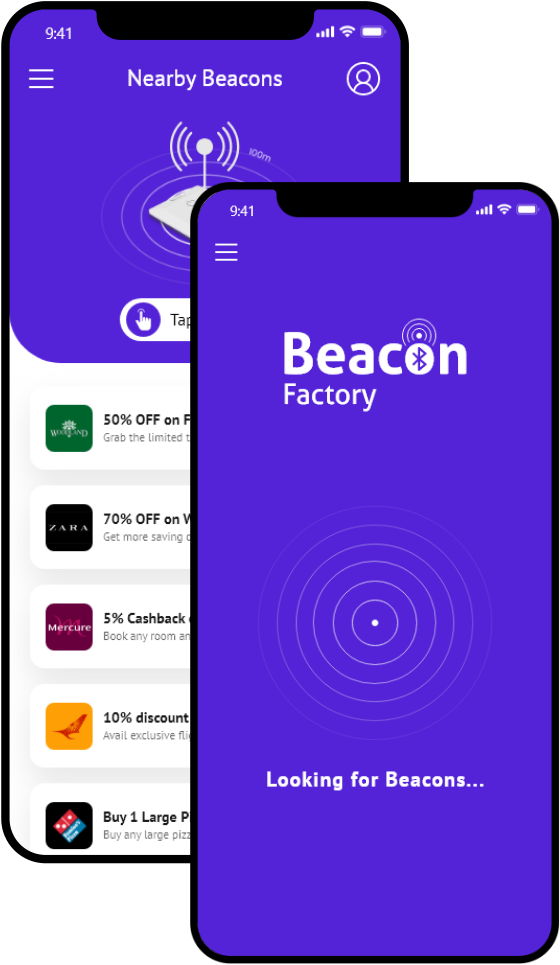 Platform Independent
Works with Android and iOS platforms and plays a key role in mobile marketing. You can download the free app from your Google play store or App store to receive the information from your nearby beacons.
Bluetooth-enabled
Deploy the beacon within your store or organization. And customers with Bluetooth enabled smartphones can have easy access and get personalized, relevant information about the product/service at their fingertips.
Cutting-edge Technology
A host of cutting-edge technology like Bluetooth is used in the beacon factory app. Many marketers resonate with these to rightly target their customers.
Interactive Proximity Campaigns
Create interactive and engaging mobile proximity campaigns through images, sounds, videos in minutes. Position beacon near to your point of interest/sale and automatically the right information will be transmitted to the right people at the right time.
Push Campaigns
Understand your customers behavior and journey who are in your proximity and send in-app push notifications, SMS, or emails regardless of their location. Based on your customers' journey, you can deliver the relevant information at the appropriate time in their funnel.
Cloud-Based
Build and store your customer data such as name, gender, age, mobile number, email address, general interests, and preferences on the cloud safely. Easy retrieval from the cloud helps in creating highly targeted campaigns.
Incredible Integrations
Supports standard Apple iBeacon broadcasting protocol and Google Eddystone protocol. It also supports dynamic modification of UUID, URL, UID, major/minor ID, etc. Also, leverage the support of shake access and WeChat interface.
Analytical Insights
With swathes of data about your customers, you can understand their preferences and behavior in their journey. Based on the insights, you can adjust your campaigns and provide localized, relevant, and personalized content.
Promotions and Loyalty
Show your visitors or customers that you care by reminding them about their loyalty points and exclusive access. You can also offer information about the new deals and promotions so that they can have potential opportunities to save when they shop or use your services.
Top-class Benefits with 'right place, 
right time' Marketing
High-precision
Accurately locate customers nearby your service based on location-specific campaigns to grab the audience's attention so that they consider a conversion decision.
Ultimate User Experience
With real-time communication facilitated through the power of beacon and proximity sensors, you can transform the user experience like never before. And strengthen your customer relationships.
Harness the power of mobile
Leverage the growing mass of mobile customers using cutting-edge beacon technology. A Bluetooth enabled smart device is your powerhouse of customer engagement. Expect an incredible rise in the app engagements rates
Better Audience Insights
Collect the relevant customer or visitor information based on their movements and optimize the in-store and overall experience using the power of beacon. Based on these insights, you will be able to devise your future strategies.
Hyper-personalization
You can hyper-personalize your campaigns and communications. By sending an explanatory video, images, or GIF, you can send interactive information with higher intent that can skyrocket your customer engagement rates.
Higher Conversion Rates
More than 50% of the consumers are likely to engage with location-specific communications. Your marketing gets more focused entirely on those who are likely to make an immediate engagement with your service.
Targeted Messages
Deliver targeted messages and notifications, deals, and promotions. You are targeting the right consumers at the right time through customized information who were in the physical vicinity. These serve as a nudge to them and achieve a higher conversion rate.
Higher Revenue
With the Beacon technology, you can generate whopping revenue by providing an ultimate customer engagement based on their customer behavior and hyper-targeting them through informing them about new products & services, offers, and discounts.
Retarget walk-through Traffic
Recoup your lost sales by re-engaging with those customers who walk away with personalized and automated recovery campaigns. With a one send beacon proximity, you can send a retargeting push notification to the audience.
Multisector Application to Attract and 
Engage Right Customers
Beacon Factory can be deployed at retail stores, restaurants, real estate properties, cinema halls, amusement parks, and other commercial locations to broadcast hyper-personalized and relevant ads to the right audience through push notifications.
Healthcare

Industries

Airports

Banks

Shopping Malls

Educational Institutions

Hotels and Restaurants

Gym & Fitness Centers

Libraries

Museums

Zoos

Galleries
FAQs
Proximity marketing is the ability for the merchants and enterprises to stay close to the customers and accurately read & analyze their needs, preferences, and target them with appropriate campaigns. It serves local ads to the customers based on how close they are to the beacon and release, highly relevant and personalized messages.
It depends on your requirements. If you are an SMB, you can first start with a single beacon. As needed, you can always scale and add more beacons for better reach.
Beacon Factory comes with many interesting options and features. And more importantly, it is developed by Skynet Technologies which is one of the trusted companies with over 21 years of experience.
It is easy to download and setup. However, if you need any help, our team would always be ready to do it for you or assist you with any help.
Beacon Factory lets the users opt-out. It is based on user consent. The users can turn-off their Bluetooth on their smartphones if they get a lot of notifications.
We offer custom web app development, mobile app development, cross-platform app development, hybrid app development and maintenance services to start-ups, medium business, large enterprises, and entrepreneurs!
Beacons are small, battery-operated wireless devices that transmit the Bluetooth signal to nearby mobile phones. It is one of the latest additions in proximity marketing. Beacons can reach the customers who have Bluetooth enabled and the app on their phones.
Yes. In order to communicate with your customers, they need to first have a mobile app. If the app is in proximity, you can integrate via SDK.
You can contact us with your business details and we would let you know the setup details.
You need 3 things for the Beacon Factory to work - at least one beacon device, a smartphone app, and users' permission.
Yes, Of course. We have a strong team to provide custom application development, enterprise application development services based on your requirements! Request a Quote.
Yes, we offer extended maintenance and support services to make sure your web, app or mobile solution running smoothly! To know more, get in touch with us.