What is the UK Equality Act? How to ensure compliance with web accessibility laws in the United Kingdom!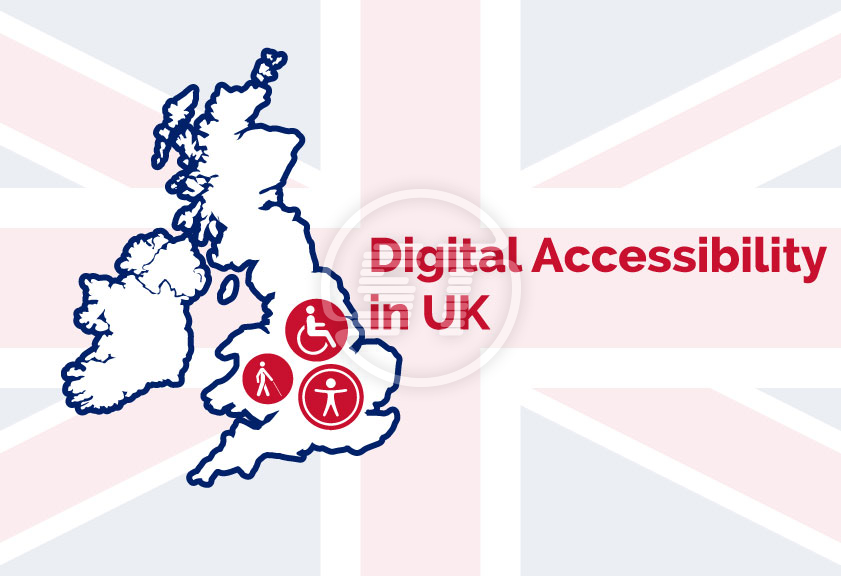 The UK's Equality Act of 2010 prohibits discrimination based on disability and explicitly extends to websites, recommending adherence to Web Content Accessibility Guidelines (WCAG) Level AA. British Standards such as BS 8878 and ISO 30071-1 provide guidance on incorporating accessibility best practices without replacing WCAG. These standards emphasize considering accessibility throughout the development process, establishing policies, and communicating decisions via accessibility statements. The combination of the Equality Act, ISO 30071-1, and the Public Sector Bodies Accessibility Regulations aims to ensure equal access to Information and Communications Technology (ICT). This effort promotes fairness and inclusivity for individuals with disabilities. To explore more about it, continue reading this article.
What is the Equality Act 2010?
The Equality Act 2010 is a comprehensive legislation in the United Kingdom that serves to protect individuals from discrimination in various aspects of life, including the workplace and broader society. It amalgamated prior anti-discrimination laws into a single act, simplifying the legal framework and enhancing protection in diverse situations. This Act delineates the prohibited ways in which individuals should not be treated unfairly.
Protected characteristics encompass various aspects of identity, such as age, gender reassignment, marital status, pregnancy or maternity leave, disability, race (including color, nationality, ethnic or national origin), religion or belief, sex, and sexual orientation. Individuals are safeguarded against discrimination in numerous areas of life, including employment, education, consumer interactions, access to public services, property-related transactions, and participation in private clubs or associations.
How does the Equality Act 2010 offer protection against discrimination?
The Equality Act 2010 extends protection beyond direct discrimination, addressing indirect discrimination, harassment, and victimization. Direct discrimination refers to treating someone unfavorably due to a protected characteristic, while indirect discrimination involves implementing rules or systems that put individuals with protected characteristics at an unfair disadvantage. Harassment encompasses unwanted behavior related to a protected characteristic that undermines dignity or creates an offensive environment. Victimization pertains to unfair treatment due to having filed a discrimination complaint or supported someone else's claim.
Under the Act, employers are prohibited from discriminating against employees in various aspects of work, including dismissal, terms and conditions of employment, pay, promotions, training, recruitment, and redundancy. Specific exemptions may exist if they are deemed necessary for the organization's function, such as religious institutions' limited recruitment based on faith.
It is noteworthy that the Act mandates the same treatment for disabled workers as other employees. Employers are obligated to make 'reasonable adjustments' to facilitate disabled employees or job applicants. This includes accommodation in application processes, aptitude tests, interview arrangements, workplace facilities, equipment, promotion opportunities, and other work-related benefits to ensure fairness and equal access.
The Act also allows for 'positive action,' permitting proactive measures to assist individuals with protected characteristics who face disadvantages, have specific needs, or are underrepresented activities or job sectors.
Where does the Equality Act apply?
Under the purview of the Equality Act, various settings and entities fall within its scope. It extends its coverage to places and organizations offering goods or services and also encompasses employment-related affairs. This includes:
Consumer Services: Establishments such as shops, hotels, leisure facilities, and similar consumer-oriented facilities.
Health Services: This covers healthcare facilities like doctor's surgeries, hospitals, and dentists, and ensures information provision about healthcare rights.
Employers: The Act pertains to workplace dynamics, ensuring fair treatment within the workplace and during job applications, and addressing issues like ageism in employment settings.
Public Services: It encompasses services provided by local councils, transport services, and housing associations, ensuring fairness and equality in accessing and utilizing these services.
What is the UK Law on website accessibility?
In the United Kingdom, laws mandate both public and private organizations to ensure their digital resources are accessible. Specifically, the Equality Act of 2010 prohibits businesses from discriminating against individuals based on disability and extends explicitly to website accessibility. However, it does not specify technical standards.
Fortunately, guidelines such as the Web Content Accessibility Guidelines (WCAG) offer a framework for creating accessible websites and mobile apps. Compliance with the latest version of WCAG can demonstrate adherence to anti-discrimination laws, including the Equality Act, Americans with Disabilities Act (ADA), and European Accessibility Act (EAA).
Key aspects determining a website or app's compliance with the Equality Act of 2010 include:
Real-Life Impact: Consideration of how web design decisions affect users, particularly those with disabilities, such as those using screen readers or relying solely on a keyboard for navigation.
Accessibility Barriers: Examples of barriers faced by users due to inaccessible design, like missing alternative text for images hindering screen reader users, poor color contrast affecting readability for those with vision impairments, or lack of text alternatives in videos affecting the Deaf community.
While the Equality Act of 2010 did not revolutionize existing requirements for accommodating disabilities, it clarified that websites fall under the Act's "provisions of services." The Act allows for 'reasonable adjustments' considering factors like financial resources. Still, it sets a clear mandate for providing accessible online content.
Additionally, the Public Sector Bodies (Websites and Mobile Applications) Accessibility Regulations 2018 further specify obligations for public sector websites and mobile apps. They require compliance with international standards, notably WCAG 2.1 AA, and necessitate publishing an accessibility statement outlining the level of compliance and accessible alternatives provided. Monitoring and enforcement of compliance are overseen by bodies like the Government Digital Service (GDS) and the Equality and Human Rights Commission (EHRC).
Furthermore, ISO 30071-1, an international web accessibility standard, replaces the British Standard BS 8878, offering guidance on embedding accessibility considerations into organizational processes for creating accessible digital products.
In essence, the Equality Act 2010 stresses WCAG 2.0/2.1 Level AA compliance, promoting accessibility, equality, and minimizing legal risks for organizations. To ensure compliance, testing is conducted continuously, usability assessments are conducted with disabled users, and an accessibility statement is provided to users so that they are aware of their compliance status.
How to comply with the U.K. web accessibility standards?
To comply with U.K. web accessibility standards, organizations should:
Follow WCAG Guidelines:

Adhere to the Web Content Accessibility Guidelines (WCAG) outlined by WC3. These guidelines offer specific recommendations to make online content more accessible to individuals with disabilities, focusing on aspects like perceivability, operability, understandability, and robustness.

Meet Government Accessibility Requirements:

Ensure compliance with WCAG 2.1 Level AA standards.
Ensure compatibility with assistive technologies used by individuals with disabilities such as screen magnifiers, screen readers, and speech recognition tools.
Include individuals with disabilities in user research to create more inclusive designs.
Publish an accessibility statement detailing the service's accessibility level, identified issues, methods for users to report problems, and steps taken to address accessibility concerns.

Adhere to UK Digital Accessibility Regulations:

Public Sector Bodies (Websites and Mobile Applications) (No 2) Accessibility Regulations 2018 involves meeting WCAG 2.1 AA standards and publishing an accessibility statement to confirm compliance.
Conclusion
To conclude, the UK's Equality Act of 2010 and web accessibility laws offer critical advantages. They ensure comprehensive protection against discrimination, promote fairness in various life domains, and specifically mandate website accessibility. By enforcing adherence to Web Content Accessibility Guidelines (WCAG), these laws foster a more inclusive online environment, benefiting individuals with disabilities and society at large. Overall, they prompt better design practices, enhance accessibility, and contribute to a fairer, more equitable digital landscape.
Is your website, web application, documents, or mobile application accessible for people with disabilities? With a team of experts, we provide complete ADA website accessibility remediation services including audit, strategy, design, and development services that comply with accessibility regulations such as ADA, WCAG 2.0, 2.1, 2.2, and Section 508 within your budget. Get in touch with us at [email protected] or request a quote.