Overview
The next-gen automated touchless face attendance system based on Facial Recognition and Artificial Intelligence enabled computer vision is here. It helps businesses to capture and recognize the face of an employee to provide a carefree check-in. Say hello to the new contactless and secure attendance system.
Get a Free Demo
High-Octane Features For 
a safe and Productive Workplace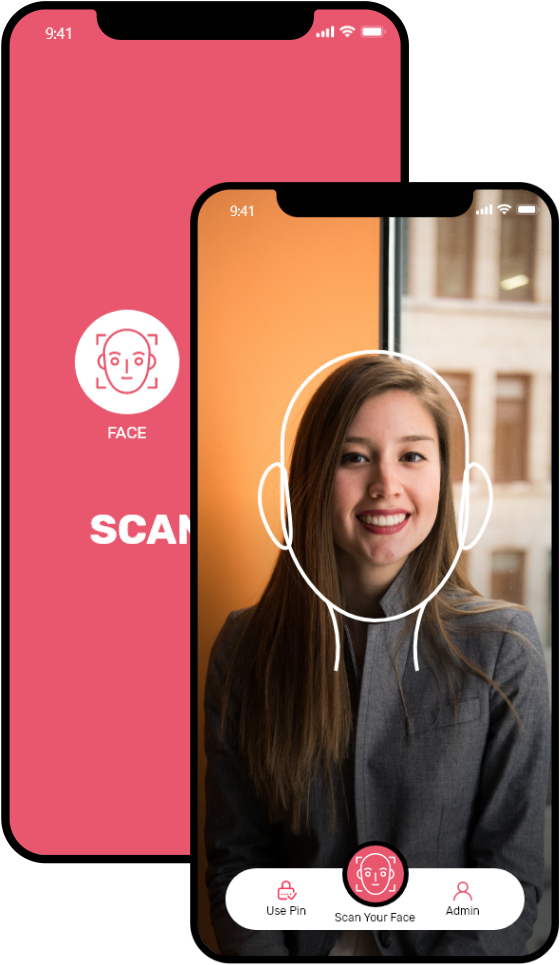 AI-driven Facial Recognition
Track the attendance of your employees easily with a contactless facial recognition feature. Create a faster, safer, and efficient attendance process that can precisely detect, recognize, and verify the captured faces. Backed by AI, you can have a 100% accurate, secure, and robust touchless system for a safer work environment.
Cloud-Based Management (or) Cloud Compatibility
Say goodbye to the unreliable spreadsheets. This is a cloud-based touchless attendance system that stores employees' attendance records along with other data. You can also enjoy remote data management with an easy sync option. The HR team can download the employee documents from the cloud database anytime.
Reports and Data Export
Generate in-depth reports and insights that help you make data-driven decisions. You can even build customizable reports for better insights by applying custom filers as per your requirements. You can also export this information whenever you need it. Based on the data, you can easily keep track of your team and make your HRM a strategic resource.
Easy Integration with HR system
Seamless API based integration with other HR systems like recruitment time, payroll, employee data, and attendance modules making all your internal HR functions easier to handle. You can also integrate with any of your workflows like slack, G suite directory to make employee management more effective.
Higher Accuracy & Speed
With AI-based Facial recognition technology, it can automatically scan multiple employees and you can expect more than 99.9% accuracy in less than a second. It provides you a rapid and accurate way to track the attendance using best-in-class face detection algorithms that are highly accurate in matching multiple attributes of the captured person against the database of the images in the backend.
Email Alerts
The system sends automatic visitor notifications to the employers via email alerting them of the employee check-in. It enables the management to either approve or disapprove the entry if they feel there are any authentication issues. You can track all punch-in attempts either by your employees, anonymous, unknown, or blacklisted individuals with just one instant alert.
No Hardware Devices
A smart solution that carries out employee attendance without any hassles. It is a simple and ready to use software without the need for any external hardware devices. A simple mobile device camera is used for scanning the employees' faces. With easy download and installation, you can have an instant setup of this system.
Detects one person at a time
The system stores over 100k images ensuring that all your employees' and visitors' information is saved securely. And it delivers higher accuracy and precision when an employee checks in. It can detect only one person at a time even when they arrive in groups. It has an in-built algorithm to differentiate people.
Offline Mode
Works even in offline mode and ensures bulk upload of all the data to the cloud once you resume internet connectivity. The updates that are made will be synced with the cloud servers and the changes are pushed on to the central repositories. This is truly beneficial if your connection is flickering, slow, or low.
Upgrade and Modernize 
Your Employee Attendance System
Easy and Secure
Employee data is saved securely on the cloud. It can be accessed by only authorized personnel. You can retrieve any record for security purposes.
Employee Safety
Harness the power of a touchless attendance system and run your business safely. Protect your employees' safety with this contactless check-in solution.
Smart Solution
Uses some of the emerging technologies like Facial recognition and Artificial Intelligence. The future is already here.
Highly Flexible
Deploy it in multiple locations and across multiple floors to mark the employees' attendance. It can also be installed in remote locations with no proper internet access.
Data Security
Employee data stored on the cloud will always be safe and secure with highly advanced and encrypted systems.
Easy Analysis
Employee logs can be easily tracked by a smartly configured dashboard panel with custom filters for better analysis.
Time-saving
It barely takes 3 seconds to recognize and verify your face. You can create an attendance journal in the system alongside the payroll and save precious man-hours.
Error-Free
With an automated system, verification and processing of the data become not only easier but also error-free as there is zero manual intervention.
Real-time Tracking
Get the real-time status of your employees like check-in time, check-out time, absence, and more without a time-lag for quick processing and reporting.
Enhanced Productivity
Speeds up the employee check-in process and it is also automatic, thereby powering up the efficiency and productivity of the HR department.
Industry Applications
Tick Tick Time captures the employee data or information when they check-in to work. As soon as they enter your workspace, you get instant notifications and the data would be safely stored on the cloud. It is safe, secure, and contactless which itself is the need of the hour and even beyond the Pandemic times. It can be effectively deployed in various industrial sectors like Banking and Finance, Education, Government offices, the healthcare industry, and more are listed below.
IT

Education

Real Estate

Healthcare

Municipalities

Public Sector

Corporate Enterprises

Retail

Food Industries

Travel & Tourism

Finance

Manufacturing
FAQs
Tick Tick Time is a touchless attendance system that records the employees' clock in and out accurately with the aid of face recognition technology.
With the pandemic engulfing the whole world, it has become imperative to have a touchless attendance system at the workplace as it makes your workplace safe and secure for your employees. It also reduces the time and helps you understand the employee status better.
Yes. You can also export this information whenever you need it. Based on the data, you can easily keep track of your team and make your HRM a strategic resource. Export data feature supports multiple formats such as CSV, XML, XLS.
Tick Tick Time software is easy to set up and would be ready for use immediately. You can do it by yourself. However, our team will be happy to assist you with any sort of support required for your set up.
Yes. This touchless attendance system is powered with cutting-edge Facial technology and Artificial Intelligence to support face recognition even in offline mode.
Yes. Tick Tick Time does provide multilingual support. Currently, it is in the English language. Other language customizations can be done based on your own needs.
It depends on the number of employees. Please fill out the inquiry form, detailing your requirements, and we shall provide you the best quote that fits your organizational structure.
We offer custom web app development, mobile app development, cross-platform app development, hybrid app development and maintenance services to start-ups, medium business, large enterprises, and entrepreneurs!
This touchless attendance system captures and recognizes the face of the employees with AI and facial recognition technology and marks their attendance.
The HR of your company creates profiles of all the employees and saves them on the cloud server of the device
When the employee checks in, he stands in front of the device as it captures the face and recognizes the employee.
Employees check-in and check out details are sent to the cloud on a real-time basis
This information is used to generate attendance reports, sync with the company's HRM system, and so forth.
Tick Tick Time is developed by the best minds in the industry. We have over 2 decades of experience, a certified and skilled team of developers, thousands of satisfied customers, a proud loyal base, 24*7 technical support, flexible hiring models, and a strict NDA.
Tick Tick Time offers a wide range of customizable reports that helps your company make strategic decisions. You can have a number of comprehensive reports with information on attendance, late-in/early exit, leave/permissions, shifts, etc. These reports can be previewed online and also be exported as PDF, word, or excel.
You can gain valuable insights into your employee working patterns. Your HR team can make strategic decisions, plan resources proactively, improve workplace productivity, and help your HR department become a great asset to your business. By making your workplace safe and secure, you can also build a positive reputation for your business.
You don't have to worry about it. There is no need to do it manually. You can upload bulk employee records which would be saved to the cloud from an excel sheet.
Tick Tick Time has the requisite features that help you track the changes and also store the employee data securely on the cloud. With highly advanced and encrypted systems, your data will be safe and secure.
Yes, Of course. We have a strong team to provide custom application development, enterprise application development services based on your requirements! Request a Quote.
Yes, we offer extended maintenance and support services to make sure your web, app or mobile solution running smoothly! To know more, get in touch with us.