Web Content Accessibility Guidelines (WCAG) 2.2 has been released! What are the requirements and impact of it?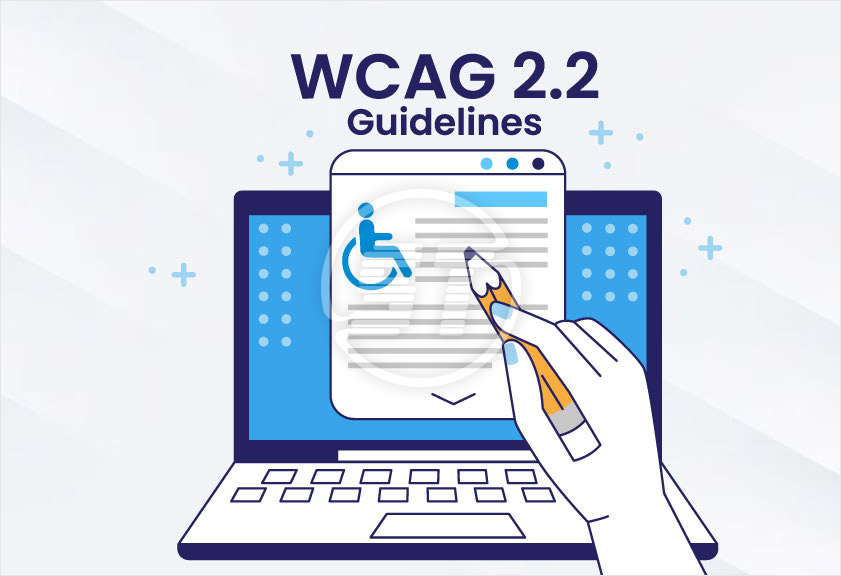 Web Content Accessibility Guidelines (WCAG) 2.2 was released by W3C on October 5th, 2023. It implies that now organizations need to update their digital properties according to the latest WCAG 2.2 standards if already comply with WCAG 2.1.
WCAG 2.2 covers a broader area of web content accessibility so that a wider segment of disabled people will be able to engage with the digital content available. Not only all types of disabilities but the new guidelines also address web content accessibility on different devices including desktops, laptops, mobile phones, and tablets.
The updated WCAG 2.2 standards are written as testable statements that are not technology-specific and the general information on success criteria interpretation is given in separate documents. Please note here that WCAG 2.2 certainly covers a vast array of accessibility issues, it does not cater to every need of disabled users.
What changes does WCAG 2.2 contain?
W3C developed the latest WCAG 2.2 standards through a detailed process of taking feedback from individuals and organizations. The standards are made to meet the needs of individuals, organizations, and governments to address international audiences. Thereby WCAG 2.2 builds on WCAG 2.0 and 2.1 taking future technologies into account. They are also testable with a combination of automated and human testing methods.
While developing this version, W3C encountered some noticeable challenges on cognitive, learning, and language disabilities. The improvement work is still going on and the upcoming versions of WCAG will see changes in these mentioned areas.
WCAG 2.2 focuses on essential web accessibility components, user agents' accessibility guidelines, and authoring tool accessibility guidelines.
Essential components of web accessibility

Full website accessibility depends on various elements/components and some specific changes in those components improve accessibility significantly. Content, web browsers, assistive technology, evaluation tools, etc. all impact a website's accessibility. Web developers use different tools to create web content and users explore content via browsers, media players, and assistive technology. Thus, no component can be left inaccessible.

Also, all components work as an entity. If a component has poor accessibility support, some other components can contribute more to compensate for the website's accessibility. For instance, if the authoring tool does not create accessible content, developers can work more on direct coding markup or users can use different browsers to overcome accessibility issues.

Read more on this.

User Agent Accessibility Guidelines (UAAG) Overview

UAAG documents are about making browsers, browser extensions, media players, and other applications accessible because they render web content for users. UAAG 2.0 will help improve accessibility and benefit users with disabilities.

Primarily developers will use UAAG 2.0 to improve accessibility of browsers and other components. Know more about it standards and supporting documents.

Authoring Tool Accessibility Guidelines (ATAG) Overview

Software and services that are used by authors (developers, designers, and writers) to create content are known as authoring tools. ATAG describes how to make the authoring tools themselves accessible and create more accessible web content using them for the target audience.

ATAG is a part of the accessibility guidelines series which includes WCAG and UAAG in it. W3C encourages using ATAG to include all the latest improvements in your websites.

Details on ATAG.
How WCAG 2.2 is different from its predecessor WCAG 2.1?
The goal behind improving WCAG 2.1 and creating WCAG 2.2 is to improve accessibility guidance for three major groups of disabled users:
Users with cognitive disabilities.
Users with low vision.
Users with disabilities using Mobile devices.
To fulfil the needs of these users, structural requirements are being taken from WCAG 2.0. Though WCAG 2.2 has more clarity and impact on accessibility, the working group underlines that not all user needs are met by these guidelines.
The latest WCAG 2.2 version is built on WCAG 2.1 and hence it is backward compatible, which implies web pages that conform with WCAG 2.2 are at least accessible and fulfil WCAG 2.1 requirements.
Success Criterion 4.1.1 Parsing has been removed from WCAG 2.2. Authors need to know this while updating the content to WCAG 2.2 because they may need to continue to test and report 4.1.1 if they are required by policy to conform with WCAG 2.0 or 2.1.
New features or success criteria added in WCAG 2.2 are:
2.4.11 Focus not obscured (Minimum) (AA)
2.4.12 Focus not obscured (Enhanced) (AAA)
2.4.13 Focus Appearance (AAA)
2.5.7 Dragging Movements (AA)
2.5.8 Target Size (Minimum) (AA)
3.2.6 Consistent Help (A)
3.3.7 Redundant Entry (A)
3.3.8 Accessible Authentication (Minimum) (AA)
3.3.9 Accessible Authentication (Enhanced) (AAA)
WCAG 2.2 also has detailed aspects of the specification on security and privacy.
What are the requirements of WCAG 2.2?
All new success criteria from WCAG 2.2 continue to support additional use cases of WCAG 2.1

As mentioned above, WCAG 2.2 is built on WCAG 2.1 and that is why it provides additional criteria to address the use-cases content accessibility of WCAG 2.1 along with more improvements in support for small/touch screen users, along with low-vision, cognitive, language, and learning impairments users.

WCAG 2.0 conformance model is utilized to apply updated 2.2 standards.

Web Content Accessibility Guidelines 2.0 requirements document has details about conformance which is essential to meet WCAG 2.x releases. Also, WCAG 2.x releases ought to provide conformance details to show the relationship between new standards and existing WCAG 2.0 conformance. Therefore, WCAG 2.2 should declare that a page conforms to WCAG 2.1 as a minimum requirement and all other future WCAG 2.x specifications must conform to its immediate predecessor as a base.

Utilize the WCAG 2.0 A/AA/AAA model.

The newly added success criteria in WCAG 2.2 specify the level of conformance they are expected to follow such as A/AA/AAA since WCAG 2.2 uses the WCAG 2.0 A/AA/AAA model. You should know that if a web page conforms to WCAG 2.2 at a certain level, the page is expected to conform to WCAG 2.0 and 2.1 at a similar or higher level.
YOU MAY ALSO LIKE: Cost to Make Website ADA Compliant
WCAG 2.2 certainly brings impactful changes to websites/applications!
The latest Web Content Accessibility Guidelines (WCAG) 2.2 are made to improve the digital landscape for people with disabilities. Impact on web content, privacy, security, assistive technology usage, etc. will be seen for every sort of disability.
Moreover, the WCAG 2.2 document is properly curated with all the technical requirements and supporting documents. Check the Web Content Accessibility Guidelines (WCAG) overview to learn about the supporting materials and resources of WCAG 2.2.
Also, note that authors do not need to claim WCAG 2.2 conformance, they can conform to the latest standards without claiming. However, if they are claiming the conformance then they must include a whole list of information including the date of the claim, conformance level, guidelines title, etc.
Read the official document to know in-depth details of WCAG 2.2 and begin updating your web pages.
Skynet Technologies is a proud W3C (World Wide Web Consortium) and IAAP (International Association of Accessibility Professionals) member that help to be a part of the global accessibility community and stay up to date with compliance guidelines.
We offer full-service website accessibility remediation solutions, including design, audit, consulting, remediation, maintenance, support, and ongoing monitoring. We aim to make your digital presence accessible to all, ensuring inclusivity. Email at [email protected] or request an ADA website accessibility remediation quote .