Hire Drupal Developers for Competent Services
Our 9 years experienced and dedicated Drupal developers are capable of delivering full-service Drupal development.
End to End Drupal design and development
Our Drupal experts design and develop Drupal websites, web applications, and online stores based on your custom specification. We offer seamless integration of payment gateway, ERP, and CRM platforms. Our Drupal developers have rich experience in enhancing the functionality of your Drupal website by developing Drupal modules, plugins, and extensions from scratch.
End to End Drupal design and development
Upgrade and Migrate to the latest Drupal Version
Upgrade your website to Drupal 10 for better security, accessibility, and performance. Our Drupal developers have 9 years of experience in efficient, quick, and seamless migration from Drupal 7 to 10, Drupal 8 to 10, or Drupal 9 to 10.
Upgrade and Migrate to the latest Drupal Version
Drupal Support Retainer & Maintenance
We offer Drupal website maintenance services including minor code or modules upgrades, updating custom code, backup, bug resolving, security audit, testing upgrades, and more. Our expert team of Drupal developers is well equipped to handle complex and integrated environments, multiple Drupal-based properties, multi-language site, security challenges and rollouts, robust scaling, ongoing performance maintenance, and emergency support.
Drupal Support Retainer & Maintenance
Drupal Website SEO
Our team of Drupal developers leverage Drupal's SEO capabilities including in-depth SEO audit, technical SEO implementation, core web vitals, page experience, website performance, browser compatibility, and mobile friendliness for delivering SEO friendly Drupal website.
Drupal Website SEO
Quick Drupal website accessibility improvements
We have developed a Drupal All in One Accessibility module based on assistive technology and AI to enhance the accessibility and usability of the website quickly. It can be installed in just 2 minutes. It improves website accessibility according for the standards including WCAG 2.1, ATAG 2.0, ADA, Section 508, Australian DDA, European EAA EN 301 549, UK Equality Act (EA), Israeli Standard 5568, California Unruh, Ontario AODA, Canada ACA, German BITV, and France RGAA standards. It is ideal for start-ups, micro, small, and medium business websites who intend to have user experience enhancements and more than basic accessibility compliance.
Quick Drupal website accessibility improvements
Full managed Drupal website accessibility remediation
With over 8 years of experience in the digital accessibility industry, we deliver the most comprehensive solutions for Drupal website accessibility services including audit remediation, consulting, self-assistance training, ongoing monitoring, accessibility program management, and remediation support services. We remediate your Drupal website to comply with WCAG 2.1, ADA, Section 508, California Unruh Act, Canada ACA, Ontario AODA, Australian DDA, UK Equality Act (EA), European EAA EN 301 549, Israeli Standard 5568, France RGAA, and German BITV. It is ideal for websites and digital assets of large enterprises, Federal and state government.
Full managed Drupal website accessibility remediation
Full-scale Drupal Tech-Stack
Language
PHP
HTML5
CSS3
JavaScript
jQuery
Ajax
Versions
Drupal 7
Drupal 8
Drupal 9
Drupal 10
Flexible engagement models to hire Drupal developers
Monthly Dedicated Drupal Developer
Best suited for the clients having multiple projects running at the same time and each requires dedicated attention.
Minimum 3-Month Contract
No Long-Term Commitments
No Hidden Cost
Fixed Cost Dedicated Drupal Developer
Best for the clients who have specific project requirements and scope of work for large and well-planned projects. It is a one-time fixed price contract.
No Hidden Cost
Fixed Budget and timelines
Milestone based payments
Extend your Drupal team - Staff augmentation
Looking for immediate access to Drupal experts? Shortage of resources and skill sets? Partnering with us allows you to bridge these gaps. Avoid the hassle of hiring, training, and maintaining in-house resources.
Cost efficiency & timely response
Resource stability
With or without long-term commitments
What our client says about us
When I asked a question or brought up a need, the team of Skynet Technologies was always quick to tackle the issue and provide a solution. Our website was built on an out of date, no longer maintained Drupal 6 e-commerce module and we needed to find someone with the technical experience to not only upgrade the website from Drupal 6 to Drupal 7 but to also migrate all our sales data from one commerce module to another. This was a challenging project.

I found them through an online search for Drupal development. I think for me it was their confidence and their responsiveness that sold me on the project. They did a fantastic job upgrading my very outdated Drupal 6 e-commerce website up to Drupal 7 e-commerce website... Read more about John Southard's Testimonial
At first, we were a little reticent to work with a company that had an overseas development team, especially after working with a string of largely unresponsive local programmers. But from the first job, Raj and his team have been an incredible asset to us. They've become our go-to developers — and really, an extension of our team for nine years now.

Skynet's technical knowledge is unmatched — we've never given them a challenge they couldn't solve. They are exceptionally responsive and have a great process. One of our favorite tricks is, at the end of our workday, to provide the Skynet team with a list of things we need done. Then, we find all those tasks checked off by the next morning. These seemingly magical overnight solutions... Read more about Team EG's Testimonial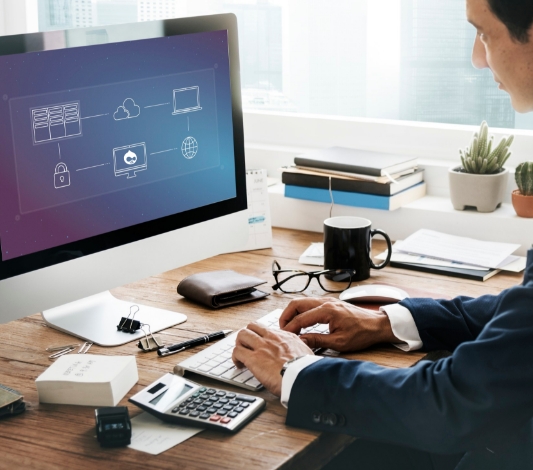 Related Case Study
A secure and seamless Drupal 6.x to Drupal 7.x migration for Gainesville, Florida based online education course provider!
The client provides continuing education courses in civil, electrical geotechnical, mechanical, and structural engineering. Their goal is to provide quality continuing education courses at a great price. The client has approached us to migrate their outdated Drupal ecommerce site from Drupal 6.x version to Drupal 7.x.
Migrating a website from one platform to another can be a stressful and uncertain time if it is not carefully planned and well-executed. A good roadmap is necessary for upgrading the latest version within the CMS (Content Management System), for a smooth transition and minimal downtime.
Read More

about Drupal Migration Case Study
What makes our Drupal developers exceptional?
Technical Expertise

We deliver Drupal projects with our outstanding expertise in PHP, MySQL, Ajax, and other supporting tech-stacks. We also actively contribute to the Drupal community.

Drupal Premium Supporting Partner

We are proud to announce that we are a Drupal Premium Supporting Partner fostering and supporting the dynamic Drupal community across the world.

Diverse Clientele

Hire Drupal developers who have experience with a global clientele that varies across the industry verticals and transform their ideas into revenue-generating solutions.

Outstanding Experience

Having worked with Drupal for 21 years, we deliver blazing fast, scalable, secure, and customized Drupal websites that exceed your expectations.

Full-Cycle Development

Consulting, design, development, third-party integrations, WCAG 2.1 website accessibility remediation, quality assurance, deployment, and customization under one roof!
The Project Management Tools We Use for 
Next Gen Web Development
FAQs
From over 9 years, we are providing Drupal development services.
Yes. We offer white-label Drupal development services wherein we work as your back office and get all the work done. We make sure to respect your privacy and stick to the agreement.
Well, each project differs in its requirements, complexity, and size. Reach out to us via request for quote form; we'll get back to you with a fair estimate based on your requirements.
We have large pool of Drupal developers; once we receive a quote confirmation from you; we will start working on your project within a week.