10 Reasons You Need an ADA Compliant Website in 2020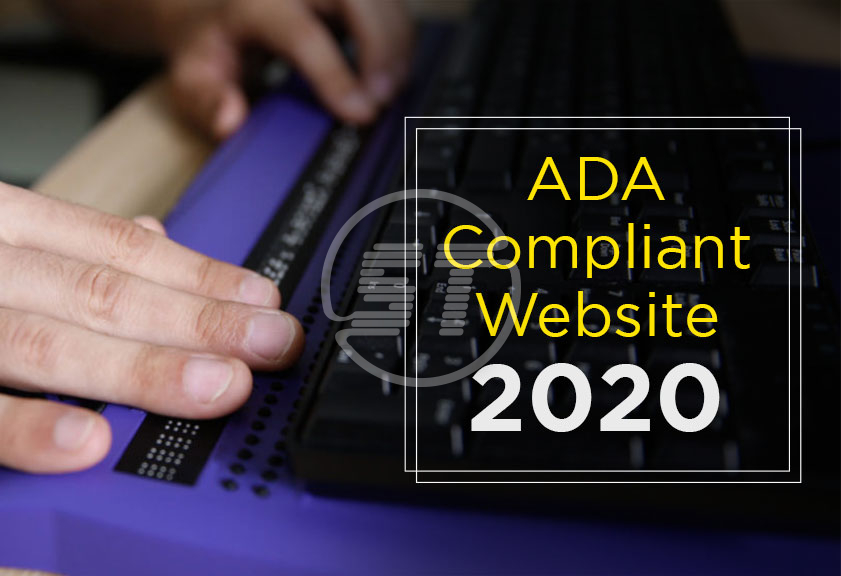 The government of America is quite concerned about its citizens and perhaps that is why in 1990 they have came up with "The Americans with Disability Act". From then till now the act has been amended several times. Recent amendment is mandating website developers to have an ADA compliant website. According to the Title 3 of Americans with Disability Act any disabled person should not be hindered to use websites at public or private places due to unavailability of ADA compliance. Any website without ADA compliance will be rewarded with huge penalty. Web developers are hence taking it seriously to make website ADA compliant.
ADA compliance requirements suggests availability of wheel chair accessible ramps, perfectly embossed signs and characters in Braille, videos with subtitles at public and private places, text to audio converters or tapes and much more. These ADA standard requirements basically focus to eliminate accessibility hindrances for the disabled.
What is ADA compliance?
ADA compliance is adhering to the requirements of the law formed by the Government of United States Of America. The Americans with Disability Act, 1990 has taken several decisions to end the prevailing discrimination with disabled in terms of accessibility of resources. Before the dawn of internet, ADA compliance was imposed on every public and private place for the benefits of especially able persons but soon the government realized ADA compliance for websites also.
ADA compliance for website requires specific attention to the details. There is a set of guidelines provided by WCAG (Web Content Accessibility Guidelines) 2.0 level AA and AAA. These guidelines were updated in year 2018 spring to catch up with the changes in technology.  These guidelines are not legislations but a backbone for building a strong ADA compliant website.
Online shopping, navigating and Google being a trend now, web developers need to focus on every niche. Especially able persons cover a significant portion of our demographics and hence ADA compliance is a worth a try to hand over accessibility to them also.
What are the ADA requirements for the website?
If following the guidelines provided by WCAG 2.1 level A, AA and AAA, meeting the ADA compliance will be easier for website developers. There are three levels of compliance issue guidelines on increasing a disabled persons site experience, navigation and overall site experience.
Areas of focus suggested by the WCAG 2.1 guidelines provides insights for a Perceivable, Operable, Understandable and Robust website which helps Especially able person throughout the site navigation. 
For making an ADA compliant website lastly you require an Agency to build one such website for your business.
Benefits of ADA complaint website
Well then now see what miracles an ADA compliant website can do for your business. ADA standards are constituted to increase accessibility for the disabled but in a way following these standards is giving more power to businesses also.
Spare yourself from penalties
ADA compliance for website has been mandatory in several regions. Non compliance to ADA guidelines can be punishable offence. Hence ADA compliant website will save you from penalties.   
Improve your demographic reach
As a business you will always wish to cover as much demographics as possible. Here you can improve your reach by giving easy access to disabled persons also. Compliance to ADA standards will help to achieve it for your business.
Reputation and trust building tool
Most businesses strive hard for reputation and trust amongst customers. ADA web compliance is one such step which will help you to gain it naturally without many efforts. Although other factors are important as well, giving easy access to disabled will give you a much sought reputation and trust as a byproduct.
SEO done right!
Most websites thrive to get ranked higher on search engines and spend a lot on improving their overall site rankings. Google itself is a blind visitor of such ADA compliant website. ADA compliant website designs get benefits of better rankings hence their SEO is done in a right way!
Improvement in web traffic and bounce rate
Visitors tend to believe that ADA compliant websites are more users friendly and business houses must have spent a handsome amount on it. Again it ensures responsibility towards its users so there is an overall improvement in the website traffic. Following to that there is a decrease in the bounce rate.
Stay highlighted and stay delighted
Most of the businesses try to stay a step ahead from their competitors. ADA compliant website can be a key here to get ahead. Not all your competitors will have ADA compliant web design. You will stand apart from the crowd and will be praised too. That is why, "Stay highlighted and stay delighted".    
Money, the ultimate return!
Increased web traffic, reputation, lower bounce rate will add a lot to your balance sheet and it will be reflected at the end of the year. ADA compliant websites prove user friendly and perhaps that's why such businesses gain much sought profits!
Getting closer to the target audience
Well by not being pity to the disabled and giving them the accessibility defines your commitment towards your target audience. Building an ADA compliant web design requires research and hence you will get a closer look at your target audience as a part of your research data!
Proving to be universally accessible
ADA compliance standards are universally accessible and those who operate inside or even outside USA follows it unanimously. Your website being perceivable, operable, understandable and robust increases the accessibility. Increased accessibility leads to acceptance and adhering to standards proves its universal presence.
Reviling a positive side of your business
Willing to do something good? Why not to start from home then! ADA compatible websites is a tool to have a good word of mouth for your business. At the end of the day by making an accessible website for especially able persons you are catching attention of a large number of people. ADA complaint website design improves public relations and people will talk good about you lad!
Make a smart call
Who said it's too late? Having an ADA compatible website will be lot more beneficial for your business. Again you will stay clear in the eyes of government. Although this mandate is not strictly applicable at many places, absorbing ADA compliance will help you to generate much more than what you are spending. Benefits which seem like by product of ADA compatible web design are actually what business houses seek though out their life cycle!
Skynet Technologies USA LLC is a pioneer Website Development Company in USA offering ADA compliant website design and development services followed by WCAG standards. We have a team of an experienced and dedicated developer having the in-depth technical knowledge to make your website accessible for everyone and protect your website from legal penalties and actions. Request a Free Quote today to Hire developer based on your business requirements. We can make your Drupal, WordPress, Magento, Joomla, HTML website or Mobile App ADA Compliant.
Request Free ADA Website Audit
Hire Developer to Make Website ADA Compliant
WCAG 2.1 compliance is quite time-consuming and costly when it requires massive changes to your website code. Fortunately, Skynet Technologies is providing All In One Accessibility widget to make your website ADA compliant with WCAG 2.1 AA level throughout all the sections in just 2 minutes.