How Custom Drupal Development is Beneficial for your Business Website?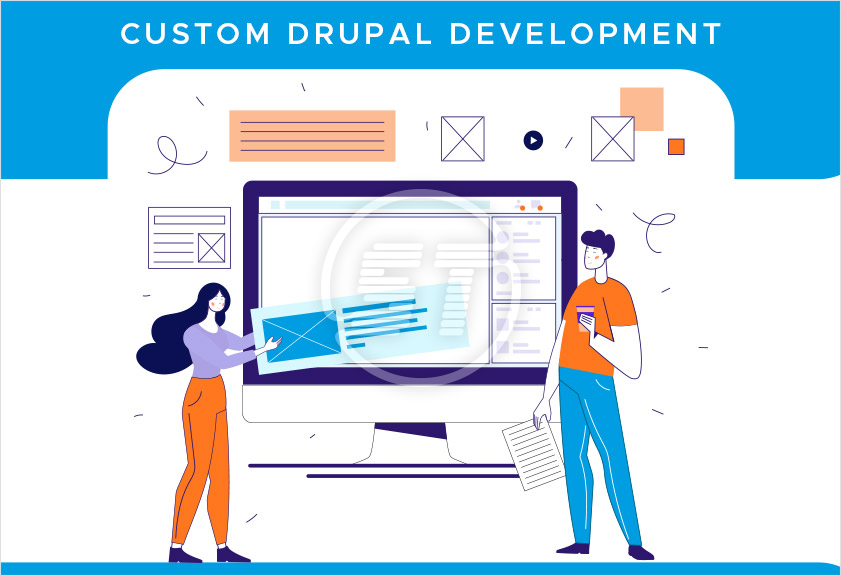 In today's world, it isn't astonishing to know that all the businesses are going digital and rely on their corporate websites for building their brand image, attract more prospects, drive sales, and more. If you want your business to stand out from your competitors, you need to focus on building kickass websites that can leave your competitors miles behind. While many businesses stay perplexed over choosing the right framework, Drupal emerged as a great choice for website development and preferred by many large-scale enterprises.
Custom Drupal development facilitates options to meet specific business needs. You don't have to settle with the pre-made or in-built options. With custom Drupal development, you can say goodbye to the one-size-fits-all approach and unlock a myriad of possibilities for your business. This enterprise-level framework offers a sea of features and packages as well as extensions to enrich the functionality of your website. With custom Drupal features, you can reduce development time, streamline the process, and offer the customers a great experience with tailor-made solutions.
Benefits of Custom Drupal development for your business
If you take a careful look at any big brands and their websites, you can notice that they all rely on custom code for their key functionality and hence they stand out from the rest. Most of the highly-trafficked websites that use Drupal CMS as the basis went for custom coding. With flexible page layouts, page previews, they were able to deliver fast and smooth experiences, and much more. Some of the benefits of custom Drupal development are quick initial development, meeting the exact requirements of customers, excellent code quality, powerful taxonomy, and RSS feeds, custom and user-friendly URLs, high flexibility and scalability.
Although the opportunities with Custom Drupal development are unlimited, some of the benefits of it are mentioned below.
Exclusive Drupal website architecture - If everyone relies on pre-built templates, it is hard to make the best impression on the prospects as they don't find anything unique about your website. As opposed to pre-built templates and options, choose custom website development. You can build an exclusive site architecture that is built around your visitor or customer's journey. They would stay on your website until they convert successfully. This also reduces the churn rate drastically.


Unique Drupal design - Your Drupal website design is what your users first see. Ready-made templates are repeated all over the web. The chances of creating a unique and great impression are quite low if you rely on ready-made templates. So it is better to go for a uniquely built theme and design that let your website create an unforgettable first impression. This would leave a great impact on every subsequent stage of your website. With unique designs, you can build your brand's identity and recognition.


Unlimited Features - Usually some CMSs have limitations and there is nothing you could do if it doesn't offer a feature you needed. But unlike their counterparts, Drupal offers massive extensibility options. You can tell the developers what functionality and features you expect from your website and there is literally nothing that they cannot create with custom Drupal development. You don't have to worry about adapting to the default capabilities. You can actually build websites that will adapt to your business requirements without any limitations.


Faster Page Loads - With simple website builders, you would be having certain functionalities regardless of whether you need them on your website or not. Each unnecessary feature may reduce your website's performance and reduce your page load speed. In the times where website speed is crucial for businesses in attracting potential customers, improves your SEO score, and capable of driving conversions and garnering profits, you cannot have the unnecessary load. Custom Drupal development can give you a focused set of features with nothing less and nothing more than your business needs. You just need one custom plugin that can replace a host of unnecessary ones.


Higher security - With custom Drupal development, you can have great opportunities to safeguard your website. We can enhance the security through custom workflows for multiple participants, tighten the access and permission levels, improve the authentication mechanisms, and much more.


Greater flexibility - Technology doesn't standstill. It is ever-evolving and constantly upgrading. Changes are very useful for your websites. You decide how your website should evolve with time so that it doesn't lag behind the current market realities. Whatever changes you wish, they will be done by the Drupal developers. Custom Drupal development lets you have your website modified the way you need to by professional Drupal developers.
Thus, the main focus of custom Drupal development is to fulfill all your requirements by creating user-friendly websites along with the features you desire.
How to choose the right agency for custom Drupal development?
While choosing a Drupal development company, go for the one that has enough experience in custom website development. An agency that has experience in building custom modules to meet the customer requirements and help businesses grow online. Some agencies like us cater to clients of all sizes whether they are small, medium, or big enterprises. We also have a professional Drupal developers team who is capable of adding any features to your website within the stipulated time. Custom Drupal web development for us is all about understanding your business and applying innovative themes to earn maximum revenue and build a loyal customer base. Improving user engagement is one of the most crucial objectives for us while working on web development.
All in all, Custom Drupal development is the perfect solution for enterprises who want to create high-quality and feature-rich websites at affordable prices. In a nutshell, with custom Drupal development, one can get dynamic and innovative websites that attract more users and enrich their experience. We specialize in custom Drupal development and our experts can add new features to your existing ones or build one as per your needs. Do you need any help with custom Drupal development? Let's discuss it further, Drop a line to our development team.
As a leading Drupal development company in USA, we offer Custom Drupal 8 & 9 Development. Our dedicated Drupal developer can build a custom Drupal website, portal or web application using Drupal 8 & 9 right from concept to deployment. We build custom modules to meet client prerequisites of growing online business. We cater the customer needs whether they are having little, medium or enormous enterprises. Get in touch with us!
Related blogs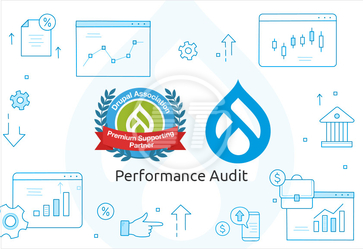 Drupal Performance Audit – Best Practices and Areas to Focus!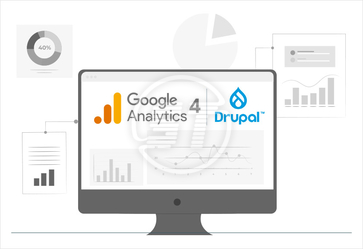 How to set up and use Drupal Google Analytics 4?