Drupal to WordPress Migration - QuickStart Guide!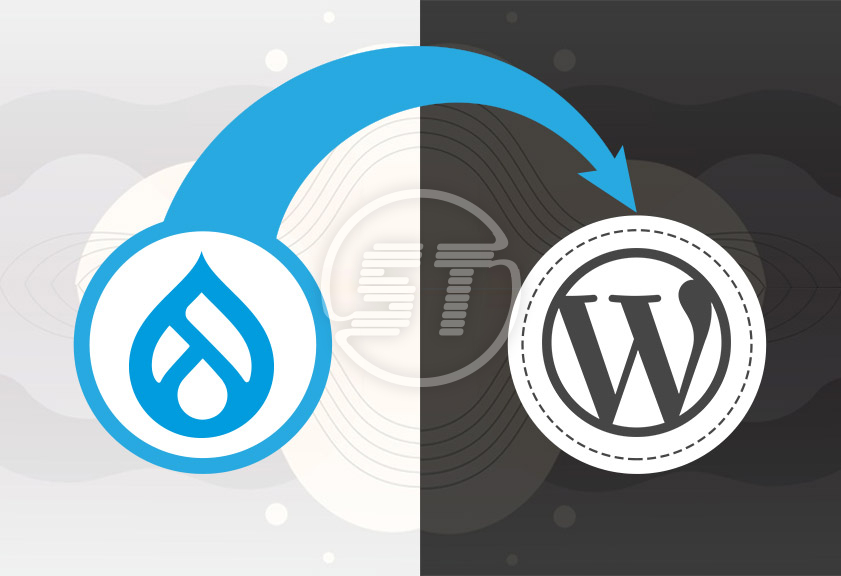 Drupal is a robust CMS with a multitude of features; however, the learning curve is steep especially if you are just beginning your web development journey or do not have adequate tech skills. In that case, you might want to migrate Drupal to a platform that is much easier for you to work on. WordPress is one of the most popular CMS preferred by many people over the web. Migrating your website may seem to be a daunting task, however, WordPress makes it simple for the users to carry out the migration without hassles.
Let's get loaded up and see how to migrate Drupal to WordPress.
Why choose WordPress?
The web development arena is dynamic and ever-evolving. While Drupal is a great CMS, WordPress is feature-rich and robust, gaining a larger market share with each day. Drupal cannot hold a candle when it comes to customization and ease of use. Earlier, WordPress was mainly powering blogs but today it grabs a lion's share in the webspace. It has become a developers' paradise building advanced and attractive websites using WordPress. With the right plugins, it can do everything Drupal can do and build advanced sites.
Some of the reasons to Migrate Drupal to WordPress:
Cost-effective - If you want to build an advanced website on WordPress, it costs less than Drupal.
Easier to use - WordPress comes with many features that are simple to use even for a novice like drag-and-drop editors, content editing tools, and media management.
Better UX - WordPress has richer editing options, and hence provides a more polished user experience.
Larger Ecosystem - WordPress has a much larger community with excellent developers who produce tons of great themes, plugins, and SaaS services.
Great Documentation - A huge WordPress community implies lots of documentation.
Things you need to consider before Drupal to WordPress migration
A. Get Appropriate hosting
If you are on Drupal, you might already have a hosting provider and also a domain. Since you are considering switching to a new platform, you may have to pick a host that is more in tune with the needs and requirements of WordPress CMS and supports WordPress installations. There are a number of suitable plugins for WordPress, you can verify the reviews and find an affordable, reliable host for your website. Before you start your migration process, have a blank instance of WordPress installed on the web server. For hosting like InMotion, you can install WordPress in just a couple of clicks while other hosts may take a longer time.
B. How to migrate from Drupal to WordPress
Once you are set on hosting, you can easily migrate from Drupal to WordPress with a plugin - FG Drupal to WordPress for which a free version is also available and also a premium upgrade if you run a huge enterprise or have massive Drupal customizations. FG Drupal to WordPress tool is remarkably easy to use with the documentation for your help.
Install and activate FG Drupal to WordPress plugin by logging into your new WordPress site. Once it is installed, you need to find out your Drupal DB parameters. Locate the specific parameters like Drupal username, password, hostname, DB name, etc. If you are unsure of the other parameters, you can find the rest by looking into Drupal installation's core files using FileZilla, an FTP client. Access your files, navigate to the default directory, and locate all the parameters in a file called settings.php.
The next step is to import your Drupal content into WordPress. Once you've installed the plugin successfully, you should be able to see the Drupal option in the dashboard. You can choose all the options you want to move like media, images. If you ever run into any issues during the import procedure, you might want to increase the timeout limit for every media file, else it should be plain sailing.
Once you're set with the DB and data importing, you can let the plugin do its work. A successful message will appear in the log once the migration process is completed. You can then scroll to the end of the settings page and click on the Modify internal links button to update any internal links on your website to match the new structure. There's a fair chance that you would be changing your 301 redirects and permalink structure to your new home. Once you're done, the migration process is completed.
C. Post-migration Procedure
Now that you've switched to WordPress successfully, you'll want to take full leverage of the platform's functionality. Once all is done, it's all theme installation, customization, and prepping your website for public use. We recommend you to kickstart by picking up a stylish theme for your website. Then install the plugins and widgets you might need for your website. This may be time-consuming but it is worth the effort depending on what features you want to implement for building a safe and secure website. Then look into ways to tighten up your site security, minimize page load speeds, and improve your SEO.
Why Skynet Technologies for Drupal to WordPress Migration?
That wasn't hard, was it? Whatever are your reasons to migrate your Drupal site to WordPress, the biggest hurdle is just getting started. Once you take the plunge, migrating your Drupal website to WordPress isn't as complicated as you expected as long as you pick the right tools and team to do the job. Skynet Technologies has been a helping hand for many clients who have been wanting to migrate from one CMS to the other. We offer the best migration services in town. You may be understandably uncomfortable with the thoughts of losing all your data in the migration process. However, we have done it all with zero to negligible downtime.
Our Drupal to WordPress migration is flawless and flexible. With years of experience and insights from working with both the platforms, we do it without any data loss and preserving your traffic. We also offer round-the-clock support and assist our clients in addressing their concerns and issues throughout the migration process. We have a section of experts who have considerable experience in migrating numerous websites from Drupal to WordPress. Get in touch with us to migrate your Drupal site to WordPress and achieve your business goals.
Drupal has several benefits, but we believe WordPress offers a better profit on investment for developers, agencies & clients. Skynet Technologies provides WordPress migration, WordPress maintenance, custom WordPress development, WordPress development solutions, and more services to keep your website running at top performance. We also provide Drupal migration, Drupal development, custom Drupal development, Drupal Maintenance and Support, Drupal Commerce services and more. Are you facing any trouble while Migrate from Drupal to WordPress? Let us know about your requirements and we'll get back to you as soon as possible!