Best Practices for Exceptional Drupal Web Design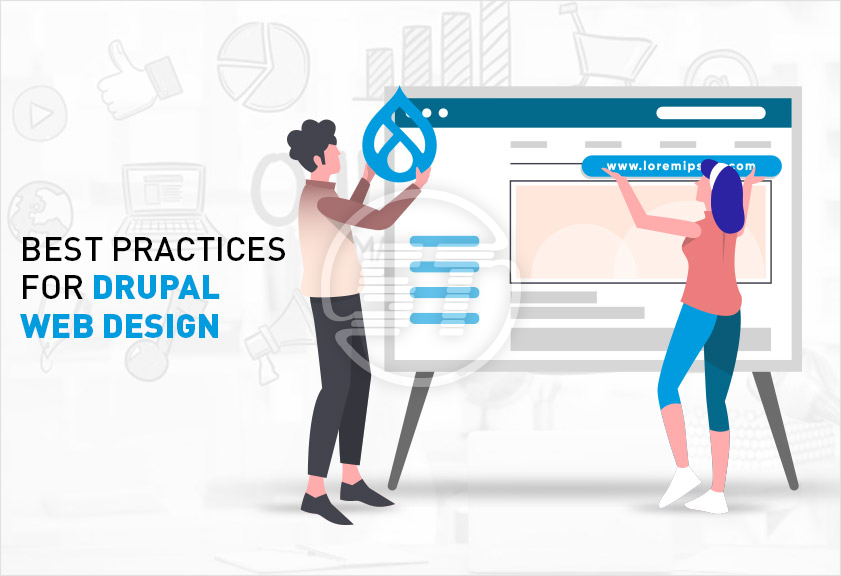 "Drupal websites can look any way you want!"
Sounds familiar? You might have heard this before, didn't you? Technically, it is absolutely correct but is it the best option? You may have to think a little deeper. If something is possible, it doesn't mean that it is the best way to go forward.
While designing a Drupal website, there are a few things you need to take care of to make your website design stunning, consistent, and user-friendly. You need to understand how the Drupal theme structure works and how you can architect your content so that you can leverage the best Drupal design practices for your website. The Drupal platform allows a ton of flexible options to customize your website design so that it can be appealing and interactive.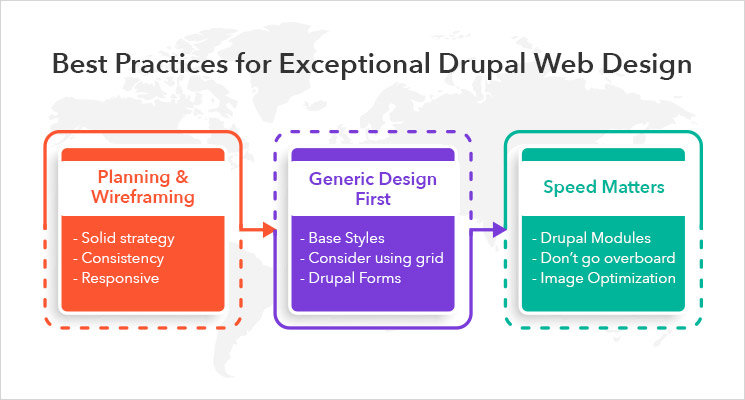 Here are a few tips to create an exceptional Drupal website design to make it more attractive.
1. Proper Planning and Wireframing
Thorough planning and wireframing are essential if you are designing your Drupal website without which the whole process turns out to be a nightmare. There is nothing worse than designing your website with half-baked efforts and going back to the drawing-room with a poorly planned out design strategy.
Solid strategy
We do understand how flexible and powerful Drupal CMS is and how easy it is to present your content in any way you could imagine. But without a proper plan, it may pan out to be a disaster. You need to nail down your site architecture, formulate your content strategy before you even delve into the design process. You need to have a solid plan for placement of the various regions, blocks, content types, and other elements that go on your page.
Consistency
You can try to keep the website aesthetics consistent all the way through and make the navigation intuitive and seamless for the website visitors. It can get complex while accounting for all the content to be output while you maintain the links between pages and intuitive to an end-user. A great way to keep your pages consistent and properly aligned is to use a grid while structuring your wires and compositions.
Responsive
Responsive design is the rage now. With a phenomenal increase in smartphone users, there has been an increasing demand for responsive web designs. You need more concise planning to accommodate different device screen sizes and browsers. This will save you many iterations further down the line and saves you a lot of resources. Mobile-first design when laying out your website plan is the best way to make sure it fits devices of all sizes.
2. Generic Designs First
While designing the elements that go onto your Drupal website, you can first focus on generic designs and then go for the specific ones. Generic elements are the ones that are used consistently across the entire website. Specific elements are displayed only on a few particular pages and not throughout the website.
Base styles
While you design your Drupal website, focus on the most generic pieces first and then the specific ones can be applied with further class targeting. Ensure that all your base styles are good to go before you start with the specific pieces. This will save you an ample amount of time and also avoids unnecessary iterations in the development cycle.
You can focus on styling your most prominent elements such as headers, buttons, blocks before you dedicate time to something that appears only on a single page. Make a list of all your HTML tags and elements, and style them in the hierarchical order of prominence. For instance, you may want to design the generic content page, block, content list, expanding content, navigation, pages, and expanding regions.
Consider using a grid
Using a standard grid dovetails well the Drupal principles such as flexibility, reusability, and standardization. With the grid, you can make your Drupal site visually appealing to your visitor and also give a uniformity to the entire layout that can save you time. You can avoid a lot of fuss making variations and set up your templates quickly.
Many famous websites including Grammy.com are built with the Drupal CMS.
Drupal Forms
Drupal comes with many out-of-the-box forms like login forms, contact forms, comments forms, etc. that can be structured properly. For time-sensitive web projects, you may consider Drupal forms as they are not tedious. Get familiar with how the forms are structured and learn how to play with the options for easier designs. Some forms elements like image upload fields, dropdown selects require JavaScript while certain elements need only CSS. Based on the time limits, you can limit the design changes to these forms.
3. Speed Matters
You may create a beautiful and stunning website that can easily entice your website visitors but if your Drupal site takes too long to load its pages, then it is definitely going to turn away your visitors. And this is exactly the opposite of what you intended, isn't it? So, website speed also becomes a critical aspect of a successful Drupal web design.
There are several things to be taken care of while you design your website and also maintaining the optimal website speed.
Drupal Modules
There are numerous Drupal modules available for easy downloads to leverage on your website and boost up its speed. These modules are great assets that not only enhance your website functionality and speed but also accommodate the design aspects. While there are plenty of cool Drupal modules, you don't have to get everything on to your site.
Don't go overboard
Stick to the ones that are of the highest impact and helpful for your website. Having too many modules enabled on your Drupal website can also slow down your website speed and hurt the user experience. With some expertise, you can develop a fair idea of which modules and files are important to leverage phenomenal design aspects.
Image Optimization
One of the best ways to keep the load times down is to optimize the media files so that the website doesn't take too much time. You can use jpeg images rather than png to keep things simple. Don't overdo graphics and special effects on your website as it may not only overwhelm the website visitor but also puts a severe load on the server resulting in a slowdown.
Wrap-up
At Skynet Technologies, we have a team of UI/UX design who follows the best practices while designing your Drupal website. They are also proficient in implementing Drupal site themes to provide an optimal user experience and ensure higher ROI for your business.
Skynet Technologies is the best Drupal web development company offering design solutions right from the project's inception to its completion. We focus on your long-term business goals and accordingly design your Drupal website. Contact us today to leverage our design expertise to improve your website design.