Why should expert Drupal developers need to do A/B Testing for Drupal Websites?
If you are planning to build or already own a Drupal website, you might know that it isn't an easy endeavor to generate more ROI from it. You need to build and design in a way that generates more revenue with increased conversions. While designing the website, you need to base your decisions on solid data rather than on intuition, for these can determine the success or failure of your Drupal website.
One key methodology that enables your Drupal experts to test the efficacy of your Drupal website is A/B testing. A/B testing, also known as split testing is a very simple and effective process of segmenting the users into two groups and sharing two different versions of your Drupal web pages to understand what works better. One page may get better sign-ups and sales than the other.
Need to A/B test your Drupal Website
The benefits of A/B testing your Drupal websites are invaluable. You would uncover what strategy works the best for your business backed by proper results. By making minor modifications to your landing pages, you can gain a much higher conversion rate.
Some of the benefits of A/B testing your Drupal website are -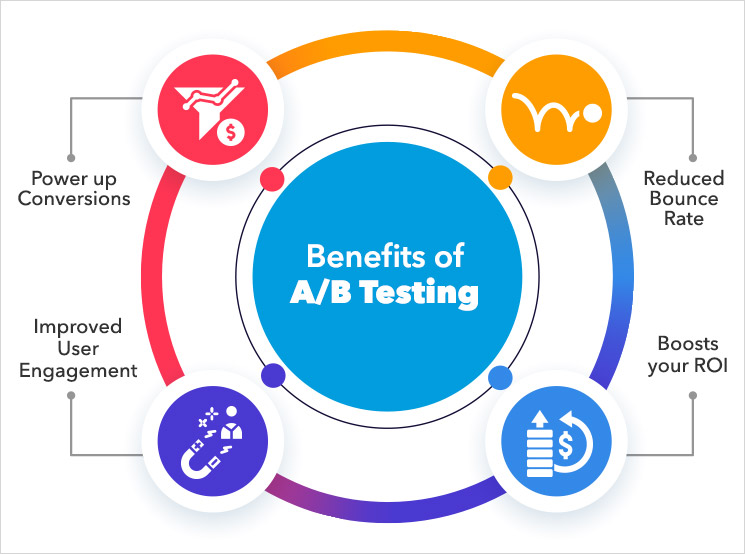 Power up Your Conversions - One of the most sought-after business goals is conversions. Digital marketers work tirelessly to drive traffic to your Drupal site but the most challenging and arduous part is to enable conversions. A single CTA button with text may seem harmless but can make a huge difference. For instance, a quick call-to-action button that says "Buy Now" can be more appealing than "Add to Cart". The latter isn't wrong but can result in a loss of customers. You need to determine the user experience on your Drupal website to understand what works out well. For that, you need to A/B test the most prominent elements on your Drupal site.
Improved User Engagement - A/B test your headlines, imagery, call-to-action, forms, layouts, fonts, and colors. Testing these elements will show which areas have a higher engagement rate. These tests effectively show which affected the users' behaviour and which did not. You can understand what is winning and having an improved user experience.
Reduced Bounce rates - It would be disheartening to see your visitors bounce from your site without spending enough time reviewing your content or viewing other web pages. All your efforts in creating pages for your website go waste. You can A/B test to find the winning combination of elements that keeps visitors stay on your Drupal website long enough to derive value from your website that may ultimately lead to a conversion.
Boost Your ROI - With successful conversion rate optimization, you can also get best returns on your investment. Fewer bounce rates, better customer engagement, higher conversion rates, and other aforementioned benefits will lead to higher sales for your business thereby boosting your business revenue and overall return on investment.
Accurate A/B testing of your Drupal website can make a huge difference to the performance and optimization of your website. Every element on your website is vital and it is recommended to A/B test them to maximize your results. You can test the different website elements and based on the results; you can determine which elements work best on your Drupal website.
Did you know?
77% of companies perform A/B Testing for their websites, and more than 71% of companies perform two or more tests per month.
What elements to test on your Drupal Website?
You can test almost everything on your website. To get it started, you can focus on the following-
Call-to-action buttons - wording, size, color, placement
Headline or product/service description
Images on the landing pages
Pricing and Promotional offer display
Inclusion of Live Chat
Product pages
Form length and field types
Link overdose and more
This is just a good place to start if you are beginning with A/B testing. Eventually, you can focus on the other elements as well.
A/B testing modules and tools for your Drupal website
Let us take a quick look at some of the top Drupal 8 and 9 modules for A/B testing your website.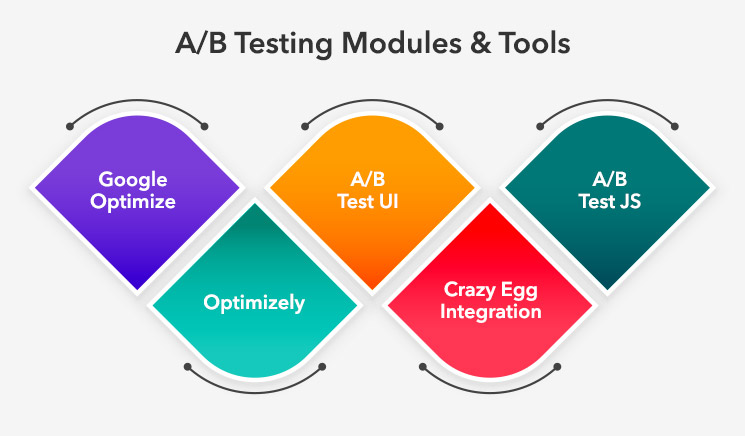 1. Google Optimize
This module integrates your Drupal website with the Google Optimize tool, an A/B testing tool. This tool is compatible with Drupal 8 and Drupal 9 and lets you create personalized experiences. You need to install the Drupal Google Analytics module to make this module work and run A/B tests.
2. A/B Test UI
You can test various versions of your web pages with this Drupal module. Create a different set of internal URLs and rotate them on a single base URL. Users will be redirected either to the base URL or its variations. You can find out what worked the best using Google Analytics.
3. A/B test JS
You can perform both A/B and multivariate testing using this Drupal module by inserting JS code snippets into Drupal web pages and integrating UI & testing functionality into Drupal. Install this module and configure it as per your requirements by adding your conditions and then perform the test. Evaluate the results using Google Analytics.
4. Optimizely
Drupal's Optimizely module integrates your website with Optimizely, an A/B testing tool that can modify the CSS and HTML elements on your Drupal websites. It also provides you the results to let you know which worked out the best for your website.
5. Crazy Egg Integration
This module performs split testing on various elements and on multiple page versions. You can also track the users' mouse patterns and scrolling patterns. It integrated your Drupal website with the Crazy egg heatmap service.
Conclusion
There is nothing as such right and wrong when it comes to user experience. But to determine if you are heading in the right direction you need to test and find out what resonates the best with your users. And A/B testing has been proven to be simple and effective that lets you narrow down on the best strategy based on solid proof to support it.
Skynet Technologies is a Drupal development agency that offers an unparalleled solution to help your business to drive your business in the right direction and maximize your business revenue. We offer Custom Drupal 8 & 9 Development. Our dedicated Drupal developer can build a custom Drupal website, portal or web application using Drupal 8 & 9 right from concept to deployment. We build custom modules to meet client prerequisites of growing online business.