Google Analytics 4 Vs Universal Analytics: What is the difference?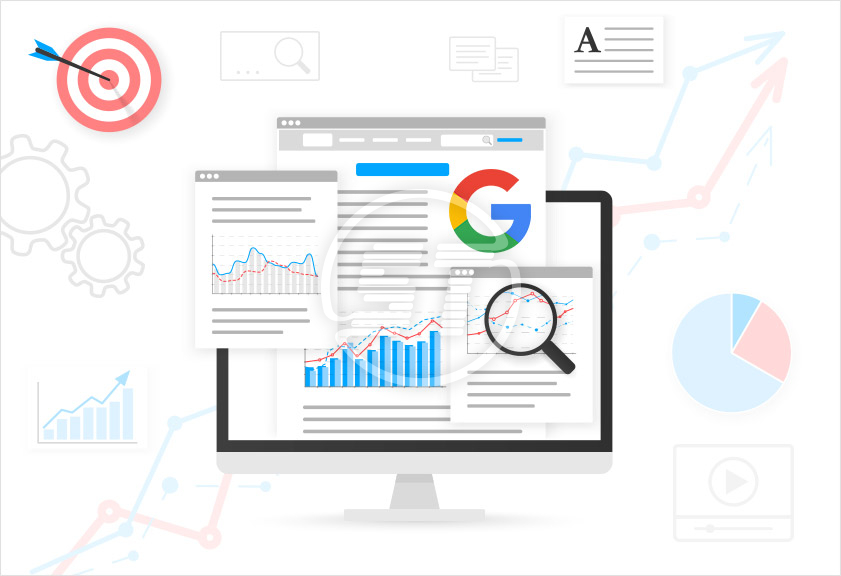 Google announced their fourth version of Google Analytics property, named as Google Analytics 4 (GA4).
What is Google Analytics 4?
The Universal Analytics (UA) platform became the standard for tracking in 2013 for millions of businesses. Google added a beta tracking property called App + Web Property in 2020, which is released as Google Analytics 4 (GA4). The new Google beta can track both Web and App visits in a single GA property instead of separating it into different properties.
The new upgrade is a complete re-build of GA, with more user-centric events, smarter insights, and the ability to track them through their customer experience.
As a Universal Analytics user, you will notice that GA4 includes a substantial layout update as well as a slew of new functionality.
The GA4 includes several exciting new tools, including several that were previously exclusively available to GA360 users for digital marketers. At following, we have taken a deeper insight at the core difference between two Google Analytics platform.
What is the difference between Google Analytics 4 and Universal Analytics?
User Interface & Measurement ID
The user interface is the most important difference between traditional Universal Analytics and the new Google Analytics 4.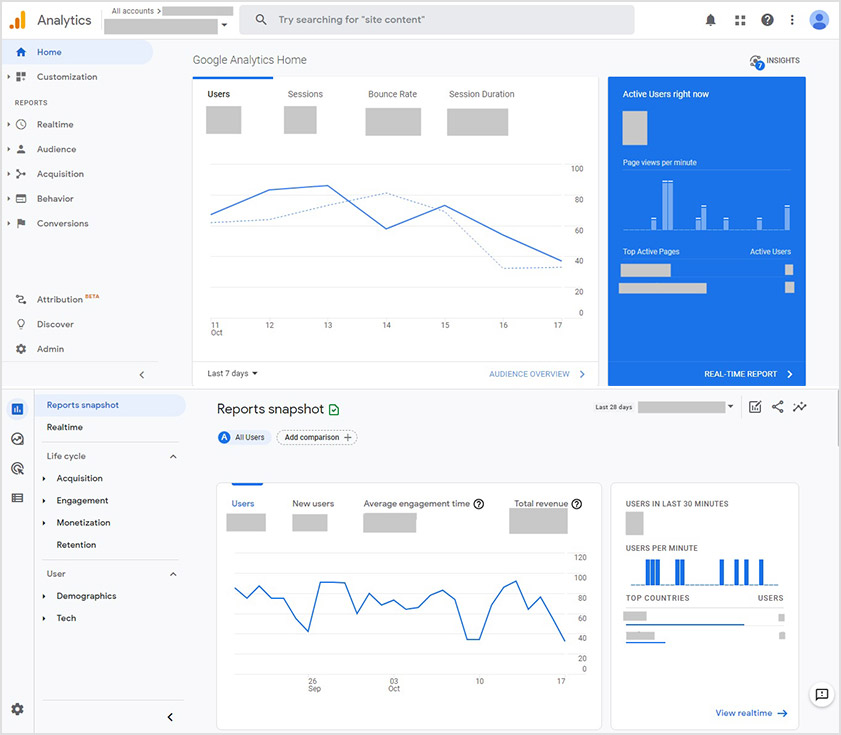 Both Universal Analytics and GA4 provide real-time reports, Google no longer separates user demographics and tech reports from life cycle data. Demographic, technical, lifetime value, and other reports are included in a broad "audience" section. New behavior reports do not contain only just how people browse a website, but also include website technological performance.
This is due to the new way Google Analytics collects and processes data, but you don't have to completely ditch the Universal Analytics view. Existing UA data is not replaced by the GA4 upgrade; It would enable new Google Analytics 4 property that begins collecting data from users in tandem with UA. While investigating GA4's feature sets at your own pace, you can continue to refer to all historical UA data. Because of the appearance of a new measurement ID, you can now associate two Analytics properties with your account.
Event measurement
When a user reaches an Analytics-enabled landing page, Google starts collecting their session. Each session lasts for at least 30 minutes after the user has been inactive.
During these sessions, Universal Analytics records default data called hit types: Pageviews, social interactions, ecommerce conversions. Analytics administrators must create new events with an event category, action, and label to record additional hit types.
GA4 streamlines the procedure by eliminating hit types entirely and instead of recording each action as an event. Also, as event tracking is provided by default, Analytics users can acquire a wide range of helpful insights as soon as the data flow begins.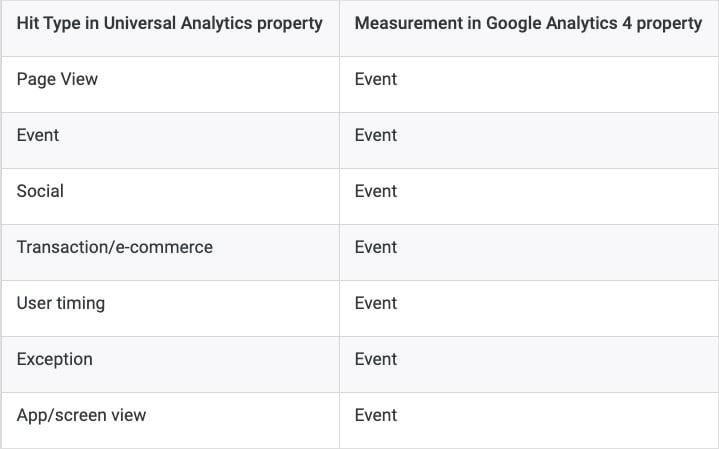 If you use the global gtag.js snippet and create a GA4 attribute, Analytics will track not only sessions, page views, and engagement, but also enhanced measurement events like:
Clicks on app ads, ad impressions, crashes, updates, and notifications
In-app subscriptions, free trial conversions, and purchases
Scrolling around a website's pages, file downloads, and on-site searches
Embedded YouTube videos are started, watched, and ended.
With a single click of a button, every event may be converted into a conversion goal. Marketers who want even more precise details can create custom or recommended events with additional parameters including language, page location, page title, screen resolution and more.
Your digital marketing strategy roadmap would be based on powerful custom data like business goals, opportunities and more. As a leading digital marketing agency, we measure and track the performance of your marketing campaigns. We use several tools like Google Analytics, Google Search Engine Console, SEO Profiler, Google AdWords, SEMrush, Moz, etc.
Properties
Web and app users are counted independently in Universal Analytics, which implies that one user could be counted twice, once as a web user and then as an app user. All data streams in GA4 are merged into a single property. GA4 provides deeper insight into cross-platform and cross-device journeys. Set up a comparison between app types and devices to view the various data points for each source.
Data filters:
Google Analytics 4 has filter capability. You can create up to 10 filters per GA4 property. There are two types of Data filters: internal traffic and developer traffic.
Internal Traffic:
Add rules that identify an internal traffic. IP addresses are matched to a custom parameter value in each rule. When you define internal traffic, the traffic_type parameter is added to all events automatically, with the parameter value you specify. You can also add the traffic_type parameter to your event code manually and give it any value you want.
When you establish a Google Analytics 4 property, it comes with a default internal traffic filter. Internal traffic is defined by that filter as any traffic with the event parameter traffic_type set to internal. You can use any of the custom parameter values you used in the rules created to identify traffic as the basis for the filter.
Developer Traffic:
Developer traffic originates from your app on development devices, and it is identified by the event parameter debug mode=1 or debug event=1. You can still see developer traffic in Debug Mode if you filter it out, so your developers can always double-check their Analytics instrumentation.
No More Bounce Rate Metrics Available
The removal of Bounce Rate data is one of the most noticeable changes in Google Analytics 4. The alternative in Google Analytics 4 is engagement rate. You may either find the engagement rate in the report with the user acquisition data, or you can query it directly using the "Statistics" button.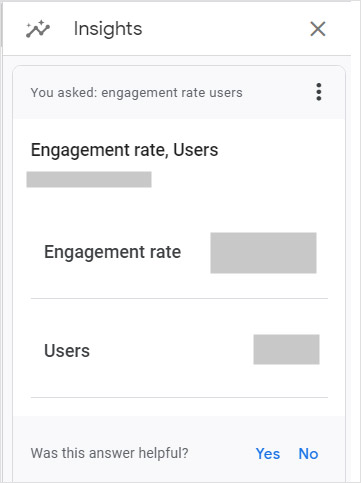 Ecommerce Tracking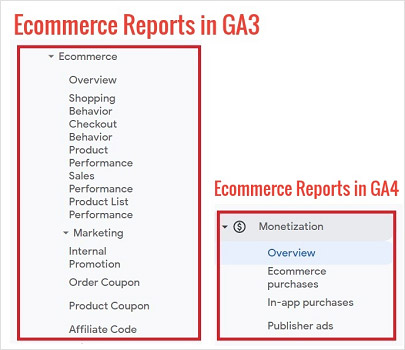 Another area where Google Analytics 4 makes use of Google Tag Manager-deployed site tags is ecommerce. The use of GTM isn't new, but the technique has changed.
Google Tag Manager widely used the broad "checkout_option" schema with a funnel that described each step in the checkout process to track checkout options in UA. The funnel is no longer used in Google Analytics 4, and checkout steps are now tracked individually. Each option is referenced by new schemas such as " add_shipping_info" and "add_payment_info".
BigQuery Schema
GA4 has a free BigQuery Schema connection. As a result, you can access to the raw GA4 data and can use it to run SQL queries. This allows for a more precise and multilevel data analysis of your users, making it easier to understand their website activities. Whereas GA3 does not provide a free BigQuery Schema connection (unless you are using GA 360).
Segments
You can look at a segment of your Google Analytics data to understand more about your users and website engagement. In both GA4 and GA3, segments work in the same way. In GA4 Segments are available in Explorations. In Analytics, you can create segments based on sessions or users. Users, events, and sessions can all be used to create segments in the new Explorations.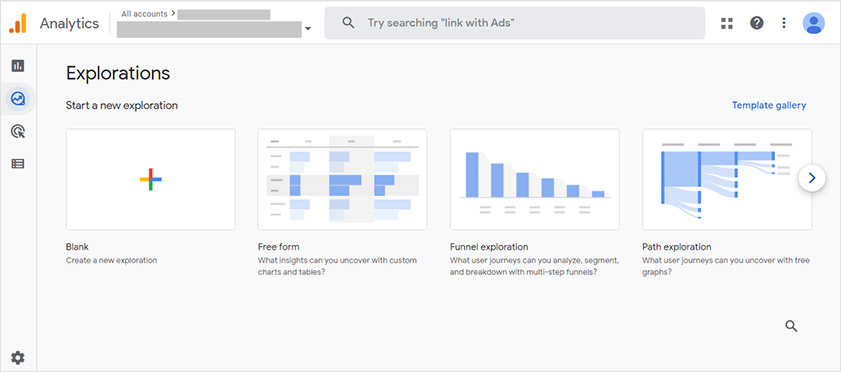 What do we suggest?
It makes sense to continue experimenting with a property GA4 along with GA3 (Universal Analytics). Gain a deeper understanding of users throughout your website and app experiences, as well as for the enhanced reporting experience by setting up GA4.
However, at least until GA4 is being more mature, keep the previous 'GA3 Web Property' active. Because of the different counting methodologies, you can understand how reports would change in design, content, and metrics.
What can we do for you?
We know that Google Analytics is a mandatory aspect of any business's success, and it provides you useful marketing insights. You may miss out on important user insights or report skewed data if you don't have an in-depth understanding of advanced features.
Skynet Technologies provides full Google Analytics support; from setting up custom dashboard creation to complete tracking and reporting. We help you with channel setup and tracking for advanced targeting. Also, we provide complete search engine optimization services including SEO Audit, on-page SEO, off-page SEO, international SEO, website measurement & custom analytics services, website performance analysis, and much more.