Google Helpful Content Update – Will it influence SEO?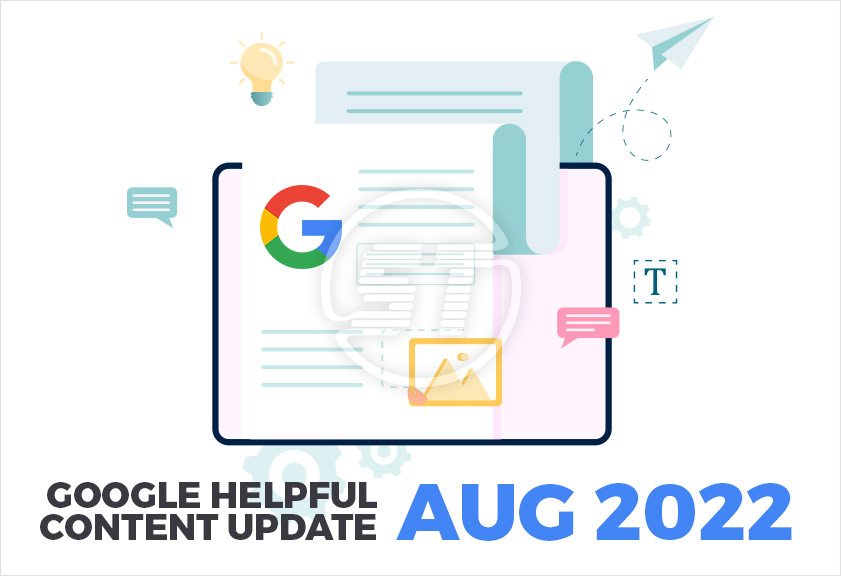 Google search is always working towards improvements for connecting people better. As a part of it, Google announced the 'helpful content update' on August 18th, 2022. The updates started rolling out on August 25th, 2022 and it would take up to two weeks to complete.
This update will impact mainly those websites which have a high amount of irrelevant and unproductive content. Google initiated this update to make sure users will find more original and useful content in search results, written by people for people and not for search engines.
Moreover, the content which will fit users' expectations will get rewarded and on the other hand, useless content will not perform well on search engines. Google says, SEO is helpful if you create people-first content and content written to only boost SEO can be extremely unsatisfactory for users. Therefore, the helpful content update will target the content which is written to approach people-first.
Helpful Content Update – A Game Changer!
The helpful content update is a new site-wide signal just like the other algorithms Google considers deciding the performance of your website. It will strictly target irrelevant and duplicate content and the websites containing such content are less likely to perform well in search engine results.
If you are wondering how Google will find out unhelpful content, then you must know that Google has an automatic machine learning system that can recognize content's usefulness. Once the helpful content update will identify a website with unproductive content, it will witness rank degradation for weeks or months. And they really need to work harder to create and maintain new useful content.
This update is assumed as one of the profound updates by Google in 2022. As mentioned above, the updates started rolling out on August 25th, 2022, and will roll out for the next two weeks; initially, it will influence English searches globally, and then later the other languages will also get covered.
People-first content - Google's helpful content update requirements
Here is a checklist to find out if your website has a threat with this new update or not.
Do you have a loyal audience base that would directly come to you and find the content useful on your website?
Is your content written by experts or does it show the expertise on the written subject?
Does your content cover all the necessary points and provide enough information to users?
Does website content offer a satisfying experience?
Have the content curated with keeping Google core update in mind?
If the answers to the above questions are mostly 'yes'; then your website is on the safer side. But if not, then start improving the content of your website to boost search visibility and ranking.
Moreover, if the websites are only focused on SEO, can get warning signs as well. On-page SEO is necessary but putting efforts solely to impress search engines without thinking of users can land you in trouble. Check if your website is only meant for search engines or for users.
Is your website having content to grab the attention of visitors via search engines or is it made for people?
Do you create a pool of content on different topics to attract users, thinking that some of the content will work well and grab traffic?
Are you publishing content from others' perspectives without adding value to it?
Are you going with the trend without keeping your target audience in mind?
After reading your content, people look for other content because your content was not insightful.
While writing, do you try to achieve a particular word count because you think Google has asked you to do so? Which is not the case.
Have you started writing on a niche topic without having expertise on it just to attract traffic?
Does your content promise to provide an answer, but it has no correlation with the asked question?
Be careful if your website falls in this category.
How will helpful content update impact SEO?
The helpful content update will change the landscape of SEO drastically. Likewise, Google always helped in improving customer experience, this update is no different. The update will not only improve the quality of content on the web but also ranking and search results will change dramatically.
A few changes to be implemented
Once the update will roll out completely, Google will start indexing content based on its quality and not popularity. This change will ensure that users will get to see utterly productive content in search results, rather than finding popular content. Therefore, websites that focus on stuffing keywords and buying backlinks instead of focusing on content quality, will not be able to rank higher just because they have applied SEO techniques rightly.

Now Google will consider the entire query's context rather than giving results based on keywords. This implies Google will now scrutinize the broader context of the searcher's query and will display content accordingly.

Google will now give more preference to updated, vogue, and fresh content. The websites that have updated and relevant content is given priority in search results, which will be different from the past when older content used to rank higher because it was popular sometime.

Keyword stuffed content will not get favor; Google search engine encourages more natural language content. Websites must focus on offering easy-to-read content and not game with search engines by stuffing keywords.
How can you improve website content?
Google devalues search-engine first content, Google has made it clear that it will be giving importance to quality and not quantity. Organizations must maintain top-notch quality of the websites now. Here are some tips on improvement.
1. Create content for people
Create content for your target audience and not for search engines. You decide, what is your goal behind content creation? Certainly, you wish to attract humans and not search bots. Therefore, represent interesting and useful content for target users. If users will feel like to engage with your website, bots will follow. Even the best content without a plan is a recipe for disaster. Well-honed content marketing process is the need of the hour to spark the attention of your visitors and improve your conversions.
2. Curate fresh content
The content should not be outdated. If you are creating latest content, make sure to collect updated data. Also, keep on refurbishing the website's existing content to ensure that it is relevant and timely. Publish content regularly on a set interval, thus search engines will assume your website as an active one, and based on content quality, it will rank the website.
3. Sprinkle your experience
Put your thoughts into the content, instead of summarizing others' opinions. Try to create original content. It will boost your website ranking.
4. Rich content
Ensure your content have correct answer to the user's questions. Whatever topics you are writing, make sure you have done thorough keyword research to know what users are looking for and then create content. If it will have complete information and insights, users, and bots both will love it.
Are you all set to re-evaluate your website?
Now you know about the Google helpful content update. Since it has been rolled out, start evaluating your website and if necessary, change your content creation strategy. Create people-first content, it will boost your odds of ranking higher in search engines. Moreover, neither overlook SEO nor only create for crawler bots; balance it.
Google Helpful content update will impact SEO for sure. Though it depends on the quality of content, excellent quality will reap better search engine results and poor content can degrade the ranking of the website.
SEO changes fast; it comes with new challenges from algorithm changes to voice impacts as well! Skynet Technologies is a certified SEMrush agency partner that provides the best SEO practices service to boost your search visibility and ranking on search engines. We are a search engine optimization agency who have a well-established approach and ever evolved with the improvements over a time! Send mail to hello@skynettechnolgoies.com to know more about our SEO services or fill out the form given below.