How IoT will Impact the Future of Custom Business Web Development and Web Design in 2020?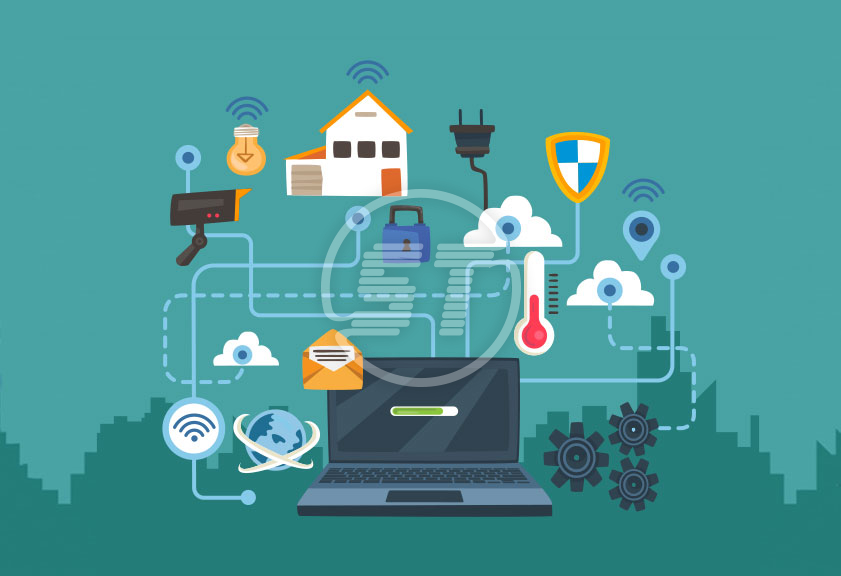 In the fashion world, trends tend to come in cycles. Sometimes this also applies to the world of technology. Old ideas often resurface in newly imagined forms. Note the concept behind the Internet of Things. It is based on the thin client and thin server technologies, popular in the mid-1990s. And while web security experts wonder how the Internet of Things will impact web development trends in 2020, everything they need to do to discover is to analyze the IoT characteristics.
Let's try to understand how the IoT is impacting the entire landscape of custom web development and web design in 2020.
Intuitive user interfaces
The UI must always be essential, interactive and fluid. IoT web developers should still implement the latest web design practices and ensure that the design is compatible with mobile devices. So that users can get the maximum usability benefit. The IoT sector has exploded in recent years. Today in most houses, there are intelligent devices that can be controlled and monitored through our smartphone or with a virtual assistant. IoT devices are, therefore, positively influencing our lives.
Robust back ends
Using a good backend design architecture, it is possible to improve the communication between users and IoT devices. Each device has a different set of features, commands and data that will have to work precisely how users want it. IoT VS web development systems also depend on web services to function correctly. Therefore, developers who intend to work in this field are required to have a very profound knowledge of coding and database management rules. Furthermore, the development times of IoT projects are often longer than those needed for typical web applications. It is because, behind a system of this type, there is often a complex multi-layered architecture.
Energy Management
IoT devices require effective power management. Since these are small-sized devices, often powered by batteries, it is necessary to implement protocols to limit consumption when the user is not performing tasks. IoT is the new technological trend that has transformed our daily lives and is completely changing the existing web development landscape. Web developers are required to acquire a much deeper understanding of coding, encryption technologies, programming and database management. And companies are required to spend more money on training and employment for these developers.
Closely Monitor Web Development
Web developers are required to acquire more comprehensive knowledge of coding, programming and database management. They need to adopt the latest tools and technologies, leaving behind the traditional web development practices they have been following. It is leading to the growth of dedicated, professional and outsourced web development services. Soon, the most professional and dedicated web development services are likely to be launched on the market to meet evolving business needs. In the coming days, hybrid development teams will be more successful, and security will be a significant concern.
Offers more Security to Web Development
It is the security of your website or safety of entire network what makes IoT a crucial fact. Additional and advanced devices, such as speakers and IP megaphones, can be added to enhance the use of IP cameras and network port controllers. Shortly, the website will use 5G and QR Scan code. Simple means such as RFID technology and the QR code are enough to identify objects and collect information on physical states and store them in a network. It is already the case in tracking the packages of logistics services and how it was in the management of the inventory. Due to IoT capabilities and open industry standards, it is easy to integrate devices with open standards. Best of all, with SIP-compatible speakers, you can assign them a standard phone number, just like any other VoIP phone device.
User-friendly interface
IoT or Internet of Things is the new gigantic technological wave that completely disrupts the existing set of technologies. Can you see intelligent traffic signals by detecting traffic in real-time and managing them accordingly? Well, IoT is all about connecting devices to the Internet, which includes almost everything you can think of, and making everyone talk seamlessly. The possibilities are endless, and proliferation has started. Smartwatches can be an excellent example to name. They are correctly connected to the user's iOS and Android devices. Likewise, Microsoft's Cortana, Apple's Siri, and Echo's Alexa are other popular IoT applications.
Powerful use of server for business website
It provided companies with a way to offer higher processing power to multiple users, making them share a standard high-capacity server. The thin server quickly became the framework for developing server appliances to connect almost everything to the network. But the most crucial Thin Server products designed at that time were network cameras and video encoders because they reshaped the entire industry. Today, tens of millions of network video devices are installed worldwide, from a wide variety of manufacturers. Thanks to network capabilities, video deployment has become viable in larger areas, making urban surveillance an application accessible to all cities.
This model is particularly suitable for environments with many remote ports that need the added security of integrated video. The network port controller takes advantage of the POE (Power over Ethernet) standard to lower installation costs and increase system reliability. In general, an IP-based port controller is less complicated to maintain, offers greater flexibility and scalability, and has a lower total cost of ownership than its analogue equivalent.
Conclusion: IoT Everywhere
The Internet of Things has undoubtedly grown in the consumer world. Smart thermostats send alerts to homeowners while they are away or on vacation. Baby monitors allow parents to accompany their children while they are still at work. There are even smart refrigerators that automatically order groceries for the family when they run out.
In the world of security, the IoT Development is helping companies manage all security systems, from intrusion sensors and fire alarms to video surveillance, access control, speakers, emergency centres and video intercoms, all of this as a single cohesive platform. IoT monitoring devices can even be connected to environmental controls to ensure that a building's HVAC (heating, ventilation and air conditioning) systems operate within defined parameters. We can already think of a smart toaster project for the break room.
LET'S GET CONNECT FOR CUSTOM WEB DEVELOPMENT