Mobile App Vs. Mobile Web: Make a Right Choice for your Business!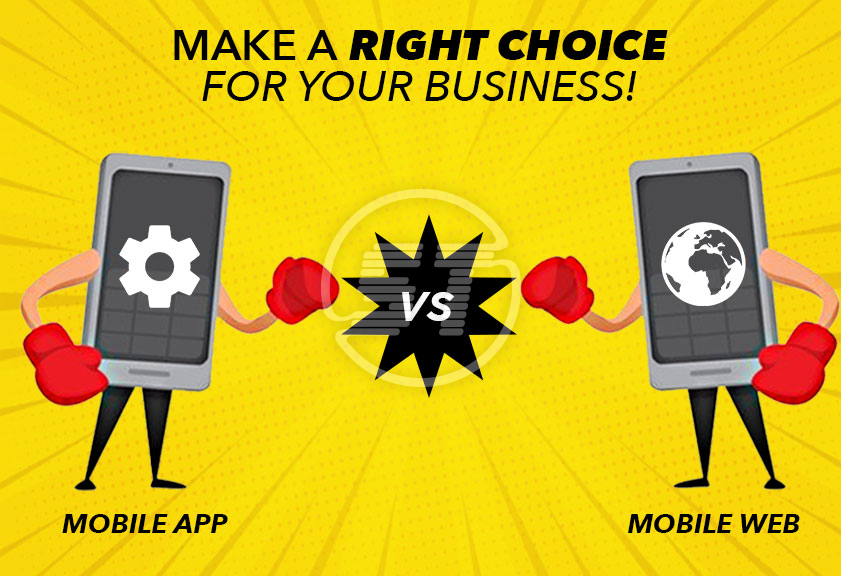 Confused with Mobile Application Development and Mobile Web App Development? You don't know which can be more popular as well as easy to reach among the audience? Let us all try to understand both and chose as per our own need.
In the present scenario, many people around us haven't heard about both this option so they must be thinking what is this all about? Isn't that true? So we have to recognize that this is a huge difference between the Mobile Application Development and Mobile Web App development.
In the year 2018, according to a survey it has been seen that 58% of people have visited any website through their phone. Most of the time people get online from their phones rather than desktop or laptop as it is more convenient. It is doubtfully true that any kind of business you do needs Mobile Application Development.
The Mobile Application Development and Mobile Web App development are very different from each other when it comes to the mobile medium. Several factors decide which more convenient medium to service your business is. Some of the factors are your budget, the audience you target and how determined you are.
Presently the market scenario is very different from the past. The market is more focused to hold onto the mobile strategy. There is a various opinion regarding Mobile Application Development and Web App Development. Some feel that having an attractive mobile website can influence people towards them while others have the opinion that a mobile application has various benefits and more efficient to handle.
Understand the difference:
The Mobile Applications and Mobile Websites both are accessed by a mobile device.
Mobile website development is something that consists of HTML pages that are browser-based and linked together. All responsive websites are designed in a way so that they can be easily available on all different platforms and easily adjust themselves to diverse screen sizes and layout. With time the Mobile Website App Development maintains the market standard each day.
Mobile application development is an application that can be downloaded on your mobile device and then install it. This application can easily pull down require information and facts from the internet. It has some specific features and content that allows accessing the application without even connected to the Wi-Fi connection. There are some features such as the calendar, contact list or the camera which often integrates the mobile device. Lastly, it is a virtual communication platform that is highly required and important between the user and the business platform.
Why you need Mobile Application Development and Mobile Web App Development?
Mobile Web App Development
The Mobile Web App Development helps to reach out to your business from all mobile devices which consist of a browser. In that case, nowadays all smartphone has a browser so that proves that your business will be successful if you are opting for Mobile Website App Development.
A Mobile Web App Development acts as a brand. If any individual comes in contact with your desktop site, then they will understand or assume that you might have a mobile website as well. It is essential to have access to the Mobile Website App Development as that can provide a better impression of your business.
The user does not need to waste time downloading your website. Only browsing can be enough.
If you're running out of cost or time, then you can easily host on to Joomla or WordPress. To make it more mobile-friendly try adding more responsive details in your site. That means it must be well described and visually presentable.
Mobile Application Development
Many users globally spent 86% time on their mobile applications.
There are many functions that a Mobile Application Development can fulfill. Some of them are:
1) You can showcase the price and upcoming events.
2) Easily perform any kind of booking.
3) Take advantage of the messenger to chat personally is required.
Your brand name is more strongly with the help of the Mobile Application Development.
Creating a Mobile Application Development can create huge competition for the market. Having a great application is cool! Trust me.
Are your customers distracted with the Wider Web? Then get them closer to you by giving them with a Mobile Application Development.
Which is the best?
>Both are different from each other so therefore it depends on your business type. If you're involved with gaming then mobile application development is the better choice for you. Apart from that if you're dealing with a business where you need to describe information related to your business or share something exclusive with all your customer then mobile website development is more convenient than mobile application development.
In short, understand your own needs. When you have to share or reach out to your customer as a whole the mobile website development is the best option for you. Again if your only aim is to provide a mobile-friendly experience to your existing customer then creating a mobile application development is a better option.
Bottom line:
Are you still confused with the Mobile Application Development via Mobile Web App Development? The best answer is "Both" are equally good for your business in their ways. Mobile Website development is very much required to set up a business. If we look into the other side of the chapter having access to mobile application development is also essential when you choose to take your business to another level. With the help of mobile application development, you get to collect new revenue streams and also provide better service to all your customers. If you're having a small business or your part of any startup company, then the most important thing is to remember that you should have the proper knowledge to integrate both the Mobile Application Development and Mobile Website App development for your business.