Compare and select the right Pimcore Enterprise Edition for your business!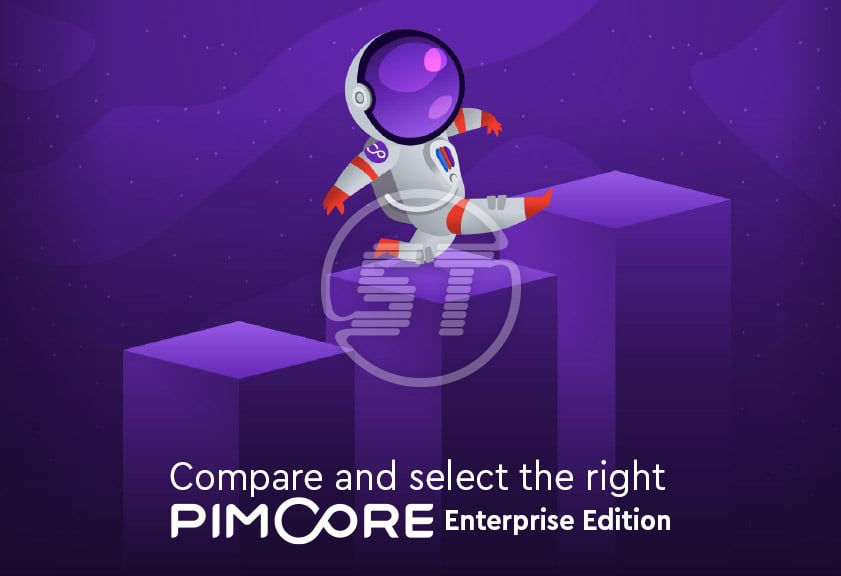 Data management and experience management are overwhelming and challenging tasks for enterprises. Therefore, to manage these critical aspects of a business, an enormous number of organizations use Pimcore for their product information management. Pimcore is capable enough to manage product data, customer data, and digital media assets perfectly without a doubt. It delivers an exceptional digital experience on every channel.
Pimcore is a flexible platform that allows PIM, DAM, DXP, MDM, CDP, and digital commerce implementation efficiently with different deployment models (or editions). These models are community, enterprise, and enterprise unlimited.
You can opt for the community edition if you want the original open-source version of this platform. Enterprise edition can help you as an on-premises solution with astounding flexibility and useful features. And enterprise unlimited edition comes with many extensive enterprise features to support your business.
To know more about these Pimcore editions, keep reading this article.
Choosing the right Pimcore edition
Based on the business challenges and complexity of your digital assets needs, Pimcore has distinct editions for you.
Community edition: It is a free open-source edition available since 2010. Community edition has all the core features of PIM/ DAM/ MDM/ CMS/ Ecommerce etc., which is satisfactorily used by numerous organizations across the world.
Enterprise edition: Pimcore's enterprise edition provides complete flexibility in terms of customization even in your preferred infrastructure. It has extensive features and support services. To get the most out of Pimcore, choosing an enterprise edition is a good choice.
Enterprise edition unlimited: This edition is more or less like the enterprise edition with unlimited installation features and customer support packages.
The difference among the three Pimcore editions
Features
Community Edition
Enterprise Edition
Enterprise Edition Unlimited
Price & License
It is an open-source edition with a GPLv3 software license. You can install it once and start using it. Multiple installations are not allowed.
This edition is not free; it has a yearly subscription fee. It comes with a commercial license and gives freedom to keep the source code private.
This is an enterprise edition but with unlimited installations; that means you can install the software multiple times on your desired infrastructure.
Core Features
The community edition of Pimcore has all its core features including PIM, MDM, CMS, DXP, DAM, CDP, and Commerce. It can integrate multiple entities adroitly and handle huge data and many users efficiently.
It has all the core features you get in the community edition. Since it is made for enterprise-level, it has capabilities to handle colossal data perfectly.
This edition also has every core feature that includes PIM, DAM, DXP, CMS, MDM, CDP, and Commerce to provide a beyond-the-box experience to all your users.
Experience Portals
It doesn't support the experience portal feature.
- Product Experience Portal (PXP)
- Asset Experience Portal (AXP)
- Product Experience Portal (PXP)
- Asset Experience Portal (AXP)
Product Data Syndication
Pimcore's community edition doesn't have this feature.
The product data syndication feature is an important part of the enterprise edition of Pimcore. This feature provides full control of the product experience across the channels. It is a tool to execute product data channel strategies, which helps you to increase the business revenue via seamless marketplace integration and data synchronization with distinct shopping, marketing, and business channels. Product data syndication also offers robust data integration, content tailoring, product data customization, product feed management, optimization, etc. across all the sales channels and marketing platforms.
It also has this feature included.
Enterprise Extensions
This feature is also not included in the community edition of Pimcore.
Enterprise extensions optimize your Pimcore environment and enhance the strategic return of your Pimcore investment. These extensions ought to increase the native functionality of the Pimcore stack.
Unlimited edition also has all the enterprise extensions (similar to enterprise edition) including Adobe/Microsoft Integration, Workflow Editor & SSO, Datahub REST API & File Export, Translation Interface, Enterprise DAM Metadata, Direct Edit & Statistics Explorer.
Long Term Support
Pimcore long-term support is a special feature, which is not a part of the community edition.
The long-term support (LTS) to enterprises and projects can extend the lifecycle of Pimcore installation and hence improves ROI. LTS also offers security fixes for legacy Pimcore versions and access to LTS versions. Enterprise edition provides REST/ XML web services and PHP template support as well.
LTS is included in the unlimited edition as well.
Service Level Agreements
The service level agreement is to ensure appropriate support for all Pimcore's clients. This feature is also not a part of the community edition.
Pimcore enterprise edition has starter, silver, gold, and platinum service level agreements that guarantee you support from Pimcore's team. It also has Access SLA packages.
This edition also has all the SLA packages except the SLA Starter package.
Professional Services
Professional services are not included in Pimcore's community edition.
Business consulting, Pimcore training, and Pimcore development are included in the professional services offered by Pimcore company to unleash the full potential of data and experience management.
Pimcore's enterprise unlimited edition has all the professional services included. Additionally, it has customer support packages available.
This is a clear comparison of these three editions of Pimcore, out of which enterprise edition and enterprise edition unlimited are almost similar apart from a few additions or subtractions. You should choose the enterprise edition if you want a long-term association with Pimcore and robust product data and experience management.
Installation and deployment of the enterprise edition of Pimcore
Installing the Pimcore enterprise edition is not difficult. You can install it on your own after managing the hosting and infrastructure needs or another way is to ask your solution partner to install and deploy it at your preferred infrastructure. The enterprise edition is natively cloud-ready and compatible with all cloud provider pioneers, such as Google Cloud, Microsoft Azure, and Amazon AWS.
Wrapping up
Pimcore is creating a buzz among businesses due to its extraordinary, reliable, and remarkable approach to data and experience management. The new business era is all about customer experience and data management and Pimcore has the pulse of this trend.
Every edition of Pimcore caters to the data efficiently. However, data and experience management issues can differ at the enterprise level. A complex enterprise with humongous data and users may need the enterprise edition of Pimcore to handle the data and experience management aptly.
Leave data management and customer experience management to Pimcore and see the increase in revenue. Choosing the right platform can provide the correct direction to your business!
We are proud to be known as a Pimcore Silver Partner. We deliver full service Pimcore development including PIM, DAM, CMS, design, multi-channel e-commerce, integration, maintenance, and support to SMEs, large businesses, international organizations and web development agencies.
Our team of certified Pimcore developers enable personalized brand experiences, real-time customer engagement, omnichannel enablement, and more to your Pimcore website or application. Get in touch with us at hello@skynettechnologies.com or submit the following request free quote form.