Strengthen your brand with Drupal Commerce Store Maintenance!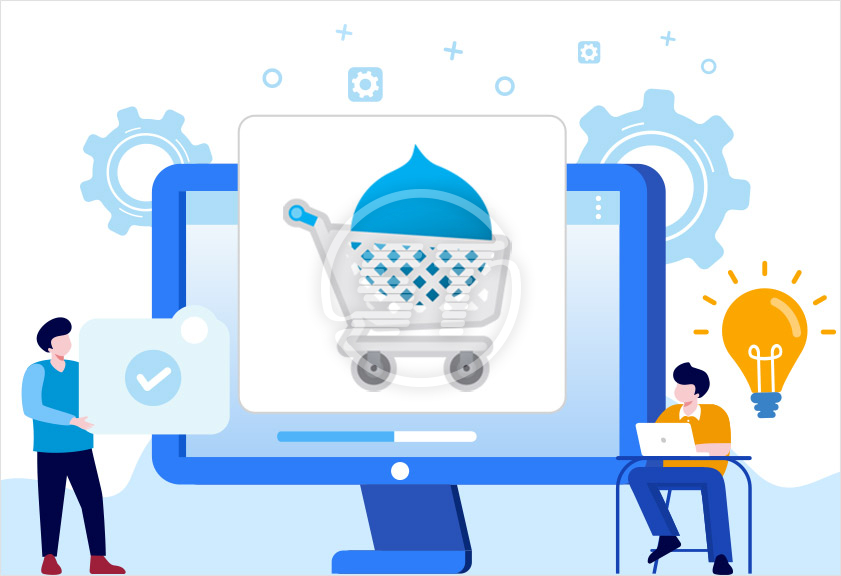 The sky is the limit to what you can do with the Drupal Commerce store. It is one of the best ecommerce platforms as it is built from the ground up and integrated with Drupal CMS. It beats the dedicated ecommerce platforms to be the most preferred platform as it incorporates a robust CMS with the ecommerce solution which is the primary reason for its current success. However, building a new website is like buying a shiny new car that needs regular maintenance to keep it running in the same condition.
With Drupal Maintenance and Support Services, you can have greater uptime, error-free applications, and new feature additions. Your store performance and presence would be augmented with Drupal Commerce store maintenance.
Following are some of the aspects of Drupal commerce Maintenance:
Stay up to date (Version Updates)
Things on the web evolve quickly and you need to keep up with the rapid rate of change. The latest version of Drupal is Drupal 9 which was released in mid-2020. With the end-of-life period announced for both Drupal 7 and Drupal 8, many businesses are left with no choice other than quickly moving to the latest version. However, many businesses dread the robust migration process especially from Drupal 7 to Drupal 8 migration. There are many issues that may occur even after the migration process is completed. You need to have a dedicated Drupal Commerce team that assists you not just in moving to Drupal 9 but also help you throughout the process in resolving or fixing any issues or errors. As a part of maintenance services, a professional Drupal developer ensures that your ecommerce store stays up-to-date. An updated Drupal Commerce store ensures security, latest features, and functionality, that acts as a solid base for brand building.
Security Updates
Drupal is based on various components - modules, templates, libraries that are built around the Drupal core module. Your Drupal Commerce security and stability are as strong and sturdy as these components. However, these are prone to security breaches and errors. Any updates aimed at fighting against the malicious attacks and keeping the potential risks at bay should be the top-most priority. As part of routine Drupal Commerce maintenance operations, you can uncover any security vulnerabilities. You can anticipate any potential threat, understand the reasons behind the security attack, and take timely action. You can fix the issue even by going for a security update if required. Keep a note of the security updates that are released every Wednesday and understand the impact of it to arrive at a decision. You can fight the DDoS attacks, prevent malicious data entry, patching security issues before they're exploited, work on data encryption, and more. Check out more information about Drupal Security Best Practices.
Augmented Performance
A slow Drupal store is just an overhang that keeps your prospective customers away and even results in the current customer drop-outs. Your website needs cleaning up of the unnecessary modules, plugins, components that have come by default but never used. By routine maintenance operations, one can improve the performance of your web store by removing the bad links, poorly optimized images, unnecessary stuff on the webpages, or bugs if they are behind the slowdown of your website performance. You need to constantly do a speed test to compare your website speed with your competitors to ensure that you stay in the race. The Drupal Commerce maintenance team performs a thorough website audit and optimization to discover any weak spots in the site speed and fix them on time. A high-performance Drupal store would be all geared up for ranking high in the search engines and also retain the customers. The prospective buyers who made a visit would develop a positive brand influence.
Third-party Integration Support
An ever-evolving ecommerce store has a higher chance of making a cut through the huge competitive space and establishes itself as a noteworthy brand in the market. As Drupal offers a higher level of scalability, you can focus on the third-party plugins and integrations as part of your maintenance operations. These integrations and plugins also need to be updated constantly to reduce the errors, fix the bugs, and improve the functions. If you fail to notice the updates, it means you are compromising on your user experience. As part of the maintenance services, regression testing is also performed to test the efficacy of the entire application whenever there is an added functionality. Any impending bugs are caught on time and debugged to keep the functionality intact.
Miscellaneous
There are a metric ton of other maintenance elements that improve the overall efficiency of your Drupal store such as
Emergency support when your website becomes inaccessible to the users
Minor feature improvements if required.
Server support to optimize the performance, load balance, and uptime factor. Server-side maintenance, data porting, optimizing performance, and a lot more.
Performance Reporting offers deeper insights on CPU memory utilization, load time, and other performance impacting metrics based on which you can make an informed decision.
Dedicated Support Desk that is accessible at all times improving the website functionality and fix the issues.
Strategizing - With the Drupal maintenance package, you can also gain access to Drupal consultants who would be your support system and serve as the strategic team that helps you take better decisions for your website evolution so that it aligns with your business objectives.
With Drupal Commerce experts, it would be icing on the cake to bolster your business and build a brand reputation in the market. With easy and customizable maintenance services, you can overcome any challenges that are bound to occur and run the maintenance services periodically. Skynet Technologies fosters long-term relationships with our clients to support their ecommerce stores even after the development phase. We support our clients in end-to-end Drupal Commerce services to bolster their business by building a steady and efficient application that builds a positive brand name in the market and drive crazy conversions.
Skynet Technologies provide Drupal Commerce maintenance service to fuel your online Store with enterprise level capabilities and keep your customer coming back! As a Drupal Commerce store owner, you need to ensure that your website runs smoothly so that you don't lose any customers by missing any of these Drupal Commerce Maintenance tips. Whether you want to migrate to Drupal Commerce integrate any application, redesign your online store, and require a new development for your store. Let us know about your requirements and we'll get back to you as soon as possible!