Top 7 Advantages of Custom Business Web Application!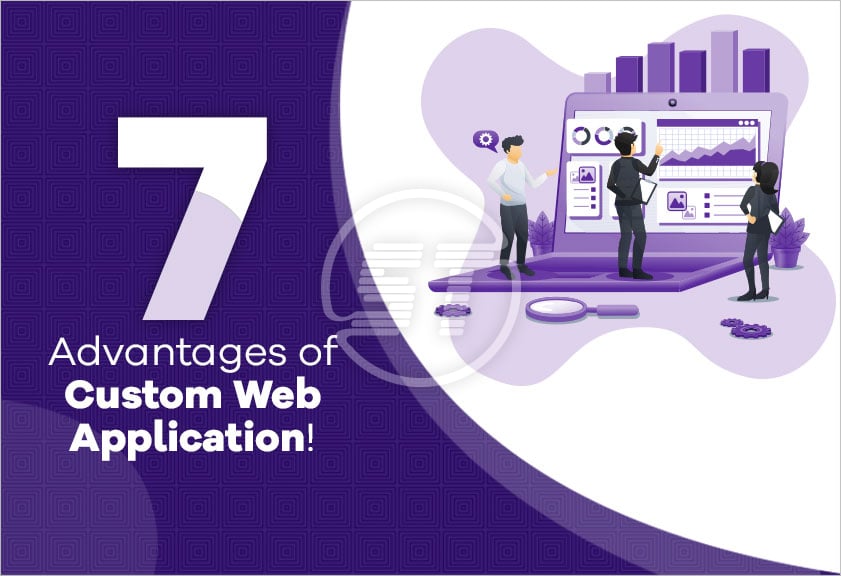 With the popularization of Custom Web App Development, mobile devices, high-speed mobile connections, smartphones, and tablets, they have become the gateway to online content for an increasing number of people. This has radically changed the way people deal with online businesses. If before only the presence on a website, and an e-mail account were necessary to maintain relationships in digital media, currently investment in multichannel contact mechanisms is essential. In this scenario, the adoption of customized business mobile applications can have a direct impact on the company's revenues.
See Top 7 Advantages of creating a custom application for your company.
1. The Most Robust Presence On the Market
Having visibility in your area of expertise is crucial for any company. It is no wonder that investment in marketing grows every day. If the business fails to position itself correctly in front of its target audience, the chances of it not reaching its sales goals are high. With Custom Web Development, the company can maximize its visibility. The brand will accompany its consumer in one of its main devices. With one click, the customer will have access to promotions, information about his relationship history with the company and business news. Consequently, the brand's relationship with its consumers will be much more robust. The business will have more mechanisms to reach its target audience, and create a medium and long term relationship.
2. Direct Channel for Relationship with Consumers
The Business Web Application from a company can act as a direct channel relationship with consumers. In an economy where people demand agile services and able to solve demands with precision, and at any time, having a relationship strategy that involves their own mobile app is crucial. The company may integrate the mobile application with a service system. In this way, the consumer will be able to solve small demands with the support of the service teams. The customized application can also be used so that consumers are able to solve more complex demands. With the support of the mobile systems APIs for accessing items such as files and the device's camera, the service becomes more dynamic with the user being able to send photos of vouchers, and solve complex demands more quickly.
3. Strengthening and Enhancing the Brand
Keeping the brand strengthened is also important for business success. With a Custom Web Application Development, the company is able to reinforce its image as a modern company, and committed to creating new ties with its consumers. The company will be able to disseminate news at any time, target advertising messages more accurately, and evaluate the best time to contact its target audience - all done with a greater chance of positive feedback. The creation of new sales and relationship channels also helps the company to strengthen its brand. With a well-structured mobile application, the business can make these points of its strategies more flexible, since the consumer will have more dynamic mechanisms to keep up with the products and services of the business.
4. Consumer Loyalty
One of the biggest challenges for a company is customer loyalty. Businesses in all areas invest in strategies to ensure that a person continues to relate to your brand after the first sale, as this implies a continuous flow of revenue in the medium and long term. In addition, it makes the expansion of services more practical and economical, as few forms of disclosure are more effective than those made spontaneously. In this sense, the personalized application is able to increase the success of the loyalty strategies used by the company - and this is done through several factors. The implementation of a new support channel facilitates the resolution of problems. When consumers are able to obtain service more quickly and accurately, they remain loyal to the brand - even if their problem is not solved.
5. Simpler Sales Processes
The Custom Web Solution also generate a process simpler, and more dynamic sales which directly impact the company's profitability. The chance to research, and buy a product directly with the phone makes the experience more agile. This builds customer loyalty and eliminates routine steps in purchasing a product. Consequently, the company will be able to reach more people and ensure continuous revenue streams. Smartphones are part of many people's daily lives. This audience checks their cell phones several times a day. When creating a custom mobile app, your brand can gain space on your potential customer's mobile screen, maximizing your visibility.
6. Greater Knowledge of Consumers
While using custom web application development, the user can share a large amount of information about his profile with the company. This information, crossed with data already collected on other platforms, becomes new sales opportunities. The company will be able to use Big Data applications to better understand its target audience and, further optimize its sales campaigns. In the long run, the company will have the foundation to create smarter, and more personalized marketing campaigns. It will also be possible to send alerts at any time about new products according to a user's previous behavior. When passing through a company store or hours after searching for a product, the business has the chance to send a discount to the user, and thus generate a sale.
7. Direct Sales Channel
A custom web application is a highly controlled environment in which your company is the center of attention. In this way, the app acts as a permanent business channel, bringing all the advantages of an online store. In addition, there is no need to mobilize a sales team to be available to the flow. The application can take care of processing many of your businesses. One of the main differentiators of a web or mobile application in relation to other communication channels is notifications. If your brand has an app, you have complete control over sending messages to your audience which creates an unprecedented situation. A way to impact your entire audience precisely, if they have downloaded the app.
Conclusion
In summary, the company that invests in a personalized web application development service has the chance to create better sales flows in the medium and long term. The business will be able to create new sales, and relationship channels, making customer loyalty more easily. In order for the company to take advantage of all these benefits, it is crucial to develop customized applications that have a good user experience, a layout, and design aligned with its target audience and innovative features. If you want to know how this can be done with the support of a strategic partner, contact one of our experts.
So, When are you hiring your professional web application developers?
Skynet Technologies USA LLC provides a wide array of Web Development Services personalized as per the specific demands of our clients across all industries. Skynet Technologies USA LLC help start-ups, small to medium businesses, enterprise and corporations to achieve their business goal by offering flexible dedicated developers based on their business requirements. Whether you are looking to hire dedicated developers on hourly, monthly or fixed cost basis, we provide a skilled and experienced expert that fit your specific business needs.
Let's Connect, Explore, Create, Empower and Grow together.