Top Reasons Why Native Mobile App Development is Future of Mobile Applications!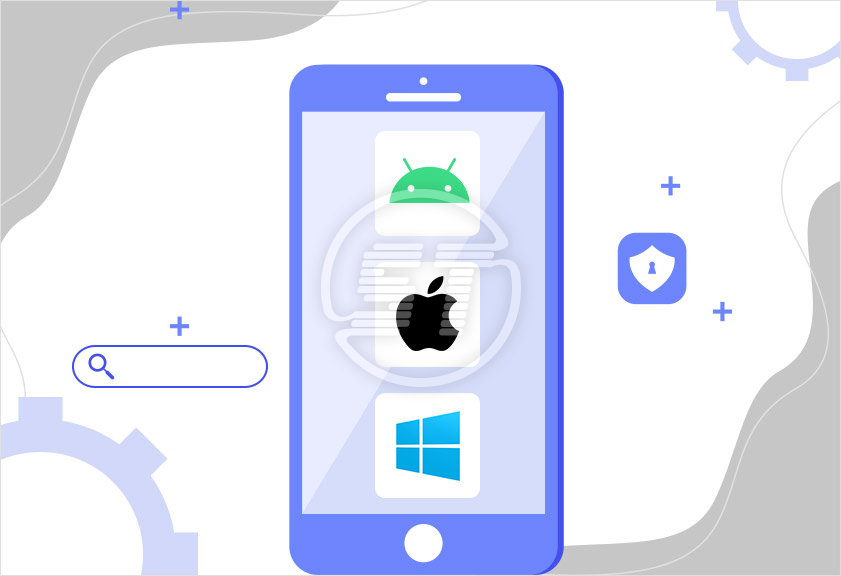 Building a mobile application has become indispensable for businesses due to the improved spike in the usage of mobile apps. Several businesses see this as a great opportunity albeit there are associated challenges that come with it.
There are three types of mobile app development – Native Mobile App Development, Web, and Hybrid. You can go for any of these three depending on your business project requirements. But companies find it tricky to choose one of among these for their app development.
If you are also one such puzzled entrepreneur on which one to choose, let us make this easy for you. It's a 'Native mobile app'! Yes, you heard it right. Many businesses have been focusing on native mobile app development over others due to the surge in the number of smartphone users and due to its ease of getting into the ecosystem.
Before we dwell on the reasons how native mobile app development emerged as a clear winner and considered to be the future, let us understand a few more nuances of the native mobile app.
What is native mobile app development?
The native mobile app development is the process of developing a mobile application for a single platform. The native mobile app is built with any programming languages and tools which are specific to a single platform. Native apps are high performing than cross-platform apps. If you are looking for an exceptional user-experience, you have to approach for a native app development.
For over a decade, this has become a powerful way for any business to engage with the right audience. The growing mobile ecosystem has also strengthened this process and businesses have begun to invest heavily in building apps specifically to a particular platform.
Native mobile apps have access to push notifications on these devices to keep the users informed of any information be it updates, promotions, errors, etc.
Difference between Native, Web, and Hybrid Apps
We have mentioned Web and Hybrid apps in our introduction right. And we also discussed how native mobile apps are the most preferred by both businesses and customers alike. But what is the difference between these 3 platforms?
However, progressive web applications have a feature to "add to home screen" with an icon and name. It also has integrated APIs for accessing some mobile features like camera, microphone. Progressive web applications have feature to send push notifications as well.
Hybrid Applications combine elements of both web and native app.
Of all the three, native was proven to deliver a higher user experience and security and supports a few third-party functions.
Why is Native App development the Future of Mobile Apps?
Let us understand what's making Native Mobile apps so desired.
Highly-secure - Hybrid apps depend on browser security, but native apps are protected by different layers of OS. Unlike the hybrid apps that rely on third-party APIs, these native apps depend on official APIs for security. Hence these are hard to manipulate and misuse. These apps have been rigorously tested on different versions to guarantee reliable data protection. Due to the official platform SDKs, native apps are being able to reduce the security issues. It is needless to explain how shorter launch cycles are! One cannot be thoroughly ready with all the testing done owing to the paucity of time. However, for native apps, the launch cycles have also been lengthier which can be used to anticipate dependable in advance, properly examine to secure their software.
Enormous Scalability - Don't fret over the scalability of your native apps which is provided without any limitations. Suppose you wish to leverage the benefits of both native and cross-platform solutions, you may begin with native first and then build a few smaller modules with cross-platform code. This is a tried-and-tested method by tech giants like Facebook as well. We know that native apps should be configured to be compatible with a single platform. But in case, you have two native apps that are different from each other, you don't have to think about the compatibility issue between both versions. Use the features on the provided platform without any issue.
Unified UI/UX - UI/UX will be unified for a native platform for a better and attractive app. The learning curve would be simple for the users. People would be able to easily able to understand the navigation ways in your native app. This improves user experience as well due to better performance. Even during the development phase, designers and developers find it easy to apply the standards and best practices as these apps are created specifically for an OS. Native apps also look natural and inherit the device's UI so they look like they are part of the mobile device. The user can add, edit, or delete the elements quickly on a native mobile app. You can also take advantage of the OS features, access the device hardware like camera, microphone, etc.
Best Performance - Native apps offer the best user experience to the users as these are written on a particular platform and operate seamlessly and quickly. You don't have to invest in a language like HTML when you own a standalone native application. They are compiled with different platforms, APIs, programming languages and hence are extremely efficient.
This makes them responsive, fast, and hence offers a great user experience. Since these apps are written in languages that are specific to the platform ecosystem, the native apps operate vastly. These native apps can also access the APIs and unique elements and hence run seamlessly and efficiently. More importantly, native apps are stored on your mobile device that lets it leverage the speed of the device software. The content and visual elements are also stored on the device and hence the load time of the native mobile app is also quick.
Fewer Bugs - The risk of errors and bugs during the development are low. Native apps do not depend on any cross-platforms as it is more difficult to maintain two apps in a single codebase. Native app developers have access to a new SDK for initiating the app development with the latest features. The native app users can now have access to various new features if they update their OS. This is as simple as that!
Incredible Stability -- The native apps are assisted by the platforms like iOS and Android. These platforms assist the native apps and enhance them for users. Hence, the native apps are more stable in terms of usage, development, and maintenance.
Cost-effective - Budget is the most important factor when you have a confined budget while building a mobile app. Undoubtedly, when compared to hybrid apps, native apps are costlier but remember, it's just a one-time investment. You can build them and make them paid as well. You can benefit from it in the long run.
Wrap-up
Now that you know how beneficial native apps are, you must have got to know why you need to get a native mobile app for your business. If your end goal is to provide users with an app that features higher stability, reliability, and scalability, then go for highly experienced mobile app development company.
Skynet Technologies offer all-in-one native mobile app development services that can be personalized as per the specific demands of our clients across all industries. We have an in-house and experienced team of technical expertise to manage simple to complex task in a defined time. We also provide a Native App Maintenance services to keep your Android, iOS, React Native and Flutter Applications up to date with latest technology trends.