White Label Ecommerce Solution – Everything You Need to Know!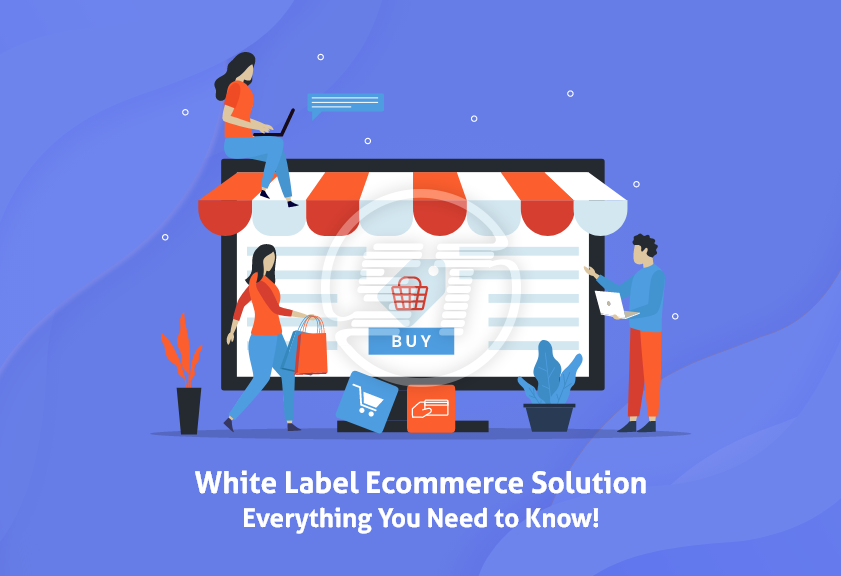 Ecommerce has become a lucrative option for any business entrepreneur who has a product or a service to sell. The adoption rate of ecommerce both by the merchants and consumers alike is staggeringly at an all-time high. Hence, even amidst the doom and gloom of the COVID-19 pandemic, it still remained one of the most thriving industries. If anyone who is not leveraging this goliath industry is definitely missing out!
However, building a full-featured ecommerce platform is not as easy as it seems. The Ecommerce landscape is constantly evolving and shaping the way people shop in every nook-and-corner of the globe. So, you cannot just build it and let it take care of itself. Remember, just like any other website, even ecommerce websites have to be constantly monitored for any bugs or downtime issues. You need to go for timely upgrades to keep up with the current trends. Install the security patches and build strong firewalls to safeguard your digital stores from any intrusive and malicious attacks.
But good news! You don't have to start everything from the ground up. We have many automated builders and tools to get your ecommerce website up in no time so you can kickstart your digital business.
But is that it? If you own a small business or if you are a tech rookie, you might be wondering how to prep for building an ecommerce store. With a multitude of ecommerce builders and a whole set of plugins currently available in the market, you are not just spoilt for choice, but it's also one of the toughest decisions to make. And more so if you have to form a brilliant team to help you accomplish your business objectives. Even if you are an agency, it is not always possible to have adequate manpower to cater to your client's ecommerce website needs.
You need to hire experienced web developers who have the expertise in building ecommerce websites, creative designers who can get alluring page designs that can convert your users into customers, shrewd marketers who have a knack for making data-driven decisions, reliable and round-the-clock support & maintenance team. More importantly, you need to provide an ambience for creating a cross-functional team whose common aim is to provide the best customer experience.
Phew! That's a lot of work, isn't it? But don't fret over the entire process of hiring, onboarding, training, and getting things done on time. What if there is someone who can take all these hassles and headaches away from you? Someone who can convert a bare-bones project into a beautiful and fully functioning ecommerce website ready to go into production?
That's what the white-label solution providers are for! A super-relief workaround!
What is a white label ecommerce?
A white label ecommerce partner provides end-to-end or customized services, you can rebrand them under your platform, and either use them for your own business or resell them to your clients at an agreed price. Even if you are a tech agency that dabbles in code development, it's still a better option to let the professionals take over. This essentially takes all the technical fuss away from you so you can focus on your core business aspects.
Think about it, you are not spending any substantial amount of effort, time, and money, but everything comes straight onto your platter, and you even have full rights over it as they are totally branded under your name. Whether you are an ecommerce provider, SaaS provider, web development agency, web hosts, or distributors, you can opt for a white label ecommerce solution. It's the niftiest way to build an ecommerce website without getting your hands dirty.
Benefits of choosing a white label ecommerce provider
There is a plentitude of benefits with opting for a white label ecommerce service provider.
Economical Strategy

You don't have to bear the hiring and training overheads anymore. You can cut down both the development and maintenance costs by a great deal as you can get everything built up at a lesser fraction. This is also the most profitable way as the white label ecommerce service provider has both the expertise and experience to get this done at the earliest time so that you can kickstart your operations immediately and if you are an agency, you can sell it as soon as you get your hands on it.

No Tech Skills required

If you are a tech noob or have been around for a while yet do not have the expertise in all aspects of code, that's okay! White labelling fills in these knowledge gaps very aptly by working as your back-office or an extended team. You can be hands-free with the code and focus on increasing your sales and business revenue.

Enhanced Customization

A good white label service provider takes down your requirements and follows a diligent approach to get everything customized specific to your business. You can actively look into the progress of the project and see if everything is going as per the specifics. You don't have to compromise due to any sort of limitations which you usually encounter if you rely on in-house resources. Find an experienced white label ecommerce provider who can accommodate all your requirements.

Higher ROI

Building an ecommerce website in its perfect shape is a time-intensive task for any business. You need to spend an ample amount of time and effort to launch it in the market. A white label ecommerce solution saves your time by providing the finished product. You can immediately either integrate it into your business or readily sell it to your customers. The ROI through this way is a lot higher than having an in-house solution.

Brand Reputation

A white label ecommerce provider finds the fastest way to get your product to the market. They do all the necessary tests like functional testing, performance testing, Quality assurance testing, and more to ensure an uncompromised approach when it comes to the quality of the website. They are professionals and strive to get things better and beyond keeping your brand reputation intact.

End-to-end Services

Most of the ecommerce agencies do not have the expertise in complete ecommerce services. But a white-label service agency would have a ready-to-use package of all the requisite features like SEO, APIs, mobile-responsive, and other integrations. They would be adept in design, development, marketing, and branding.

Compete with the big boys

Quite often, forget about edging out the competitors and thriving in the market, you may also find it difficult to survive in the cut-throat competitive space. After putting diligent efforts into building your ecommerce site, if it doesn't garner the visibility, it should, you shouldn't even be surprised if it goes into complete oblivion one day! So choose a white label web development partner wisely that allows you to sell your service who can empower your business on par with the big players in the industry.
How should you choose the right white label ecommerce provider?
The market is inundated with ecommerce providers but if you look at some criteria, you can narrow down your choices to the best among them.
Proven credibility
Relevant industry experience
No hidden charges
Offers customization options
Provides customer support
Shared goals and vision
Consistent with your brand quality
In a nutshell
Anyone who wants to build an ecommerce website can go for white label ecommerce solutions. They can get things done deftly and at a faster pace. However, picking the right ecommerce service provider is a painstakingly difficult decision. You can list down your criteria and do some rudimentary market research to find the right service provider.
Skynet Technologies is a great option to explore as we offer white label ecommerce development services. Quality remains the cornerstone of our ecommerce solutions. We are versatile in many ecommerce platforms like Magento, Shopify, BigCommerce, Drupal Commerce, WooCommerce, Laravel Bagisto, and more. You can check out our ecommerce services and request a quote to know more details.