Top Things to Consider When Approaching a White Label Mobile App Development Service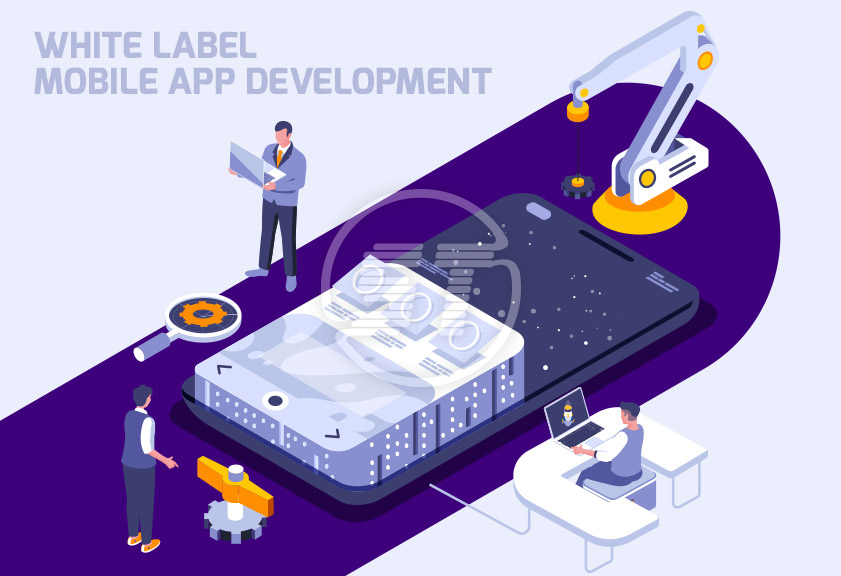 With millions of websites and mobile applications mushrooming the web every day, it has to come down to "blink and you miss it". With the evolution of social media marketing, smartphone usage explosion, and rise in customer expectations, your agency should also evolve at a breakneck speed.
For agencies, meeting deadlines while offering high-quality services consistently can be challenging. The need for specialized expertise can throw your whole team off balance.
Here's a thought - Imagine a robust back office on which you can rely without worrying about your business. You don't have to say no to your customers even if you aren't offering a particular service or if you lack expertise in it. Say hello to a white-label agency and lay back. To avoid this kind of circumstance and reduce the workload of business owners, a white label web development and mobile app development notion has arisen. With limited resources and less expenses, an organization can have a vogue mobile app. Yes, it is possible!
Lately, white label mobile app development has become extremely popular because of its quick access and ready to deploy nature. Creating a white label mobile app is a process of taking inspiration from an existing app, incorporating latest ideas in it as per market trends and reproducing an app with more innovative improvements.
The white-label mobile app development service will fill in your gaps and help you become a full-service agency.
Want to know more about mobile app white label development? Let's read further!
What is white label mobile app development?
White label mobile app development is hiring an agency for mobile app development and then reselling the applications to the end client under your own brand name. It is typically developed by a third-party company or agency but rebranded and resold under your company's name. Customers wouldn't be in the know and never interact or have knowledge of the third party. They are considered a form of outsourcing with a certain expertise in their fields at lower prices.
For example, if your agency focuses on digital marketing, and if your client approaches you for the mobile application development; then you could let a third party develop the client's mobile application. The lack of a proper mobile app developers team shouldn't be a deterring factor for your business. Your clients will receive everything they need from you without knowing about the third-party white-label mobile app development team.
Significant points to consider when selecting a white label mobile app development service
White label development needs transparent communication and a straightforward process. Let's have a look at the major points.
Requirement analysis

The most crucial facet of any mobile app development is the requirements of end clients. Are the pre-made apps suitable for them, or is a new app creation required? Brainstorming is necessary to do before diving into the project.

End-client's requirements and customization needs should be clear. Customization may need a few functional additions, logo upload, etc. Analyzing all the requirements will result in a flawless product.

Mobile app development technology expertise

Not all mobile applications are the same. Likewise, organizations have different requirements with their mobile apps. To create specific applications, different software is needed.

Also, the mobile app building platform is a decisive factor in the performance facet. Flexibility, scalability, security, and many other criteria get affected if the platform is not performance oriented. It is the white label agency's responsibility to check the platform's reliability before creating an app on the platform. The platform should be compatible with android, iOS, or both (hybrid). Back-end framework and other third-party integration ought to be in favor of an excellent mobile app.

Mobile app creation cost

While opting for white-label mobile app development services, budget is the top thing to consider. Although it will not require any additional cost of hiring full-time resources or the infrastructure. Different white label mobile app development agencies have their different charges based on its experience, specialized technology, number of developers, demography and more.

Reliability

White label mobile app development may put the third-party agency in more control and will be out of your hands. Make sure it isn't harder to follow up on meeting deadlines. A good follow-up from the agency is a prerequisite and should be easy to get around. So do a little research about the white label agency that will decrease the risk of unreliable delivery.

Quality Assurance of Mobile app development

The white label mobile app development agencies are responsible for the end application when you are delivering the projects to the client. Quality control is an absolute requirement. One way to deal with this is to constantly follow up and research before getting them on board and putting them in charge of the clients' projects.

Post-deployment maintenance and support

White label agency is not bound to maintain the application until they contract with re-sellers. But since they have source code access and their team is aware of the platform and entire creation process, it is advisable to make a app development and maintenance contract with the same white label agency. If a white label agency is on board for maintenance, finding and fixing bugs and errors is not tedious. Their team performs all the support and upkeep activities as top priority.

Though they provide additional free maintenance of a few days or a month to ensure the app's performance, they are not responsible for further updates and customization.

Back-up and Data recovery

In case of any technical glitch, the end client's data stays safe. White label development agencies keep the backup of application data regularly to evade any technological crisis.
So, before approaching a white label development service, the above-mentioned points are important to check to get an adequate mobile application for end-client.
Now let's explore the reasons for the popularity of white label development.
Reasons For Opting for White Label Mobile App Development Service
If you wish to go for a white label development service, there are many advantages.
Extend in Service offering - By leveraging white label mobile app development, you would be able to instantly add this service to your offerings. You can become a well-rounded agency offering everything a client needs.

On-time Delivery - When you have a lot on your plate, there are chances of having backlogs. You may not finish your clients' projects within the stipulated time. By white-labeling, the tasks that are left behind can be picked and be fast-tracked. This could lead to lesser stress on the mobile app developers and also improves the higher quality.

Pocket-friendly - You can also cut many overhead and resource expenses by using these resellable solutions of white label mobile app development. You don't have to worry about the tedious development work and drain overtraining your in-house teams for the fulfillment of these services.

Customers - You don't have to turn away your customers due to the dearth of resources and lack of expertise in mobile app development. By opting for white-label mobile app development services, you can retain the customers whom you otherwise wouldn't be able to serve.

Put core services on autopilot - By using white labelling mobile app development services, you would have more time to focus on your core business and brand. You can also cut down the resources and spend sensibly. With limited sources at the helm, you can outsource the nitty-gritty specifics and focus on what your agency does the best, and build your brand to stand out in the crowd.

Long-term success - Once you have an expertise extension of a team of developers, it's a win-win situation for both agencies. A white label app development team can have more projects and you can take more projects without being under pressure!

Ensure Security - The expert white-label mobile app development partner will directly ensure and take care of your client's mobile application security. There are negligible possibilities of untouched lose points that ultimately reduce the likelihood of bugs, glitches and security issues.

Stay Ahead of your Competition - Competing with the big consultants is a herculean task for small and medium agencies. Even though the agency has a good reputation, it's always the big consultancies that bag the projects due to their wider offerings. Using white-label mobile app development services, the small and medium-size agencies can find a way to offer full-services without using additional resources or workforce. They can compete with the big consultants by maintaining their core skills internally and still be able to get expert services at competitive prices.

Happy customers - As a re-seller, you can keep your clients happier with a mobile app that satisfies their business goals. The white label apps are made to cater to specific industries and audiences that aid your clients to make a successful business.
In-short
Certainly, white-label development for mobile apps is a popular approach, and it is feasible for those with limited resources and budgets. You can easily balance your workload by availing yourself of our white-label development services. It's a total WIN-WIN. With trustworthiness and experience of mobile app development partner, one can develop the finest mobile app!
So, when are you hiring a white label mobile application development agency?
As an experienced mobile app development company in the USA, Skynet Technologies provides complete white label mobile app development services including android app development, iOS app development, react native app development, flutter app development, custom app development, and more. Get in touch with us at [email protected] or submit the following request free quote form to know more about white-label mobile app development.