Skynet Technologies accelerates digital growth by becoming Adobe Bronze Solution Partner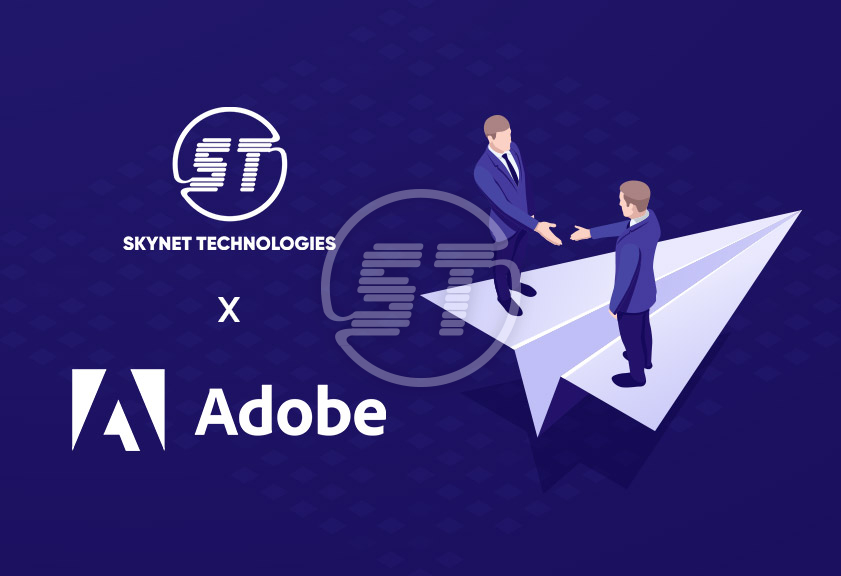 Skynet Technologies is an ISO 9001 and ISO 27001 certified digital agency and development company with 21 years of experience in business excellence. We are the leader in digital transformation and specialized in ecommerce development, digital marketing and branding, ADA compliant web accessibility, custom enterprise application development, and CMS with maintenance and support. With headquarters in Independence (Kentucky), they have development and support offices in Las Vegas (Nevada), Gainesville (Florida), Melbourne (Victoria), Jamnagar (Gujarat), and Pune (Maharashtra).
We have become a Google Partner, IBM Registered Business Partner, Amazon Web Services Partner, Silver Microsoft Partner, HubSpot Solution Partner, Pimcore Silver Partner, Bagisto Partner, Aimeos International Ecommerce Expert Partner, and more.
Recognization as an Adobe Bronze Solution Partner!
Adobe and Skynet Technologies announced their collaboration under the Adobe solution partner program. This program is designed for companies that are experts in digital marketing and integrated technologies. With more convenient, relevant, and personalized solutions, Skynet Technologies can empower new digital transformations in a co-selling relationship with Adobe.
The collaboration of Adobe and Skynet Technologies will help businesses to get an exceptional user experience in the digital space. Despite all the industry challenges, goals, and targets, this partnership has ended up bringing expertise in distinct digital technologies to develop and market myriad technical solutions for clients. The efficient team of Skynet Technologies and out-of-the-box Adobe Experience Cloud jointly aid businesses to increase the conversion rate by improving customer engagement.
About Adobe Solution Partner Program
Adobe Solution Partner Program is a one-of-a-kind initiative to develop a rich partner ecosystem to inculcate more value in Adobe Cloud Experience and add versatility to their partners' capabilities as well. Skynet Technologies provides Adobe Experience Cloud services to conform with best practices and work through strategic solutions and implementation.
Adobe Experience Cloud is an array of distinct applications and services specially designed for an invincible customer experience. It offers a wide range of experienced cloud products, out of which a few names are Adobe Commerce (Magento), Adobe Experience Manager, Adobe Analytics, Adobe Campaign, and many more. Together, Adobe and its partners provide unmatched quality in digital space.
How does Skynet Technologies accelerate the digital growth for their clientele?
Being a Bronze Solution Partner of Adobe, Skynet Technologies offers businesses a multitude of benefits with the amalgamation of content management and digital assets. With the gamut of Adobe Experience Cloud, businesses get personalized and gripping solutions. Integration of Adobe Experience Manager with third-party systems such as Marketo and Salesforce can be done easily. Skynet Technologies develops enterprise-level Adobe solutions continuously with a streamlined process and agile development cycle. Skynet Technologies offers services like development, implementation, migration & upgrades, regular maintenance, support, security checks, and recovery for Adobe Experience Manager implementation.
Skynet Technologies has expertise in Adobe Commerce upgrades and migration from any complex structure. Magento development, ecommerce solution architecture, API integrations, multi-tenant SaaS-based solutions, multi-vendor/ multi-channel marketplaces, PIM solutions, performance optimization, omnichannel strategy, ADA compliance and security, maintenance, and support, etc. are the prowess area of Skynet Technologies with Adobe Experience Cloud.
For many enterprise websites, Skynet Technologies helps to apply a data management system (DAM) that delivers a consistent user experience by managing the critical media assets. Adding Adobe Creative Cloud to a business website helps in handling digital assets more efficiently. The cloud acts as a central warehouse that stores and manages all the content of the digital asset on the cloud. Cross-channel customer interaction in one real-time interface is possible with Adobe Customer Journey Analytics. Adobe Audience Manager is capable of handling audience segmentation and providing critical data in real-time with a data management platform.
With Adobe Experience Cloud, Skynet Technologies provides streamlined enterprise-level CMS, omni-channel campaigns, and customer engagement in one cloud-native solution, accurate analytics on customer experience, real-time customer profiles, AI-powered testing, personalization, etc. Distinct Adobe Experience Cloud products are made to offer a quick, accurate and hassle-free digital environment.
Skynet Technologies has a long history of serving solutions with all the latest available technologies. Along with the years of experience on platforms like Magento, Drupal, Aimeos, Laravel Bagisto, Shopify, osCommerce, and many other trending technologies, Adobe Experience Cloud is a crowning stroke for Skynet Technologies.
How will your business reach one step ahead?
Get in touch with us and let's find out how we transform your business together!
Disclaimer – *The information contained on this page is provided for informational purposes only, and should not be construed as legal advice on any subject matter. We request you to consult a professional lawyer or agent to get legal advice on any subject matter. You should not act or refrain from acting on the basis of any content included in this site without seeking legal or other professional advice. The contents of this site contain general information and may not reflect current legal developments or address your situation. We disclaim all liability for actions you take or fail to take based on any content on this site. The operation of this site does not create an attorney-client relationship between you and Skynet Technologies USA LLC.