ADA Web Accessibility Solution for Custom BigCommerce Apps!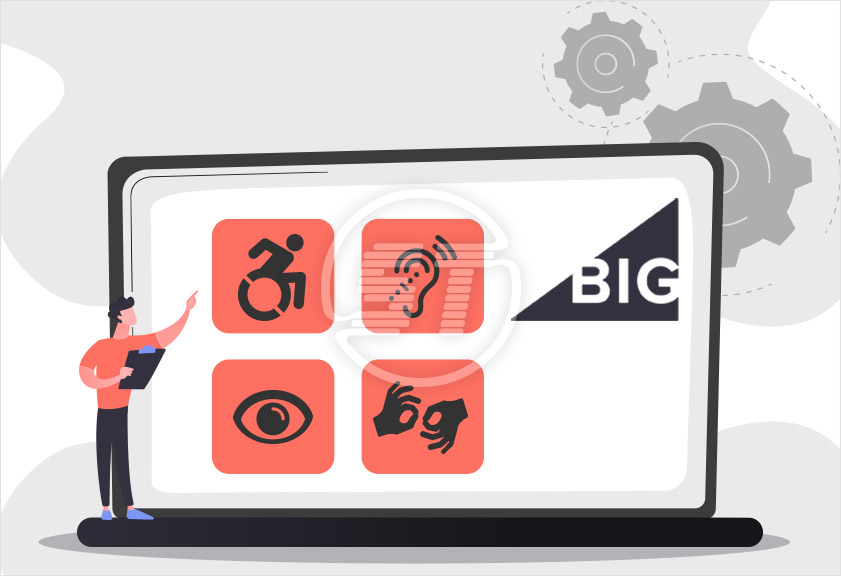 One of the most dynamic realms on the web is the ecommerce business. With the rapid evolution of technological trends and rising customer expectations, most businesses are striving to make their mark in the ecommerce space by taking every opportunity to build and grow their business. The primary motive of all these businesses who are grappling to race to the top in their niche area is to provide the best and most memorable user experience.
The ecommerce businesses are leaving no stone unturned in providing a customer experience like never before. Be it the promotional offer or loyalty discounts, live product customizations to an exclusive sneak peek of the products, these online merchants are going the extra mile to keep the customer satisfaction level high at all times.
However, there is a certain section of customers who feel deprived of this experience and face access issues to the products of their choice. As per a survey, in the USA alone, there are nearly 56 million people with disabilities compromising around 25% of the American population. Out of which nearly 10% are having visual impairment challenges. So, an online store despite being banking on the visual experience, a section of these customers fails to access and make a purchase. Hence, came the need to build an accessible ecommerce store.
What is ADA compliance?
The Americans with Disabilities Act was passed in 1990 by the Department of Justice. It prohibits discrimination against people with disabilities. These standards are also applicable to all electronic and IT including software. All the businesses have to make sure that their products and services are accessible to all consumers including people with disabilities. Even their online resources like web applications, mobile applications, webpages, etc. should be accommodating everyone without discrimination.
How do I know if my BigCommerce app is accessible?
If you want to make your BigCommerce app accessible, you need to adhere to the web content Accessibility Guidelines (WCAG) laid down by W3C, a dedicated international organization meant for web development standards. All websites should follow these guidelines to improve their web accessibility.
WCAG has introduced 4 web content and design principles to improve accessibility.
Perceivable - The visually impaired should be able to perceive the non-text content on the web. For instance, videos, images should have transcripts and alt text to help blind users.
Operable - Your website should be easily usable by everyone. The user should be able to navigate from one page to the other through the keyboard without the need for a mouse.
Understandable - Easy rendering and predictability aspects. There shouldn't be sudden or unexpected content changes on your website.
Robust - The content should be robust enough with valid code markup so that it can be easily parsed by any machine especially assistive technologies.
If you are building a custom BigCommerce App and want to make it accessible, these WCAG rules help you go a long way in your journey.
Need for ADA Web Accessibility for Your BigCommerce Apps
BigCommerce is one of the robust and scalable ecommerce platforms available powering up many online stores. It offers lucrative features and builds lightweight ecommerce stores. But, merely using BigCommerce doesn't ensure ADA compliance. Suppose, you have built a visually compelling ecommerce store using BigCommerce. However, the color palette is challenging for someone with a visual disability. The fonts might be smaller, color contrast was not properly maintained, difficult to find CTAs, no proper hierarchy for the headings, and more. These jeopardize the overall experience of the customers.
So, essentially, even a good user interface may result in delivering a poor user experience. Hence, one needs to make their BigCommerce apps ADA compliant to keep the website layout accessible to people with disabilities. You can customize the app as per the users' disabilities and improve the accessibility aspects. Primary changes would be the font style, font size, theme color, simple layout, highlighting hyperlinks, and maintaining the heading structure.
The primary reason, thus, is to provide the best top-of-the-funnel customer experience. Also, you are striving to build inclusive web space by not alienating a section of potential customers. In addition to building good business, you can also avoid any legal lawsuits an inaccessible BigCommerce store may attract.
How do you ensure ADA web accessibility for custom BigCommerce App?
BigCommerce apps can be made ADA compliant either on their own or with third-party support.
Alt tags - BigCommerce has an in-built catalog tool that lets you add 'alt text' for the visual content like product images, web images, videos, etc. You can rely on the built-in WYSIWYG editor for the non-text content.
Customizable - BigCommerce also lets you add the scripts or code to your theme's code to improve accessibility.
Accessible Content - The content can be made accessible by having a proper heading hierarchy with distinguished font size, style, and color. Focus on the content scaling, highlight the links, use text magnification, adjust font sizing, maintain line and letter spacing, choose readable fonts, and proper alignment. There are tools like content scaling, text magnifier, for improving web accessibility.
Color Adjustments - BigCommerce app comes with a separate color palette section to let the users make customizations to the layouts. One can focus on the contrast, saturation, and monochrome for better visibility.
Orientation Adjustments - The users can personalize the orientations for accessibility purposes. You can opt for a virtual keyboard, a reading guide, hide distracting images and animations, highlighting hovers, and more.
There are several tools available in the market to help you identify any potential accessibility issues and find the design elements that are lowering the usability of your custom BigCommerce app.
With a team of creative web designers, we have a great understanding of the theme layouts, design elements, to use them dynamically and comply with the ADA rules.
Benefits of Web Accessibility solutions for Custom BigCommerce Apps
With the powerful BigCommerce capabilities, you can enhance your customer experience for people with disabilities and deliver engaging experiences devoid of accessibility barriers. Make your BigCommerce apps inclusive and help engage equally. You are empowering people with disabilities and providing them an opportunity to engage better with your brand. You can as well mitigate the legal risks. It is imperative to build profitable businesses.
Bottomline
Building accessible BigCommerce apps require an in-depth understanding of the platform as well as design aspects. Our BigCommerce development team is willing to take up the accessibility aspects of your custom apps by adhering to ADA and WCAG guidelines. We help you mitigate legal litigation, enhance your overall user experience for people with disabilities, and streamline your web accessibility efforts.
Skynet Technologies offer ADA Compliant Website Design, Accessibility Web Development, ADA Compliance Audit, ADA Compliance Mobile App, and other ADA Compliance Services. We can develop any BigCommerce website, ecommerce website or BigCommerce store or custom app an ADA Compliant. If you need to conduct a BigCommerce ADA compliance audit, we are here to help you.