The Essential Mobile App ADA Compliance Checklist for App Accessibility!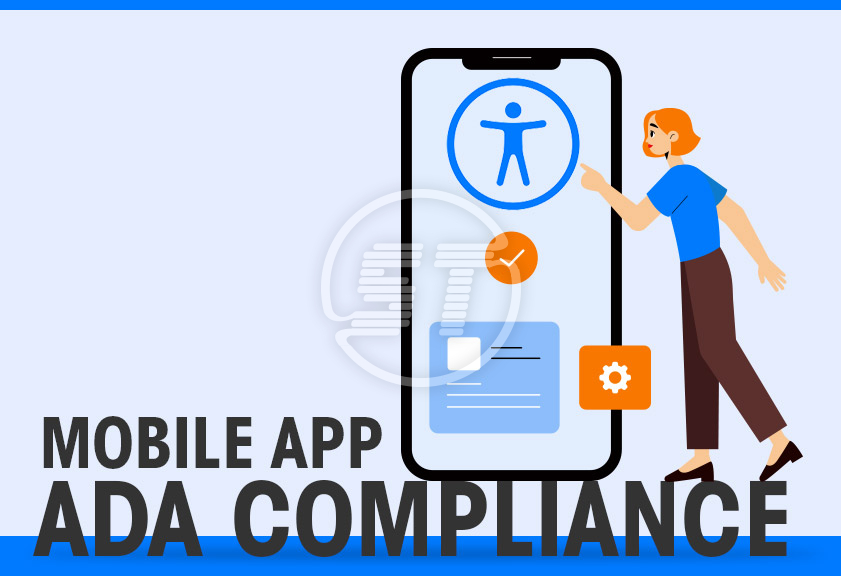 What defines the success of a mobile application? Is it the aesthetics or navigability? Well, yeah, both of these factors largely contribute towards building a mind-boggling app. But the more vital aspect in determining app success is its massive audience outreach. Let's face it that a highly accessible mobile app registers higher user engagements than an inaccessible one.
So, you should develop your mobile apps while keeping unbiased accessibility in the foreground. But, you might miss out on a specific user segment irrespective of your dedicated efforts to increase app accessibility - the differently abled group. Are you wondering how to make your app accessible to disabled users? Worry no more. We've got your back!
Here is a quick mobile app ADA compliance checklist that you can follow to increase your mobile app's accessibility among users with disabilities. But before going anywhere, let's look at why you should adhere to ADA compliance checklists for your apps. Let's dive in!
Why is it Important to Adhere With ADA Compliance?
You already know about the game-changing effect of accessibility in your app and corresponding users. And when it comes to accessibility, who can forget the Americans with Disabilities Act guidelines! But is ADA compliance worth considering? Hell yeah! Let's concrete your belief with the importance of following ADA compliance for your mobile app.
Hook a Massive User Base

Did you know that nearly 1 billion people in the world have some form of disability? Yes, that's a whopping figure! When 54% of disabled adults (that is a half billion people approximately) tend to come online, you wouldn't want to miss out on them for your app, would you?

Consider Less Obvious Parameters

As long as you don't rely on assistive technologies in your daily life, granular accessibility concerns don't surface before you. The well-curated ADA compliance mobile app highlights less obvious app-accessibility parameters, providing you with an invaluable opportunity to refine your product before launching.

Comply with Equality Guidelines

Most countries have strict guidelines against categorical prejudices for mobile applications. If your app remains inaccessible to a specific group, it might backfire dramatically! Ensuring that your app complies with standard ADA guidelines mitigates legal risks and keeps you on the safer side.
The Must-Know Mobile App ADA Compliance Checklist for App Accessibility
Believe it or not but mobile app ADA Accessibility guidelines are a must for all developers out there. So, without delaying further, let's peep into what's available in the most sought-after accessibility compliance from ADA.
Ensure Text Legibility and Readable Size

Is your content size readable by partial visually impaired audiences? Since as high as 53.2 million Americans have a slight visual impairment, this question should be your priority when adjusting the text size in your mobile app.

Sometimes, they might require a magnifying glass to use your app and, still, cannot comprehend the over-decorative texts. Consequently, your app will rank lower on the accessibility scale! So, keep text sizes flexible and manually operable or leverage Dynamic Fonts in your product for the highest accessibility.

Avoid Flashing Animations in Your App

Do you know that 3% of epileptic patients suffer seizures when exposed to sudden strobe effects? Apart from epilepsy, many medical conditions and disabilities show adverse effects triggered by flashing animations.

So, a strobe-free mobile app ranks highest on the ADA accessibility scale. You can either remove flashing animations from your app or provide users with an option to disable them if required.

Sufficient Contrast and Balanced Complementary Colors

Have you ever noticed the vibrating effect of bluish-green texts on orange backgrounds? It's uncomfortable, right? The discomfort increases when a person with a visual disability operates your app with a complementing color scheme. As an aesthetics designer, you should use the complementary scheme judiciously in your app to mitigate side effects for visually impaired users.

Also, sometimes you might leverage graphical entities lacking sufficient contrast in your mobile app. For instance, pink texts on a peachy background might become incomprehensible for visually disabled users. The ADA compliance recommends using enough color contrast in your app to allow easy accessibility for everyone.

Allow Hassle-Free Data Entry Options

Let's admit that some apps run on datasets fed by the users. However, text input might intimidate some differently abled groups. So, focus on alternative data entry options to design a highly accessible app for your users.

But, apart from texts, what else can you use for data entry in your mobile app? Well, many data input options are available that remain compatible with all users with or without impairment, viz, radio buttons, checkbox, and auto-filling options.

Make Your App Compatible with Screen Readers

We cannot deny that screen readers are life-saving for a massive audience base. Surprisingly, 79.5% of masses with disabilities depend on audio readers to use a mobile application. So, you can estimate the importance of making your app compatible with third-party screen readers.

Besides, you can integrate a prebuilt screen reader in your app, allowing disabled audiences to use your product effortlessly. Also, ensure that the reader option remains pretty at hand without investing much time searching for it within the layout.

Double Check Simple App Gestures

Some mobile apps entail complex gestures to bring out specific functionalities. Such gestures might become a headache to users with motor impairment. They might face difficulties in synchronizing their hand movements, leading to missing out on using your application entirely. So, complex touchscreen gestures are a no-no in the ADA compliance checklist. Focus on leveraging simple tapping gestures to ensure better app accessibility to everyone.

Can Users Customize Your App Themselves?

As long as a disabled user seeks external assistance to use your app, you haven't made it accessible enough, mate! All customization and options should lie in users' hands for single-handed utility and refined accessibility, in turn.
Missing out on the disabled community accessibility can be fatal to your mobile app. Apart from receiving lower engagements from the users, you might get sued by the regulatory authorities. So, comply with ADA app-accessibility guidelines for all your projects and witness better-than-ever outcomes. Our mobile app developers can create highly functional, robust, and user-friendly mobile apps for the iOS, Android, Flutter and React Native platforms. Our developers have a deeper understanding of all ADA compliance mobile app development requirements hence your mobile apps would be highly interactive and providing a great user experience.
Related blogs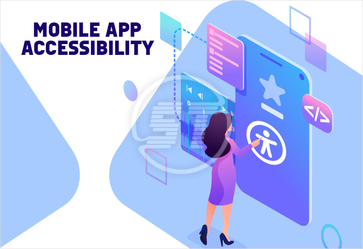 April 08, 2022
Top tips to enhance native mobile app accessibility!