How can you ensure your website meets ADA compliance in Michigan?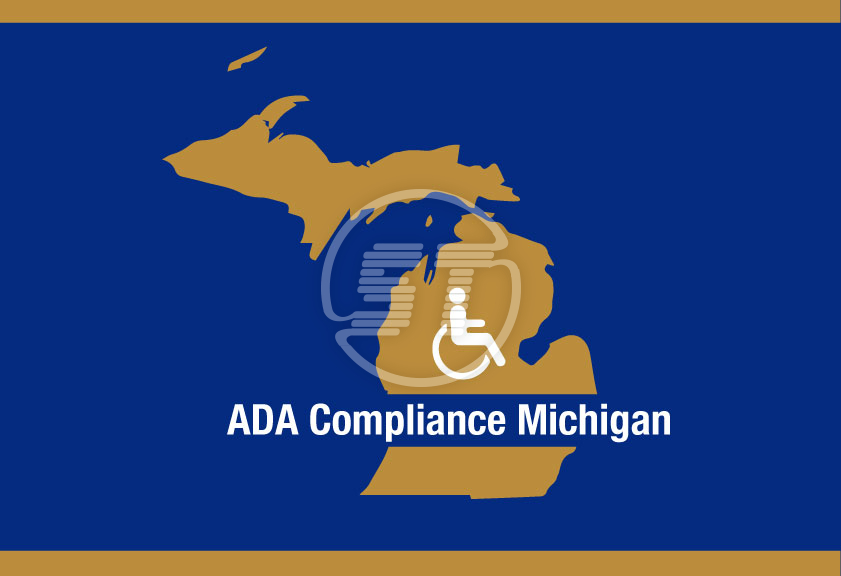 The State of Michigan (SOM) has a clear goal of providing smooth opportunities for all its individuals to interact with each digital platform seamlessly. And to achieve this goal, the state is encouraging organizations to create such websites, mobile applications, and other digital platforms that can be accessed and trusted by everyone.
Michigan State has defined a set of policies for all state websites, which include terms of use policy, disclaimer of liability, security and monitoring notice, linking notice, disclaimer of endorsement, notice on the use of the State Seal and Coat-of-Arms, jurisdiction governing law, severability, privacy policy, mobile application license terms of use and more.
Thus, each organization in SOM is required to adhere to these state policies while designing, procuring, or using any digital asset. This article will cover standards and guidelines that are incorporated in the State of Michigan digital accessibility policy.
Scope of digital accessibility standards of SOM
All public websites and applications of state agencies are expected to comply with State of Michigan Digital Accessibility Standards completely. However, websites/applications that are solely intended to be used internally by state employees and contractors are not enforced to comply with the standards. Please note, websites that consume or collect information on behalf of the State and are used by third parties are considered internal.
Additionally, all Michigan.gov WCMS websites, marketing (mini-sites, marketing sites, etc.), vendor-hosted applications, COTS, SaaS applications, and custom applications must complete the State of Michigan digital standards review before their final launch.
Digital accessibility standards in the State of Michigan (SOM)
The digital content accessibility standards for SOM are documented to make sure that every web user will have a similar digital experience while using websites or applications. State websites and applications should comply with -
Web products developed after May 31, 2018, are required to conform to:

And digital products developed before May 31, 2018, can follow:

Centre for Shared Solutions Application Templates

Web Content Accessibility Guidelines (WCAG) 2.0 conformance level AA.

SOM digital standards review must be completed to ensure that all internal and external applications comply with SOM Digital Standards. There is a defined form for the review process. The Michigan Department of Technology, Management and Budget (DTMB) eMichigan team has updated the SOM Digital Standards Review Form (DTMB-3533). You only have to submit form DTMB 3533 to the DTMB eMichigan team to initiate a web application review.

Please note, that the review can be initiated at any time, but it is suggested to initiate in the design/development phase thereby issues can be found and fixed on time.

Whatever accessibility issues are diagnosed in the SOM digital standards review, they should be resolved before the final release of website or application.

Comply with SOM native mobile application guidelines, SOM website guidelines, SOM social media standards and guidelines.
YOU MIGHT ALSO LIKE: The difference between ADA and Section 508.
Guidelines specifically for website accessibility
The State of Michigan has adopted its accessibility guidelines from the Americans with Disabilities Act of 1990 (ADA).
1650.00 Accessibility and Reasonable Accommodations & Modifications Policy
1650.01 Reasonable Accommodations, ADA Title I
1650.02 Accessibility and Reasonable Modifications, ADA Title II
1650.00 Policy: Issued on September 19, 2007, and revised on October 23, 2019. This policy collaboratively consists of ADA, Section 504, Michigan Deaf Persons' Interpreters Act (PA 204 of 1982, amended 2007) (MCL 339.501. et. seq.), and Michigan Persons with Disabilities Civil Rights Act (PA 220 of 1976) (MCL 37.1101, et. seq.).
1650.01 Policy: Issued on October 23, 2019. Read more.
1650.02 Policy: Issued on September 19, 2007, and revised on October 23, 2019. Click here to learn more about it.
What to focus on websites accessibility in SOM?
Web application naming standard

Michigan State has outlined some specific conventions for website naming to have consistent web application names.

If an application or website's name begins with the letter 'M' and 'I' or with the letter 'E', they need consistent formatting. Hyphens, spaces, and non-acronym uppercasing cannot be done immediately after 'Mi' or 'e'. If using 'Mi' in the web application name, 'M' must be capitalized followed by 'i' in lowercase.

If using the letter 'e' in the application's name, 'e' should be in lowercase followed by a capitalized first letter of the name, for example: eMichigan. And if names include multiple words, minimization is recommended such as writing 'MiSite' instead of 'MiSite Name'.

Visual elements

Each website/application must have consistent following elements:

Header: The header contains the title, tagline, and official brand logo of the agency; thus, it must be consistent. For instance, if the agency name or application name is there in the header then the parent department name can be displayed in the tagline located just below the title.

Brand elements: Consistency in website/application color, typography, and iconography is a must.

Browser minimum requirements

Ensure that your website/application can accommodate the latest browser versions along with pre-existing ones. Thereby every user will be able to access the website irrespective of their browsers.
What are the consequences of non-compliance?
State of Michigan digital accessibility standards are essential for each website and application across the state. Failing to adhere to these standards or intentionally violating them may bring a civil action for appropriate injunctive relief. Damages may include compensation for loss caused by accessibility violations including legal fees.
Wrapping up
All websites and applications are subject to be compliant with the State of Michigan Digital Standard policy. If a website or application is somehow lacking in accessibility requirements, it must modify inaccessible elements to avoid discrepancies. Begin integrating accessibility best practices in your website design as soon as possible and contribute to reducing digital accessibility barriers in your State.
As a proud IAAP (International Association of Accessibility Professionals) and W3C member, we are dedicated to contributing to enhancing global accessibility. We offer ADA website accessibility remediation solution diverse services from quick improvements to complete overhauls. It includes design, audit, consulting, remediation, ongoing monitoring, support, and maintenance. Contact us at [email protected] or through the provided form to advance digital accessibility and inclusivity.