Digital Asset Management (DAM) vs Marketing Asset Management (MRM): What Is the Difference?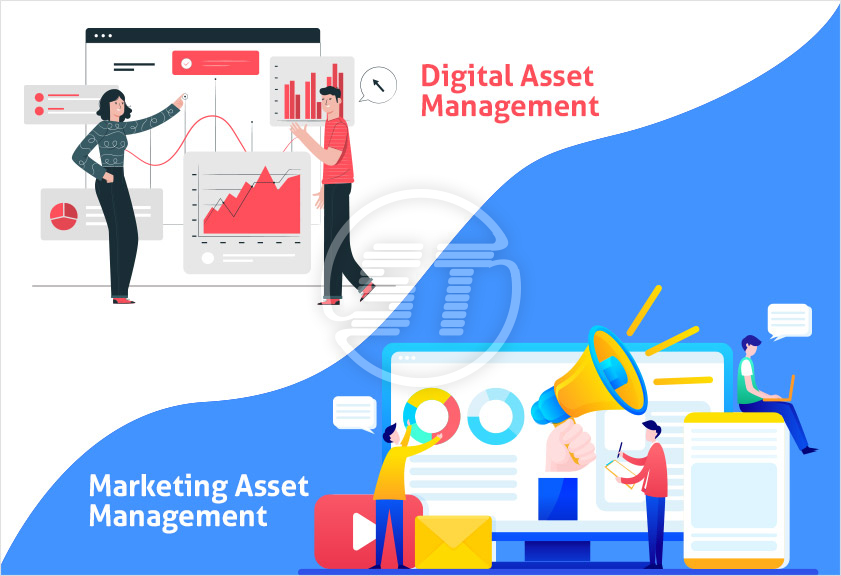 Are you looking for content and asset management strategies?
Do you want a modern and precise optimization technique for your assets and resource management?
Then while searching for the right solutions, you must have come across digital asset management and marketing asset management. These are the two solutions that help you to manage various content assets and resources of your organization in this fast-paced environment.
Previously, there were limited channels to interact with and business execution was easier. But now with technological evolution, there are myriad channels to look for. A business owner cannot overlook any of the channels or else their competitors will take benefit of their absence on that specific channel. Thus, to manage assets and resources across the channels, you need assistance.
Digital asset management and marketing resource management are such aids that help you with organizing and managing crucial facets of your business. DAM and MRM both have a different ways of handling people and processes. If you know the right approach to apply and use these solutions, your online business will be a successful venture.
For better asset and resource management, know more about DAM and MRM. Read the article till the end.
YOU MAY ALSO LIKE: What is Pimcore MDM?
What is Digital Asset Management?
Digital asset management refers to a technology system that enables you to manage, organize and distribute your digital assets. It is a centralized system. Digital assets like documents, images, and videos, DAM connects all of them with your team and partners so you all can be on the same page and deliver meaningful customer experience. Digital asset management includes asset ingestion to security, storage, search, workflow, and publishing.
What is Marketing Asset Management?
Marketing resource management or asset management is a solution that offers you a way to manage backend operations, people, and processes that are connected to your marketing campaigns. The routine operations of businesses are managed, planned, and tracked by MRM. With a streamlined workflow, you can focus on other important facets of business and MRM will do its work efficiently.
YOU MAY ALSO LIKE: Product Information Management and Ecommerce
Functions of DAM and MRM
DAM
1. Store
DAM stores all your digital assets in a secure and centralized location. The assets are managed so perfectly, users can find them easily using search capabilities. Organizations need not worry about outdated content or storage drives issues; everything is looked out by digital asset management.
2. Manage
Entire lifecycle of content is managed by DAM, either content creation or content archive. It improves workflow, streamlines approvals, and allows users to convert file formats as well so they don't need to depend on designers. Also, brand reputation protection and legal damage with permissions, copyright safeguard, and version control functionalities you get with DAM.
3. Distribute
Sharing content with teams and partners through links and microsites is easier. Moreover, you can publish content without any hassle to digital channels using embed codes that automatically update content based on the master file stored in the system.
4. Measure
DAM helps you to know who is using your content, as well as when, why, and how. Based on that information, you can allocate a budget to highly consumed and effective digital assets and create resources for high-ROI content. Repurpose, retire, update, or replicate efforts to manage content that will be beneficial for your business.
MRM
1. Planning
MRM helps in receiving a comprehensive overview of all the marketing activities so that you can decide on budget and strategies accordingly. You can take reference from historical data to achieve desired goals and succeed.
2. Workflow
It manages and lines up people and processes that are important for an initiative from concept to reality. Organizes all the processes, tracks progress, views upcoming activities, and keeps approvals, costs, and deliverables on track.
3. Collaboration
MRM connects and centralizes content, information, and processes thereby all the key members of the organization can work together by accessing the data. However please note that you can use MRM for project-related assets only (the entire digital asset library is not a part of MRM).
4. Measurement
It assists you to comprehend and optimize the ROI of your marketing efforts. Focus on and fix bottlenecks of the system, evaluate campaigns performance, and find out areas that are less performing.
Features and benefits of DAM and MRM
Features of digital asset management
Metadata and taxonomy management with advanced indexing features help find, share, and search assets easily.
User rights can be managed precisely, and you get full control over the content flow.
Editing and adaptation of assets can be done according to each channel which helps in assets diffusion and distribution.
DAM supports constantly measuring and scoring the content performance which helps you to improve the efficiency of your entire system.
Different channel activities get measured to give you a cross-channel view.
Benefits
You can streamline each step of the content lifecycle.
Smooth workflow, improved efficiency, and more productivity are results given by DAM.
Communication among different departments improves.
DAM makes assets diffusion and distribution faster and easier which is a relief for the sales team.
You can also adapt content for local markets.
Features of marketing resource management
MRM allows you to centralize all your internal and external workflows and ensures the brand management exactly the way you want it to be.
Benefits
It helps in overall marketing management such as budget, human resource planning, and editorial planning.
With improved performances, you get excellent ROI.
DAM vs MRM – which solution do you need?
Determine and then apply the right solution for your organization as per your business goals, needs, and priorities. You will be happy to know that organizations use both techniques (DAM and MRM) to manage assets and resources. So, it is not always one or the other situation. If you can integrate both DAM and MRM effectively then all your assets and processes will be in sync to work together.
Let's see if you need both solutions together or if anyone will work for your organization.
You need a DAM system if
You have an enormous range of digital assets.
Your huge team needs frequent access to the digital assets.
You don't want scattered files across shared drives, desktops, and file-sharing systems.
Many people are involved in collaborating, reviewing, and approving creative assets.
You wish to save time in file conversions.
Assets have restricted or regional-specific use cases.
Your assets need special instructions such as legal guidelines.
You wish to build a strong brand presence across the channels.
You use assets for all the other systems such as customer relationship management, marketing automation, etc.
You need an MRM system if
You have a huge amount of marketing campaigns to manage.
You need every minute detail of your marketing efforts.
Costs matter to you, and you are focused on improving the ROI.
Your operational processes are inefficient with workflow bottlenecks.
You need to manage the project budget and expenditure and optimize them every now and then.
You wish to improve communication among teams and launch the campaigns faster.
You are not able to focus on planning and making strategies.
You can now choose as per this checklist which system you need for your organization, or do you need to integrate both? Skynet Technologies is a Pimcore silver partner reliable and efficient pimcore development company that can integrate both or either of the solutions with your business system. Hire certified pimcore developer now or fill out the request form below to know more.