A Road Map to a Successful Digital Transformation Strategy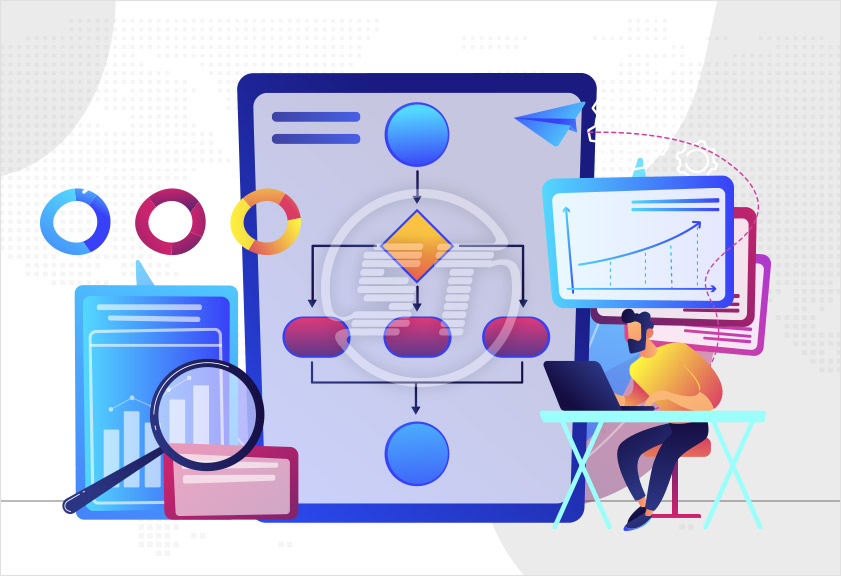 We are at the cusp of convergence of both the physical and digital world giving birth to various platforms that weren't foreseen a decade back. However, the news isn't about the world going digital! But how rapidly it is happening and the pace at which the digital transformation is impacting all walks of business is something that is fascinating and clearly cannot be ignored.
Businesses that are slow to adapt to the new digital arena are going to be sideliner first and then go into oblivion. The newer digital platforms and businesses are challenging the status quo of the traditional enterprise model. So, to survive and thrive in this highly competitive space, one needs to innovate and reinvent the business model through a well-planned digital transformation strategy.
What is Digital Transformation?
Digital transformation is the process of managing your business operations and improving your customer experiences by the adoption of digital technology. The benefits are also tremendous as close to 40% of the businesses have recorded an improvement in their operational efficiency, 35% met their customer expectations and beyond. Digital Transformation is the future!
As a top digital marketing agency, we establish a transparent baseline measurement for your digital marketing strategy based on your unique business needs. We have a cohesive digital marketing team involving marketing and sales personnel that ensure transparency and accountability while identifying a performance baseline to build.
Roadmap for a Successful Digital Transformation Strategy
Before chalking out your digital transformation strategy, understand your current place in the digital journey by carefully assessing and measuring the divide between your current situation and desired status.
Outline your Vision and Mission

A good starting point for your digital transformation journey would be establishing your vision and mission of the company reflecting your company values and objectives. You may have to align with the latest technologies and understand the needs of your modern and tech-savvy customers. Make this process more people-centric by letting your employees know about this and take their inputs.

Remember, the core objective of digital transformation is to adapt to the changing landscape and meet the customers' expectations. Hence, there shouldn't be any drastic divergence between your goals and the company's values. Ensure that your vision also aligns with your company's future goals by taking extra care not to digress.

Identify Issues and Set KPIs

Issues are bound to come up and it is better for you to quantify them beforehand. Segment them into groups and identify if there are any interconnected issues for better resolution. Suppose there are any high threatening issues that may impact other aspects as well, time to prioritize them. Some issues may derail the whole process further down the road and they have to be dealt with deftly for which planning is important.

Once you have chalked out the issues, list out the KPIs you are determined to achieve based on the SMART (Specific, Measurable, Achievable, Realistic, and Time-based) criteria. These KPIs should help you achieve the specific outcomes you wanted like improving operational efficiency and successfully meet the customer's needs.

Resource Allocation

You need to allocate both time and budget for your digital transformation undertaking. You can base your decisions on your current financial health. Discuss with the team to pick the right personnel who would fit the best. Define the communication process within your budget and time and keep every stakeholder informed about the project progress.

You need to keep in the accountability measures as well by staying transparent so that the key stakeholders are satisfied with the process. Don't leave them hanging so make sure they are in the know of what's going on in the process. Also, some issues are bound to arise, make sure to have enough bandwidth to handle any pressing issues that may arise.

Adopt a Phased Approach

Digital transformation is no easy process and it involves multiple things to be taken care of. We suggest you follow a phased approach by working on a series of mini-projects or tasks. Set timelines for each task and make sure to get everything done within the timeframe. Review to see if everything is fine and then only go further to avoid unnecessary iterations.

Execute, review, and repeat is a better formula that lets you track the progress and also helps you to see how better is the progress so far. The phased manner is hence one of the best ways to make adjustments as and when necessary. This also helps you to avoid any major setbacks or disruptions that may fail your project.

Post-Implementation Feedback and Improvements

Once you have reached the end of the process where a future-ready project is at your hand, it is essential to take feedback and measure your achievement. You can take the feedback from the key stakeholders and assess their responses. Make room for any improvements that were suggested and refine the process for a fine-tuned solution.

Also, focus on taking the new customer requirements into consideration and keep an eye on any new technology rollouts. You can ride on the same momentum to adopt them and make your enterprise stay relevant and competitive. Always focus on continual improvements to beat the competition.
How to find the right digital transformation partner?
Your company may be falling short of the requisite technical skills to handle the digital transformation aspects. In that case, you need to choose a reliable digital transformation partner who would hold your hand throughout the digital transformation journey.
While choosing the digital transformation partner, you need to evaluate their tech skills, industry experience, and problem-solving capabilities. Assess their efficiency in transforming your business, make it smarter, connected, and scalable.
Bottom line
So, with the above-mentioned process, you can chalk out a successful digital transformation strategy to get much closer to your customers and win them over. And be mindful of the fact that it isn't any big-bang activity to happen once, and rest assumed to fall in place. No!
Digital transformation is not a sprint but a marathon. It is a continual process and even evolves as your enterprise enters the mature stages. You should show serious commitment as you are reimagining the business of the future and tread carefully but steadily to avoid any unwarranted setbacks. Find out more about our digital transformation services.
Let's empower your business with digital transformation and rapidly evolving technologies, a careful assessment of market dynamics to capture the customers' attention. Skynet Technologies offer complete digital transformation services & solutions including UI /UX design, digital marketing & branding, ecommerce, CMS, data analytics, automation, cloud computing, IoT & more.