Drupal 11 is coming soon in 2024! – Is your website prepared?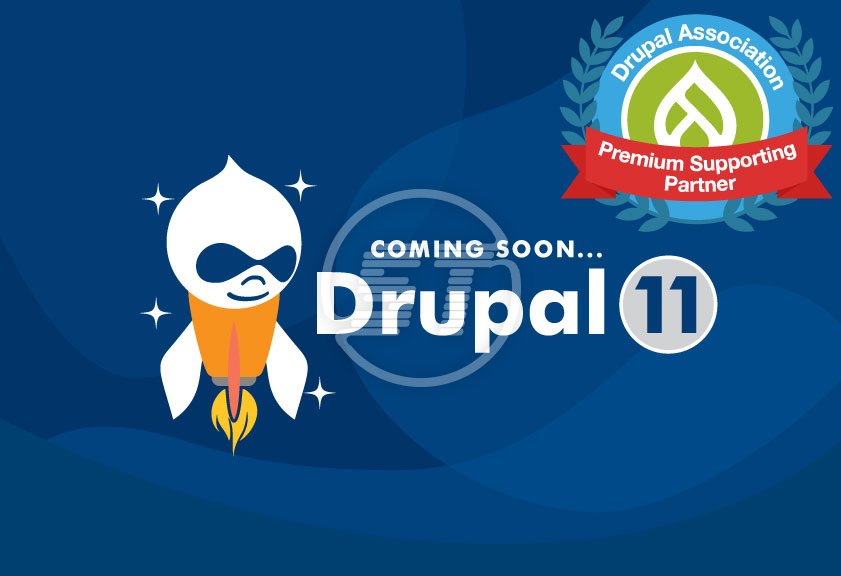 Do you know a fact that Drupal is used by 1.7% of all the websites whose CMS are known? – W3Techs
It shows the popularity of this dependable platform. Drupal is not only a CMS, but it is a platform to build accessible, secure, multilingual, and global online space to outreach your business.
With time, Drupal has evolved and in Dries Buytaert's (original creator of Drupal) own words, "It's different from I started the Drupal project."
Drupal is serving the web world for around 20 years and its impact is significant. With every latest version, the platform is proactively improving and empowering site developers to build future-proof websites. Drupal 11 is coming after a two-year gap and makers have taken this time to capacitate the upcoming version for ambitious digital experience.
"Drupal is for Ambitious site builders."
Drupal 11 will release in August 2024 and approx. a year time left to prepare your website for it. Let's see what all is needed to get ready for the upcoming version of Drupal.
Purpose and Process of Drupal 11 release!
It is said that Drupal 11 will be more dynamic, scalable, and full of innovative functionalities. It rarely happens that entire Drupal community began discussing about Drupal 11 even before the release of Drupal 10. And that is why, the upcoming version is a hyped version of Drupal until now.
When Drupal 10 was in its final stage, makers started brainstorming on the creation of Drupal 11. So, you can anticipate how progressive and impeccable this version will be.
Despite, Drupal 10 End-of-Life has been not disclosed yet. But one of its dependencies PHP 8.1 EOL is in 2024 and thereby Drupal 11 will need PHP 8.2 and higher versions. We have curated some of the updates in later segment of this article that will help you to prepare your current website for the Drupal 11 upgrade.
With modification in Composer mechanism, simplified module installation, and responsibly moving modules out of the Drupal core to contrib are some of the important steps makers have taken to make Drupal 11 core flexible and sturdy.
Though several changes of Drupal 11 will be a continuation of Drupal 10 components. However, latest changes always ask for updated environment.
YOU MAY ALSO LIKE: Drupal 7 to Drupal 10 Migration
Is your website updated with Drupal 10?
Two important tools phpstan-drupal and drupal-rector need to write custom code to detect changes and requirements and fix them. Since Drupal core uses these two, thereby it is crucial to pay attention to them as they will become outdated if Drupal core changes will happen in the future.
The change records from a larger period of span can help you to understand if phpstan-drupal and drupal-rector are supporting latest changes or not. Ideally, it should be a sign-off process before a change record gets published.
There is a GitHub repository to import all latest changes happening in Drupal core as issues. Then these changes or issues can be triaged to check if phpstan-drupal and/or drupal-rector need some changes to support them. Click here to find out more about the repository. Moreover, the repository has a defined workflow to parse the change records RSS feed and import entries as issues.
PHPUnit 10 Deprecations
PHPUnit 10 was released on February 3, 2023, and Drupal 11 might use either PHPUnit 9.5 or 10 to stay on the most recent updates. However, Drupal 10 is compatible with PHPUnit 8.5 to 9. Thus, keep in mind that you will need to update your PHPUnit to its 10th version to use Drupal 11.
Drupal uses Symfony PHPUnit bridge for cross-version compatibilities. To support PHPUnit 10 in Drupal 11, 'symfony/phpunit-bridge' has begun supporting this latest version of PHPUnit.
For more details, please read the Drupal core issues document.
Dependency changes for Drupal 11
Drupal 11 is expected to be backward compatible to make it easier for organizations to update their existing websites.
Major dependencies that you might need to update are:
PHP

Make sure that Drupal 10 is compatible with PHP 8.2.

Symfony

Forward compatibility with Symfony 7 is necessary and address new deprecations added in Symfony 6.1, 6.2, 6.3, and 6.4.

PHPUnit

As written in the above section, PHPUnit 10 support is required for Drupal 11.

Guzzle / PSR-7, PSR-17, PSR-18

Drupal 10 should support only Guzzle 7 now.

jQuery 4

The makers are reducing Drupal's core reliance on jQuery and the remaining code is expected to be forward-compatible with jQuery 4.

Other dependencies

You are supposed to regularly monitor new major versions of other dependencies (for instance, CKEditor) and add forward compatibility in Drupal 10 if possible.
YOU MAY ALSO LIKE: Drupal Website Cost
Drupal 11 – Another milestone for the CMS!
As per Dries Buytaert, Drupal 11 will address myriad facets of CMS that will include new capabilities for developers, improved content editing features, performance, security enhancements, etc. Drupal 11 is expected to be one of the most robust versions till date with more innovative features.
To install and use Drupal 11, your website must be on the latest minor version of Drupal 10 with all updated dependencies. Although upgrading to Drupal 11 will not be difficult due to the forward compatibility of dependencies.
Thus, if your website is on Drupal 9 or any other older version, upgrade it to Drupal 10 to be prepared for Drupal 11. The exact scenario will be clear when we will be having Drupal 11 documentation.
Stay ahead of the competition in the fast-paced digital era. Upgrade to the latest Drupal version effortlessly with our skilled developers at Skynet Technologies. As a Drupal association organization member, we ensure a successful migration. Contact us at hello@skynettechnologies.com or fill out the free quote form for expert Drupal development and Drupal migration services .