Drupal 7 to Drupal 10 Migration – A Comprehensive Guide!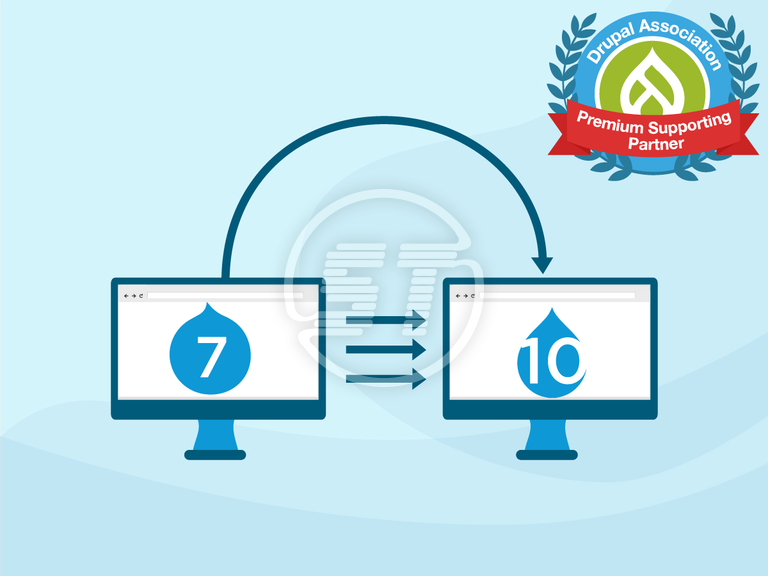 With Drupal 7 end of life, not only an era of a well-performing version is about to conclude, but it also means that the websites that are still not updated to newer versions are in danger, and they must perform a migration as soon as possible. Once Drupal 7 will stop getting community support, it will be hard to maintain the same performance of your website.
Drupal 7 to Drupal 10 migration will only take some time and resources but eventually, you will be having a secure and modern website with enhanced performance. Drupal 10 is different from Drupal 7 and is packed with myriad new features and functionalities, which you haven't experienced yet on Drupal 7.
The latest version is made future-proof with trending features that are required to make a competitive website or an ecommerce store. Thus, the sooner you will migrate to Drupal 10, the more benefits your website will start availing.
YOU MAY ALSO LIKE: What's new in Drupal 10?
The difference between Drupal 7 and Drupal 10!
Before you begin with the migration process, know the major differences between these two versions. Because that will help you to understand what is missing on your website currently.
Drupal 10 is backward compatible; it is made in Drupal 9.x unlike Drupal 7, which was a long overhaul of Drupal 6. The Drupal community is now focused on the platform's performance and thereby, they've started creating versions that are easy to upgrade and clutter-free.
From Drupal 9 onwards the platform has started supporting headless structure, which was missing in Drupal 7.
It is more scalable and flexible than Drupal 7.
Drupal 10 has a Drupal rector, which helps in easy upgrades automatically. The automatic updates module implements patch-level updates in Drupal core timely and automatically.
With Project Browser, finding modules and themes becomes easier.
There are default front-end and administration themes, named Olivero and Claro respectively that are ADA compliant and uplift the website's UI and UX.
All deprecated code has been removed to provide you with clean code.
You will not find these all and many other features in Drupal 7 and which is why Drupal 10 will make a better-performing website for you. Moreover, with Drupal 7 EOL, website owners are left with no other option but to migrate to the latest Drupal version.
Drupal 7 to 10 migration steps
Steps for Drupal website migration from older Drupal 7 to latest Drupal 10:
1. Review your existing Drupal 7 website.
Reviewing or auditing a Drupal website helps in understanding the website's performance and security bottlenecks and what data and content types are needed in migration. Identify important data and eliminate unnecessary code and damaged/outdated content.
Moreover, make a note of features or functionalities that are crucial for your business and needs to redevelop in the new Drupal 10 website. (However, you will recreate older features or functionalities only if the latest version will have a scope for developing them.)
Ensure existing SEO performance will not get hampered.
While auditing the website, identify all top-performing pieces of content and make sure you provide a redirect to them, if needed, in order to maintain current SEO performance.
YOU MAY ALSO LIKE: Drupal SEO
Don't migrate without creating a backup site.
The backup site is much needed when migrating the older one because it helps you as a reference when you are done with the migration to check if everything is transferred to the new site. Also, if anything goes wrong, you have the original data intact.
Ensure all technical requirements of Drupal 10 are getting fulfilled.
Drupal 10 has different technical requirements such as it needs PHP 8.1, MariaDB 10.3.7+ or MySQL/Percona 5.7.8+, and Symfony 6.2. Also, check the current web hosting service if it is capable of handling Drupal 10 speed and security.
YOU MAY ALSO LIKE: Drupal Performance Audit
Migrate the website's content.
Make content structure and determine which content types you wish to have on your new website. And then start migrating data to the new Drupal 10 website.
Upgrade themes and modules for the Drupal 10 website.
Drupal 10 will not support older modules; thus, replace them with their new counterparts. Wherever custom modules are required for increased functionality, rebuild them. You can create a new theme using the Twig framework.
Conclude migration, perform testing, and deploy the website.
Once the above steps are done, automated and manual testing is required to run on the new site. Drupal Rector and PHPstan tools can be used for code auditing to know if the code is functioning the way it was supposed to. And manual testing helps in understanding the actual user experience of the new site. Test each element and if any issue arises, resolve it before deployment of the website. 
Wrapping up
Above mentioned steps are crucial to migrating your website from Drupal 7 to Drupal 10 and required expert supervision. If you have experienced Drupal developers on board, the migration process becomes smoother and minimal errors occur. Either in-house team or third-party Drupal development experts, ensure to have someone to avoid any technical crisis.
As soon as you will migrate the website to the latest Drupal 10, it will be beneficial for your organization. Because you will get enough time to migrate and set up a new website before Drupal 7 end of life.
So, don't let your website fall behind in this fast-paced era. Upgrade to the latest Drupal version and stay ahead of the competition! At Skynet Technologies, we have a team of skilled Drupal developers who can help you seamlessly migrate and upgrade your website without any hiccups. As a Drupal association member, we have the industry experience and proven methodology to ensure a successful upgrade. Get in touch with us at hello@skynettechnologies.com to hire drupal developers or fill out the following free quote form to learn more about Drupal migration, upgrades, and development services.