Drupal 9 vs Drupal 10 – The top difference you must know!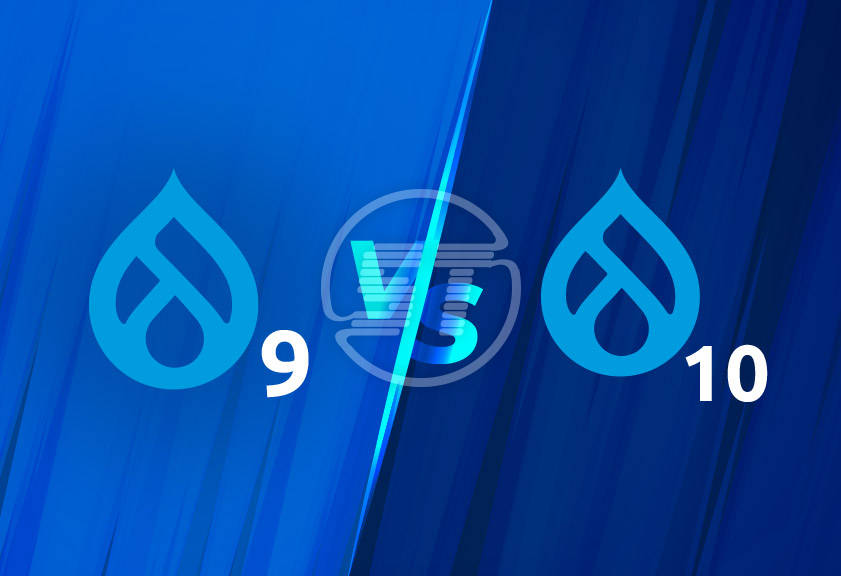 Millions of websites are running on Drupal seamlessly worldwide. Being a free open-source and efficient content management system, Drupal is leading a tsunami of digital transformation across industries.
From simple to complex websites, with multilingual capabilities and robust security, ease of content editing, and with quick package loading, Drupal is certainly one of the exceptionally organized and competent platforms for a website.
Drupal is a modern object-oriented enterprise-level content management framework that helps organizations to achieve their business goals. Drupal 9 was released in 2020 and it was mostly built in Drupal 8. It was the easiest upgrade of Drupal. And Drupal 10 was originally scheduled to be released in June 2022, but then the release was pushed back to December.
Now, Drupal 10 release is scheduled for December 14, 2022, and all eyes are on the release of Drupal's new version.
Are you excited to use the upcoming version of Drupal? Do you know, what is the difference between Drupal 9 and Drupal 10?
YOU MAY ALSO LIKE: Drupal Website Development Cost
Comparison of Drupal 9 and Drupal 10
1. Symfony 4 to Symfony 6.2
Drupal 9 is using Symfony 4 and it is one of its biggest dependencies. Symfony 4 has end-of-life in November 2023, which means Drupal has to move to Symfony's latest version in order to avoid security issues after November 2023. Therefore, Drupal 10 will update Symfony from version 4 to 6.2. 
2. CKEditor 4 to CKEditor 5
Drupal 10 will come with CKEditor 5 because the support for CKEditor 4 will get terminated in 2023. CKEditor 5 will add more efficiency to the upcoming version of Drupal 10 with an improved authoring experience and an array of plugins. It will make Drupal's content creation future ready.
One of the major improvements in CKEditor 5 is the new contextual balloon, which allows content editing inline in the editor even if content creators don't enter a model dialogue that would interrupt their content creation flow.
3. Starterkit Theme and Tools for Better Customization of Themes
Drupal's Starterkit theme might have a new theming option. The idea is to replace Classy in Drupal 10 with a new custom theme creation process and base theme. Currently, this theme's work is in alpha mode but is on track to be stable for Drupal 10. 
4. Updated Drupal Core Via Composer to Automatic Updates
Previously, updating Drupal core was like a nightmare but in Drupal 9, it has become a lot easier to update Drupal core through Composer. It is going to be automatic but safe in Drupal 10 and contributed modules are ultimately updated in this initiative.
Automatic updates will make the upgrade process much easier. It is one of the requested features from Drupal developers and site builders, which is going to be in Drupal 10.
5. Advanced JS Components Replacing the jQuery Interface
jQuery UI was deprecated in Drupal core from Drupal 9. However, it is still used in several places in Drupal 9. Drupal 10 might come with advanced JS components to replace jQuery completely or maybe reduce dependencies on it.
6. Enhanced Layout Builder and Media Functionality
Layout builders allow site builders and content editors to quickly create visual layouts to display content and Drupal 10 is bringing this functionality with more precision and improvements.
YOU MAY ALSO LIKE: Drupal Site Audit
Drupal 10 with Some Key Initiatives
Drupal has executed surveys to know what its users' expectations from the platform and based on that added a few major initiatives.
1. Better Experience
Drupal 10 is expected to come with Claro, which is a brand-new administration theme with a layout builder and media library. Layout builder and contributed modules are going to play a key role in enhancing the experience. It will mitigate the struggle of web administrators, editors, and site builders in terms of media and content management.
2. Decoupled Menus
If you are using headless architecture, this initiative is for you. Since the menu components are created and a proven-proof concept has been made, JavaScript projects can be built on Drupal now.
The idea behind this is to make the best possible way for front-end JavaScript, which can consume Drupal's configurable menus via a common JS library. All the changes and incorporations to Drupal APIs are going on along with the documentation.
It will establish Drupal as one of the leading platforms with JavaScript support in headless segments. Drupal 10 also has official React and Vue components for menus, which will give an improved experience to developers compared to other modern headless CMS. Content creators will be able to make changes to menus via UI without taking help from coders and the changes will get reflected on the JavaScript front end. However, the Twig templates are still maintained to provide support to traditional websites.
3. New Front-end Theme
Olivero, which was an experimental front-end theme in Drupal 9.1 is now going to be the default one for Drupal 10 replacing Bartik. The reason behind this idea is to provide a dynamic theme for all age groups.
Therefore, the text, animation, and colour palettes are carefully selected for the theme. It also has an inbuilt media and layout builder and a feature for second-level navigation. Besides, accessibility is the basic element of this theme.
Wrapping up 
Drupal 10 will be an evolved version of Drupal 9 with some reinvented features. It implies, Drupal 10 will almost be the same as the latest version of Drupal 9 with a few updated dependencies and deprecated code removal as exceptions to enhance the platform's capabilities.
Gradually, the adaptation rate for Drupal is becoming faster and it is developing into more user-friendly platform with each version update. The new functionalities of Drupal 10 are not going to make site builders and developers crazy because they are already up and running on Drupal 9 latest version. Along the way, if there are redundant codes, they will get truncated breaking the backward compatibility. And even then, module developers will get a chance to keep abreast of the forthcoming API changes, thus facilitating easier upgrades.
Upgrading a website or application is challenging and time-consuming. We have the right industry experience, experienced Drupal developers, and proven methodology to deliver seamless Drupal migration and Drupal upgrade services. We provide Drupal migration from Drupal 6 to Drupal 9, Drupal 7 to Drupal 8, Drupal 8 to 9, Drupal 7 to 9, and Drupal 9 to 10. We have an in-house and experienced team of dedicated Drupal developers to manage simple to complex tasks in a defined time. Contact us at [email protected] or submit the following request free quote form to know more about our Drupal migration or development services.