Drupal Vs Joomla - What's the difference? Which one is best for your business?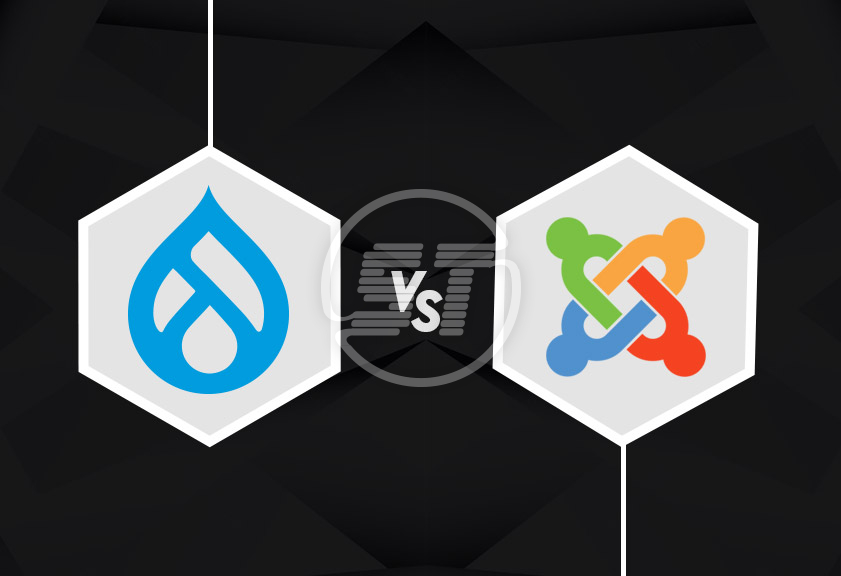 Two of the best platforms Drupal and Joomla never fail to provide you with unmatched solutions. If you are already using any one of them, you know the privilege of using an efficient CMS. When you are surrounded by umpteen content management systems and you have to choose the most suitable one for your business, it is an arduous task. Isn't it?
You need a perfect CMS that blends with your business requirements and provides the desired aftermaths. If you choose the wrong content management system, it will ruin the overall experience of your business. The point here isn't which is the right or wrong content management system, but which is the impeccable solution for your business.
Drupal and Joomla both are open-source CMS and they both manage the content intelligently and reliably. But you have to pick only one for your business. So, let's compare and find the differences between these two to decide which CMS is suitable for your business.
Difference between Drupal and Joomla
Drupal is one of the most popular content management systems we have, which aims to deliver extremely customizable, secure, and performance-oriented solutions. It is a powerful and best option for building complex websites. It has clean code and APIs with proper documentation. Though its learning curve is a little steep, it is popular among businesses.
Joomla is an extensive free-to-use content management system that allows you to create websites and other business applications. It is a simple yet effective option for a business website, especially for them who are about to start a new business. It is SEO-friendly software with sturdy features like metadata support, menu creation and mod-rewrite support for SEF URLs.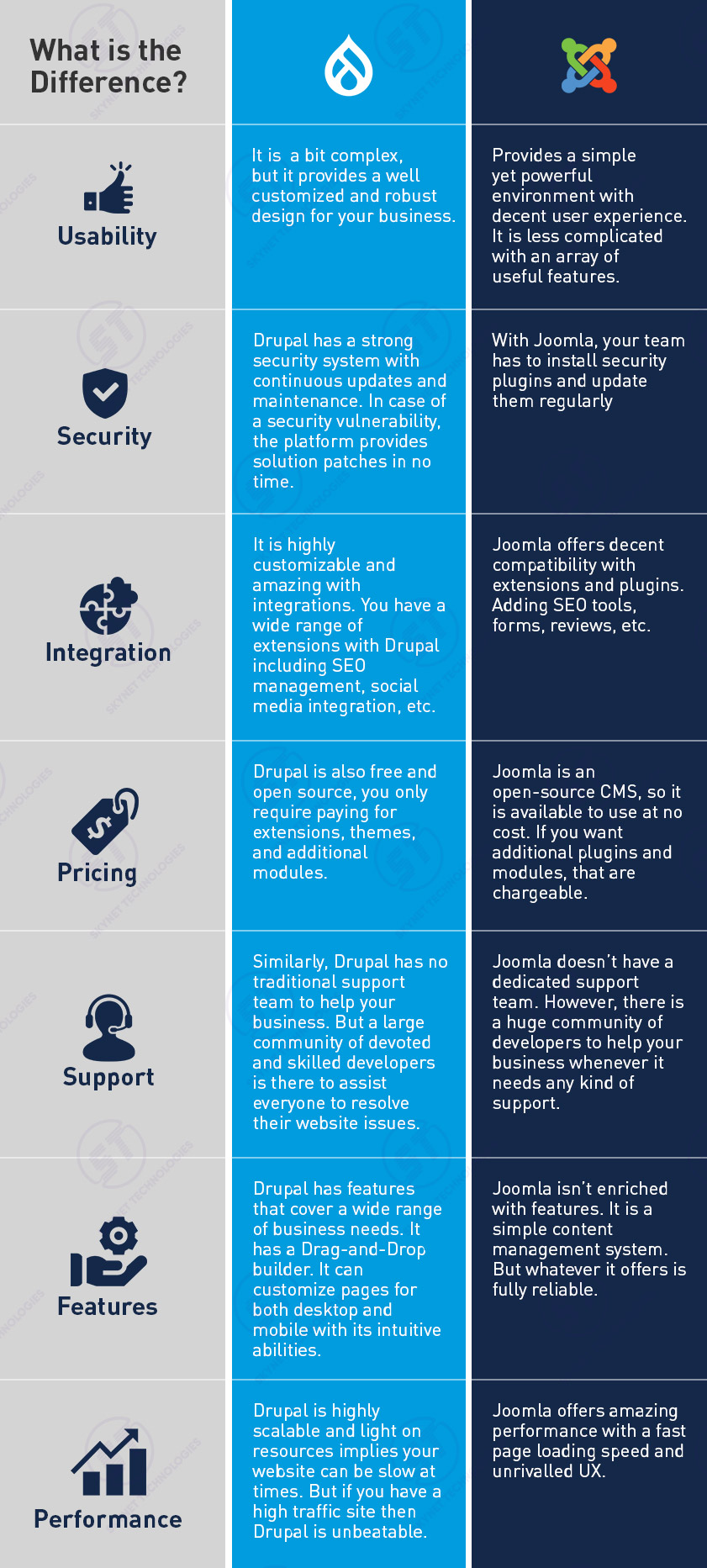 Let's explore more and know about these platforms.
When you hunt for a platform that can manage your content efficiently, you have a few pointers to look over carefully. We've curated some important pointers here for you to select either Drupal or Joomla for your business CMS.
Usability

Joomla provides a simple yet powerful environment with decent user experience. It is less complicated with an array of useful features. Albeit, adding extensions, customization, etc. is a bit tricky for Joomla. On the other hand, navigation, editing, publishing, etc. is easier.

Whereas Drupal is a bit complex, but it provides a well customized and robust design for your business. Creating and navigating content is systematic. Customizing a Drupal website is a cakewalk for your development team.

Security

It is one of your key concerns behind choosing a robust platform. Everybody wants a shielded environment to safeguard their data. With Joomla, your team has to install security plugins and update them regularly.

Drupal has a strong security system with continuous updates and maintenance. Drupal website security is critical, and precautions should be made to ensure that your site is not vulnerable to such assaults. In case of a security vulnerability, the platform provides solution patches in no time.

Integration

You need third-party integrations to enhance the capacities of your website. A good CMS performs well with extensions and delivers unbeatable results.

Joomla offers decent compatibility with extensions and plugins. Adding SEO tools, forms, reviews, etc. from its directory and enhancing the functionality of your website is smoother with this marvelous platform.

Drupal is highly customizable and amazing with integrations. You have a wide range of extensions with Drupal including SEO management, social media integration, etc. that improve the whole system's functionality.

Pricing

Joomla is an open-source CMS, so it is available to use at no cost. If you want additional plugins and modules, that are chargeable.

Drupal is also free and open source, you only require paying for extensions, themes, and additional modules. If you wish to hire a Drupal developer to build and maintain your website on Drupal, then you have to spend dollars on it.

Support

Your website may need support during some technical crisis, or you might need some assistance to run the website. So, it is always an additional brownie point if a CMS has a proper support system.

Joomla doesn't have a dedicated support team. However, there is a huge community of developers to help your business whenever it needs any kind of support. Also, Joomla has a wiki page that consists of all the essential information about it. Anyone can access it in different languages.

Similarly, Drupal has no traditional support team to help your business. But a large community of devoted and skilled developers is there to assist everyone to resolve their website issues.

Features

Features are the backbone of any CMS, and it makes a whole world of difference if your CMS is feature rich.

Joomla isn't enriched with features. It is a simple content management system. But whatever it offers is fully reliable. One of the important features of Joomla 4 support is multiple languages and translations. It also has custom user permission, so distinct users can use capabilities as per their needs.

Drupal has features that cover a wide range of business needs. Content creation is easy with Drupal since it has a Drag-and-Drop builder. It can customize pages for both desktop and mobile with its intuitive abilities. Drupal also has authoring functionalities, like in-built commenting with customizable fields.

Performance

When you create a website, its performance is your primary concern. That means it should be able to load faster, provide outstanding user experience and its downtime must be negligible.

Joomla offers amazing performance with a fast page loading speed and unrivalled UX.

Drupal is highly scalable and light on resources implies your website can be slow at times. But if you have a high traffic site then Drupal is unbeatable.
So, these are the crucial factors to look upon before deciding which content management system you want for your website. There is no winner and loser; both are outstanding in their place. You have to choose anyone keeping your business needs in mind.
Advantages of Drupal and Joomla
The two platforms are capable of delivering the best possible solution according to your business requirements. Both have an array of advantages out of which a few are written below and some disadvantages too. But every technology has bottlenecks, peruse them carefully and if you feel they can be a hurdle in your website's performance then don't pick that platform.
Joomla
Exceptionally easy-to-use and reliable to manage a large amount of data.
Suitable for every kind of business website.
User-friendly interface.
Drupal
It is a multi-site platform, which allows you to own multiple sites using a single Drupal installation.
Drupal provides scalability and exceptional performance using contributed modules, CDN and with the help of server scaling.
Webpage creation is highly secure.
Efficient in managing complex and multi-domain structures.
Security measures are reliable.
SEO extensions are outstanding; they help make your website more SEO amicable.
Disadvantages of Joomla and Drupal
Joomla
It can require huge server resources in case traffic hits the website.
Limited modules are available to modify the website.
Premium or paid plugins are the option in order to increase website functionality.
Drupal
There is a familiarization difficulty while creating and promoting a website.
High-quality themes are not free.
It may require high system requirements in case of a complex website.
Wrapping it up
Drupal is complex yet assists you to handle many intricated websites and provides a robust structure that is difficult to puncture. Joomla is simple but effective. It offers a stalwart solution and manages your content exceptionally well.
You have many live examples since ample businesses are using Drupal or Joomla for their website, for example, ArsenalFC, InStyle, IKEA, Holiday Inn, etc. Choose carefully and relish the taste of success with one out-of-the-box CMS.
As a leading web development company in the USA, we provide a multitude of services for various CMS platforms such as Drupal, WordPress, Joomla, Sitecore, Weebly, Squarespace, Netlify, Symphony, Strapi, Umbraco, Wix, and more. Apart from CMS development, we also provide website design, app development, website migration, website maintenance, custom web development, and more. We guarantee that your websites and applications are secure, accessible, and performance optimized. Contact us at [email protected] or submit the following request free quote form to know more about ecommerce development services.