Empower ecommerce business with Drupal Services to Boost ROI!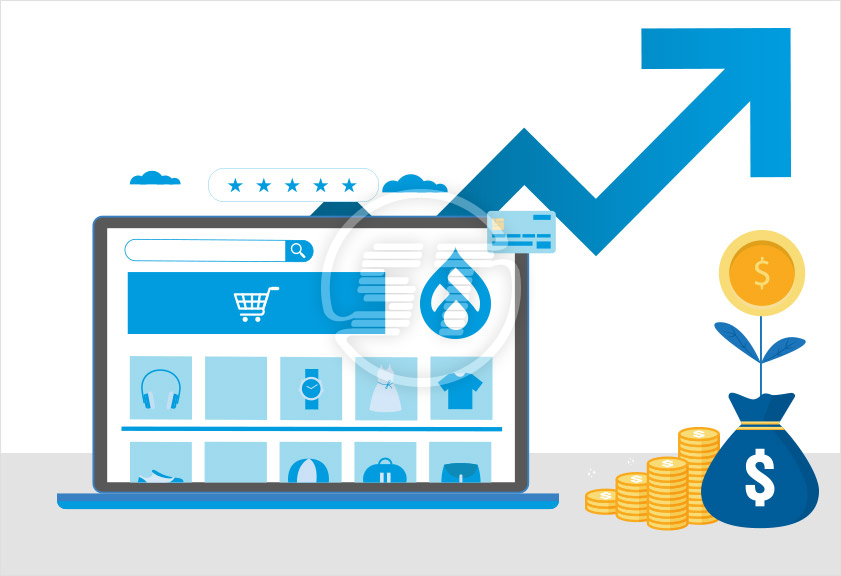 Ecommerce has gained unprecedented growth in the past 5 years and this is further reinvigorated with the pandemic that made relying on digital channels of commerce inevitable. Customers are also spoilt for choice! They have numerous options available in front of them and hence demand nothing but the best for them to stay on. So, if you own an ecommerce website, make sure to deliver seamless digital experiences for them to boost your conversions.
One of the best options you have right now is Drupal, an open-source and full-grown ecommerce website builder that can be used to meet the needs of your modern tech-savvy customers. As more and more enterprises started to carve a space for themselves on the digital landscape, Drupal has also adapted wonderfully well enough from simply being a content management system to a well-developed ecommerce website builder.
Let us illustrate how Drupal development company smoothen the ecommerce process and drive business results that have an immediate impact on the bottom line.
Enterprise-grade Drupal Features
Of late, Drupal has been powering up many ecommerce businesses by providing mission-critical solutions for businesses that are dreaming of reaching millions of customers by building a flourishing website. It has been a proven platform providing lucrative features for building a stable ecommerce website. It has also the requisite features to provide clean and clutter-free designs for engaging the users.
Quick Deployment
Drupal has an overwhelming number of modules for providing out-of-box functionality and features to enhance your website's capabilities. Drupal Commerce is supported extensively by several contributed modules even though it hasn't yet become a part of Drupal core. However, it also offers speedy deployment of your website. Drupal has all the tools that a modern marketplace requires for faster deployment and enriched functionality.
Powerful CMS
Not all ecommerce frameworks come with a CMS attached to them. Drupal Commerce, on the other hand, is backed by ever-powerful Drupal CMS. Hence, you can have new ways to engage with your customers through blogs, articles, reviews, community forums, and so on. This helps you to attract new customers and build a loyal base of customers around your brand. You can disseminate the content across diverse channels to increase your reach and get to a maximum number of potential shoppers. You can also be able to harness the power of social media for an extended reach of your content.
Seamless Third-party Integrations
Drupal also provides seamless integration with numerous third-party integrations for enhancing the functionality of your website, customizing specific to your business niche, and also providing a personalized experience to the customers. RESTful API in Drupal enables you to have many third-party integrations like Smart Content module, Acquia Lift, etc. You can also deploy Feeds Module for importing content from external data sources.
In-built SEO
With hundreds of websites sprouting every minute, you don't want to get lost in the noise and struggle to find a way out of the clutter. But it is unfortunate that a lot many ecommerce websites get lost in the shuffle and go obscure even before they get discovered. However, with Drupal on your side, you can garner the attention you required through minimal investment in organic traffic as Drupal supports SEO and ticks most of the boxes from the SEO checklist. Things like URL optimization, advanced .htaccess, and other SEO tools are provided by Drupal Commerce. Drupal thereby takes care of your website and doesn't let that slip into oblivion and pushes it to the top rankings in the search results.
Security
One of the most crucial elements of an ecommerce website is its security. Your customers need to trust your website as they are providing crucial information like their personal details and credit card information. Any data breach would mar your reputation and you would not just your current customers but also the future ones. Drupal has an active developer community who have been striving relentlessly and putting persistent efforts to keep the Drupal Commerce websites safe and secure away from the reach of malicious attacks.
Powerful Analytics
Drupal brings in powerful analytics to measure the KPIs and other metrics such as bounce rates, unique visits, total page visits, and traffic sources. Based on this, your expert marketers can find new ways of conversions, optimize SEO, evaluate page rankings, and improve content quality. You can come up with effective marketing tactics and strategies that can your business revenue.
Mobile-Responsive
Do you first wish to build a website and then work on building a mobile version of the same? Or Do you want to build a website that is mobile responsive meaning, it behaves the same way on all devices? What's the easiest way around? With the current smartphone revolution, it would be wise to think of the latter. Drupal supports very well with responsive web designs that are adaptable on any mobile device, thereby saving you resources on building separate mobile-specific websites. By building a mobile-friendly website, you can reach a larger audience base who are on smartphones. This translates into conversions fetching you a higher ROI.
Drupal Community
Drupal has also got a vibrant community that has been working relentlessly to introduce remarkable features for supporting simple, intuitive, yet powerful ecommerce websites for businesses of all sizes and shapes.
Over to you!
With such extensive Drupal features, it seems obvious that it is one of the best platforms to gain maximum value out of your investment. Embracing Drupal would be one of the smartest decisions you would have ever made if you want to achieve the ROI you are aiming for. Now that you have found out how Drupal can make it big for you in your ecommerce journey, you need to choose the best Drupal development agency that would serve the purpose. Leverage the Drupal Commerce Development services for a seamless eCommerce platform.
Skynet Technologies has a team of professional and expert Drupal developers who are skilled in end-to-end Drupal services to help you achieve the profits and sales you are targeting. We help break new ground in your journey to achieve an envious ROI. Take your business to the Next Level with us!