Google September 2023 Helpful Content Update rolled out – How to assess and adapt?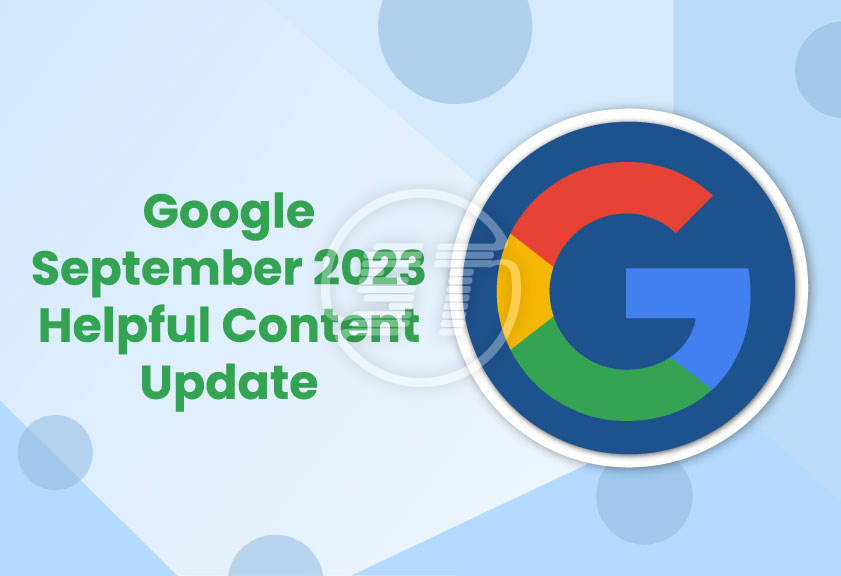 On September 14, 2023, Google's September 2023 Helpful Content Update rolled out, which concluded on September 28, 2023. It took 14 days' time to complete the process, according to Google. This September update contains an improved classifier and has myriad profound changes to the Helpful Content System. Google is proactively working on these updates to promote quality content and demote content that is only written to impress search engines.
In the latest September 2023 update, there are profound alterations in the guidelines for assessing the website's content and the update is properly documented. Moreover, website owners will find advice if they experience traffic loss.
Some of the crucial changes in the September 2023 update
Guidelines on machine-generated content

Google has made it clear that it will give importance to human-generated concise and high-quality content. Machine-generated (or AI-generated) content will face degrading. Content that is engaging and tailored for the target audience will be beneficial for your website ranking.

New rules for hosting third-party content

Many websites host third-party content that gets indexed even if it is irrelevant to the website's main vision/purpose and does not serve its target audience. The September 2023 update advises not to host such content because it will harm the website's performance on search engines.

If a website experiences major traffic loss post-September 2023 update, additional advice for them

Google has also reviewed its guidance for content self-assessment for website owners. The advice is on what do to if the site loses its significant traffic after Helpful Content Update. Along with quality content creation, keeping yourself aware of new changes and aligning the content with the latest guidelines is important.

Please note that the review process will impact the site's ranking and traffic however, you can focus on a few crucial things such as not falsely updating pages if there are no significant changes in content have been made and adding or removing content only if needed.

Other than the above-mentioned changes, the September 2023 update has some more new additions:

Improved classifier, which will use various signals to determine the usefulness of content.
Content written by people in their language will work in favor of the website.
If content is reviewed by experts, it will be an added advantage; etc.
Read out what has been updated in Google August 2023 Broad Core Update!
Tips to create appealing content that will not hamper website performance in the September 2023 update
Focus on curating and writing informative content for your target audience.
Don't publish without proofreading it.
Collecting feedback and improving accordingly is beneficial.
How to recover the negative impacts of the September 2023 Helpful Content Update?
Simply follow the advice given by Google and omit or replace the content that seems to be not helpful for the audience and the website's performance. The sooner website owners and SEO experts will adapt to the new changes and optimize their websites accordingly, the faster the website will recover the negative impacts of the September 2023 update.
Conclusion: You need to update/optimize website content
It would be beneficial to serve fresh content and make it easier for users to improve or maintain ranking positions. Check the above points and update your website according to the latest guidelines. If your website is affected by latest content update guidelines, there is a possibility that another website contains more valuable information than yours. It is crucial to understand the reason behind the drop in rankings.
Whether you have been affected by the latest Google September 2023 Helpful Content Update or not, we will assist you in identifying and limiting their potential negative effects. We provide comprehensive search engine optimization services, including SEO audits, on-page SEO, off-page SEO, technical SEO, local SEO, international SEO, custom analytics, and more. Get in touch with us at [email protected] or submit the following request free quote form to know more.