How Is Covid-19 Outbreak Pandemic Impacting Your Ecommerce Business?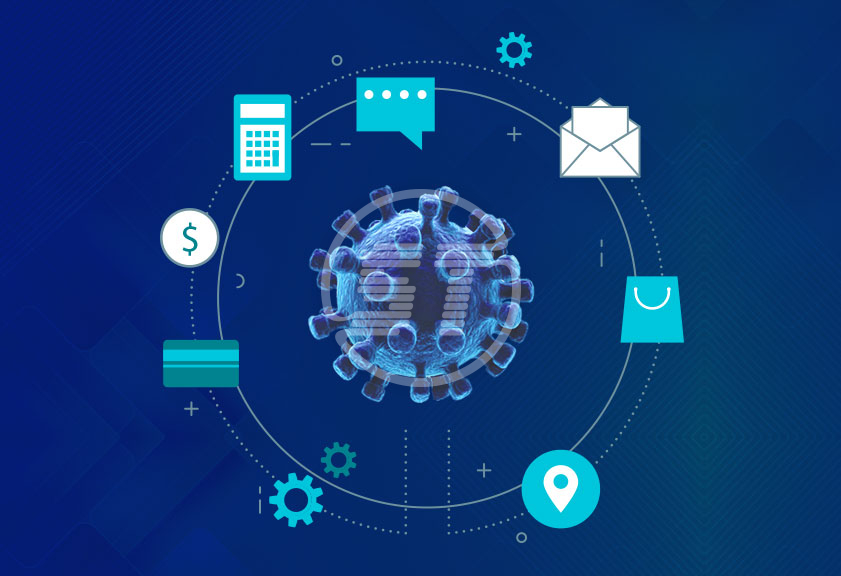 The coronavirus Covid-19 pandemic is the most significant health crisis that the whole world is facing right now. It is the greatest challenge that the entire world faced since World War Two.
Countries are always working to stop the spreading of the virus by treating patients properly. They are developing equipment, developing ways to handle the virus, spread awareness among people and creating safety measures. They provide information to people, develop health care systems, more health care centers, limiting travels, quarantining citizens and canceling large gatherings. There are a number of ecommerce development services which are possible.
But still, the pandemic is spreading like anything, and now it is much more than just a health crisis.
Impact of Covid-19 on society, economics, and health:
SOCIETY: Society is facing many problems due to the spread of the virus. Deaths are continuously occurring; people are getting affected, both mentally and physically. People are under lockdown; Works have almost stopped. Especially the poor people of the society are facing significant problems. They are unable to reach their homes; the daily workers are not able to earn and maintain their livings and are even dying due to lack of food and shelter.
ECONOMIC: The economy of the world has gone down a lot. The economy is facing extreme conditions. Many companies are even shutting down. People are even losing jobs. Many people are not getting paid or getting fewer payments. The governments are continuously trying to make the economy better and again pull it up.
HEALTH: The Covid-19 being a health issue has affected the health of a considerable amount of people. Many deaths have occurred. Still, some patients did not recover. Daily people are dying, and the condition is quite dangerous.
Impact of Covid-19 on Ecommerce:
Ecommerce or internet commerce refers to the business which happens online. It is the buying and selling of goods using the internet. The Ecommerce sector is one of the essential parts of the economy. It is one of the most practical driving jobs.
Few significant benefits of Ecommerce business are:
It is effortless and convenient; people don't have to run around in the market for a product. They quickly search it online and buy whatever they want. Ecommerce websites are very helpful in such cases.
Online stores provide us with more verities, more different products, and even sometimes much better products at reasonable costs. Online shopping business are very useful.
They offer the proper details of the products. Ecommerce development has taken a turn during these days.
They attract new customers with the help of better search engine visibility.
There is always a secure exchange system, which makes it very easy for consumers.
Products are generally safe and of good quality.
Payment transfers are secure people are attracted to the cash on the delivery system.
There is considerable decrease in the cost of inventory management over time.
They keep track of the consumer's buying habits, which makes them serve much better.
It's an efficient and competitive method.
Ecommerce solutions contribute a significant portion of finance in the economy of any country.
They sell products across the world and remain open 24*7.
Major challenges faced by the Ecommerce sector due to Covid-19:
The travel agents are facing many issues, as traveling has been stopped for the time being. It is very much limited. People cannot even think about traveling abroad or any other city due to which the traveling business has gone entirely down. Countries are closing their borders and recommending people to stay at home. This has considerably hit the travel industry.
The online betting sector is facing a massive loss as all sports got canceled. Due to which the public gambling firms are crashing on the stock market.
The online business clothing stores are not currently working as they cannot deliver because the borders are closed. And we don't know if through the parcels also Covid-19 spreads. Even if the deliveries are happening, they are taking much time.
Even if people are buying food online, there remains a tension that the foods are of good quality or not, they are not infected and are fresh.
But there are sectors which are getting huge consumers too, like the online food sectors, online streaming videos like Netflix.
The online casinos are also seen to have an appropriate number of customers. People are still playing and investing though most of the gambling companies on the stock exchange have massively hit the market.
Due to Covid-19, the supply chain of countries is facing problems. Manufacturing products are facing issues as import-export has been limited among the countries. Distribution of the products is going through many challenges like staffing of warehouses.
Stocking of essential commodities, medicines are putting stress on the supply chains.
The revenue system of the world has been mostly disruptive. The pandemic has led to a decrease in the income of the government.
Significant companies like Amazon, Walmart, eBay, Home Depot etc. have reduced their operations. In USA, 40% of businesses faced the impact of COVID-19, and many are even getting shut down. There has been a rise in the unemployment rate as well.
In a matter of weeks, COVID‑19 has dramatically disrupted the U.S. retail industry, as states issued shelter-in-place orders and non-essential businesses were forced to shutter their doors.
In an analysis of Feed-visor customer sales data, predominantly across Amazon's and Walmart's U.S. marketplaces, the COVID‑19 impact on e-commerce is undeniable. Grocery and Gourmet, for instance, which has historically been slow to penetrate e-commerce, is up 37% since Feb. 3, 2020.
Amazon faced many restrictions due to the lockdown because of COVID-19. They have delivered only essential requirements such as groceries, which have affected their business a lot. Majorly it happened in USA, as everything was stopped for an extended period. But they did many works for their customers as well as workers and maintained themselves.
Measures that companies can take to respond to the immediate changes in Ecommerce are:
Educate the employees on Covid-19.
Work from home facility.
Promote flexible working arrangements.
Be more aware of the materials that the companies are selling online.
Packing should be better and safe.
Proper use of IT systems and provide support to work requirements.
Focus more on the cash flow
We are maintaining the costs of the products.
Supply of goods properly.
Regular sanitization of the warehouse.
Want to Unlock the secret of achieving Your Ecommerce Store Success? Build, Market and Optimize Your Zero Hassle ECommerce Store that matches your needs! We deliver End to End Ecommerce Solution for B2B and B2C Businesses! Build a New Growth and Create a New Future for Your Medium or Enterprise business or Retail Store with Ecommerce Solution. Give Your Brand a vision to the world and go beyond for your business to achieve more. We provide Ecommerce and Shopping Cart Solutions that will drive your business moving forward, freeing you to do the work of delighting your customers. We have developed delivery methodologies that are tailored to address specific business processes and workflows for our clients.