How Drupal Digital Marketing is Influencing Your Business?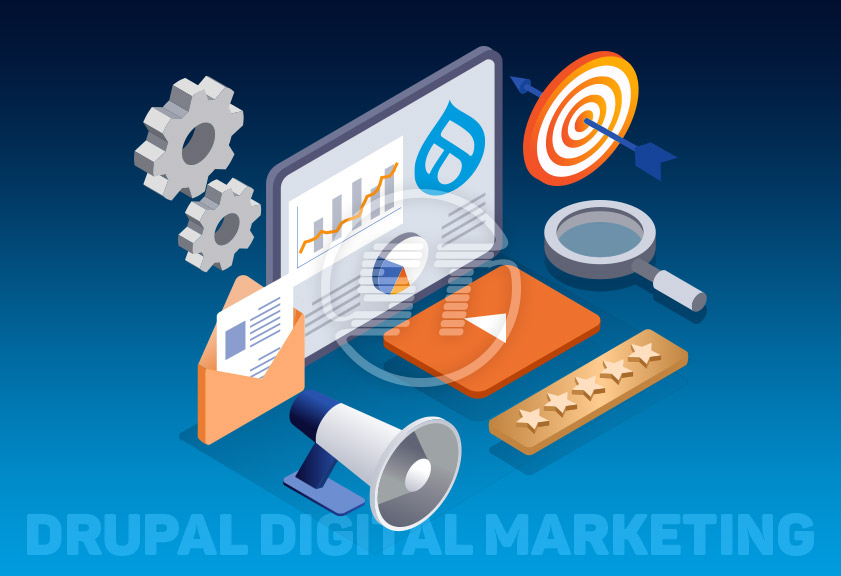 Given the innovations in the technology sector, every business has either gone digital or is making a move to the online marketplace. They are investing a bigger chunk of their investment funds into their digital marketing campaigns.
Since the number of businesses operating online is shooting high, digital marketing tactics are also evolving. Businesses working with Drupal have seen a significant rise in the same.
#Factcheck: There are more than 1 million Drupal websites on the web.
But, what's the buff behind the surging demand for Drupal Digital Marketing? And are you aware about any of it?
Let's dive in to know more!
Desired front-end designs
#Problem: Getting a website designed for your business can burn a hole in your pocket. It can sometimes even collapse your marketing funds when you move to make it customized.
#Solution: While working with Drupal 8 or 9, you can enjoy the flexibility of designing the front and back-end architecture as separate systems. Thus, you can invest in the visual design of your Drupal website without any extra investment in the back-end architecture changes.
You may be wondering what front-end design has got to do with digital marketing.
Think of it in the way that given the design flexibility, Drupal developers can experiment and utilize modern designs more frequently. It empowers them to excel in customer experience and increase conversion rate in your business.
#Factcheck: You can download modules from over 42,650 free Drupal modules offered by Drupal.
Improved administrative efficiency
#Problem: Working efficiently in large organizations or running the same can often turn out to be an obstacle in content publishing practices. It further intensifies when your content editors and marketers require a developer to make changes in the same way.
With improper collaboration and navigation, the process may not get completed as expected, causing your business to suffer in one or another way.
#Solution: Drupal has offered flexibility to professionals of non-technical backgrounds like marketers and content admins. It allows them to utilize an easy-to-use administration dashboard that is highly customizable with flexible user privileges.
Thus, your marketing team can easily design content without any assistance from developers, while the content admins can make changes in the page layout or content without having to work on the code adjustments easily.
A 360-degree Content Management System
#Problem: Your CMS (Content Management System) is not the only factor on which the customer experience solely depends. To make it work seamlessly, it should smoothly integrate with new channels and technologies along with your marketing automation tools and CRM (Customer Relationship Management).
This is necessary to transform your website to an extensive digital experience platform that reaches customers in every part of the world you are serving.
#Solution: In such a case, Drupal stands as an outstanding choice as the most flexible CMS. It can easily integrate with third-party integrations and can surpass the expectations of your customers on your digital presence.
#Factcheck: Drupal has a share of 2.4% in the CMS market.
For instance, Salesforce and MuleSoft, Workday integrated disparate systems and tools deliver a seamless experience and work for both the internal support teams as well as the customer community members.
Low investments in tools
With the increased pace of innovation in the market, several marketing tools are being launched. With a variety of tools putting comprehensive marketing strategies into effect, businesses have diverted more of their attention to them to get a better understanding of their customers.
From extending your reach to providing a personalized experience to the customers on your digital platform, these tools will come as a blessing in disguise to your businesses.
#Problem: Although these tools do not come free of cost. They either have a subscription model or a service agreement attached to it.
#Solution: The silver lining of Drupal comes into the picture here. Since custom Drupal development is done as an open-source platform, there is no need to have any licensing expenses with it. It means your investment funds are saved here.
This way, you can utilize the fully customizable features of Drupal along with its editing tools, permissions, workflows, resources, and so much more to impart a better customer experience. Also, your digital marketers can simply utilize this to their benefit to attract more and more customers.
Marketing technologies and automation
#Problem: In the present marketplace, your marketer requires a variety of tools and technologies to succeed your business in the digital battlefield.
For this, automation in technology has come as the best thing that covers all the mundane tasks for humans. The glitch here is that not every website is equipped for the same.
#Solution: Drupal websites have their foundation laid on interoperability with which several marketing platforms can easily be connected. Be it the promotion campaigns, Drupal search engine optimization, social media integration, email marketing, or information exchanges, multiple tasks can be performed altogether.
Your digital marketers can benefit immensely by connecting your Drupal websites to multiple platforms simultaneously. Some of these platforms are HubSpot, Zoho, Mail chimp, Marketo, and others.
Customer insights for better digital marketing
#Problem: We all are aware of the fact that customer data is valued at the cost of oil in the present era of our industry. Digital marketers require significant data related to their website or area of service to deliver the best possible experience to their customers.
#Solution: Drupal's flexible nature offers the advantage of getting insights with its integration to modern innovations like big data and other analytical tools. These help in processing enormous amounts of data that can be analyze to discover the patterns and trends related to customer behavior.
This benefit of working with Drupal enables your digital marketers to utilize it to their benefit. They can strategize their future steps for succeeding in your business with these excellent solutions to overcome today's market challenges.
Other highlights
Some of the other benefits that come with Drupal digital marketing you are well acquainted with are listed below. Catch a glance now.
Flexible design and incredible scalability
Drupal W3C, ADA, WCAG, 508 Accessibility & more
Increase page load speed
Multi-Channel Reach
Multilingual functionality
Improved UI with API-First headless architecture
Integration Capabilities
Marketing Automation
Personalization
Content as a service and much more.
Drupal Digital Marketing is the soul of a flourishing business
Digital marketing is an evolving platform that has delivered immense success to businesses that implemented it precisely. With an amazing CMS, Drupal on your plate, along with digital marketing, you can surpass the boundaries of putting in your marketing efforts in which your competitors are bound to.
This is the time to take the first steps and work towards and improve customer experience by collaborating your digital marketing efforts on your Drupal website.
Skynet Technologies provides Drupal digital marketing to gain more new users every day and convert your website visitors into buyers. Our digital marketing services include SEO, PPC, content marketing, social media marketing, email marketing, ecommerce marketplace management, Google shopping and more. Leverage a full suite of digital marketing services to propel through your growth plateau, wow your audience, outpace your competition & achieve an incredible ROI (Return on Investment).
As a leading Drupal development agency, we strive to help you deliver the best digital experiences to your customers and take your business to the next level. Whether you require Drupal Commerce store, integrate digital marketing, new Drupal website development, custom Drupal design, Drupal ADA accessibility, Drupal migration, Drupal site maintenance, support or any kind of other services, we can fulfil it.
Request a free quote to know more.