How to Reduce Bounce Rate with Shopify SEO service?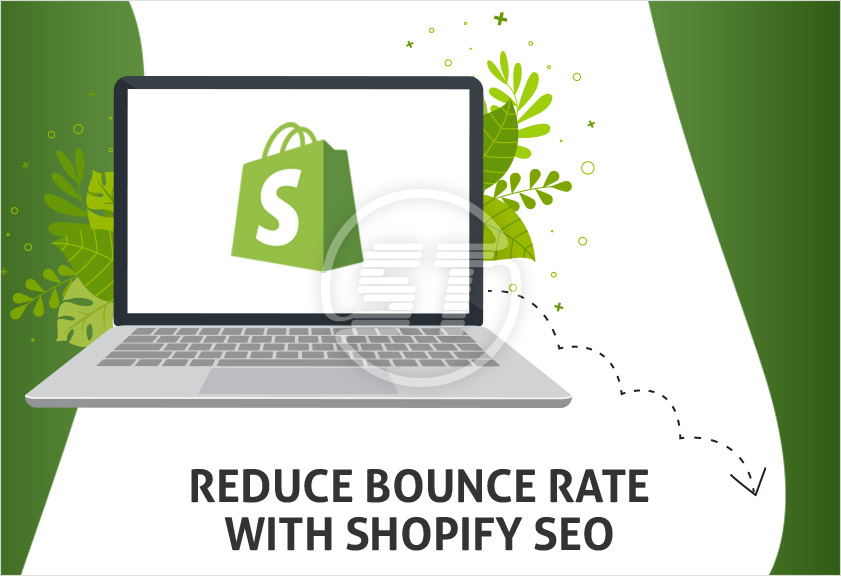 After you put diligent efforts into building your Shopify store and driving customers to it, it annoys and hurts deeply if these website visitors leave or bounce in no time without engaging with your website content. In other words, visitors and prospects who visit your store bounce off before making a purchase or even before they take a proper look at your products. The bounce rate needs to be neutralized as it kills the engagement, conversions, sales, and in turn, your business revenue.
Decreasing the bounce rate increases the time your visitors spend on your Shopify store which in turn boosts up the chances of conversion. Unfortunately, reducing the bounce rate is just an afterthought for many entrepreneurs. It receives a step-child treatment while the primary focus has always been on SEO, marketing, social media strategy, and others. But all these efforts go in vain if you can't handle the target audience better.
We provide a few actionable items that you can do to generate search traffic consistently, reduce the bounce rate, boost your sales, and skyrocket your business revenue.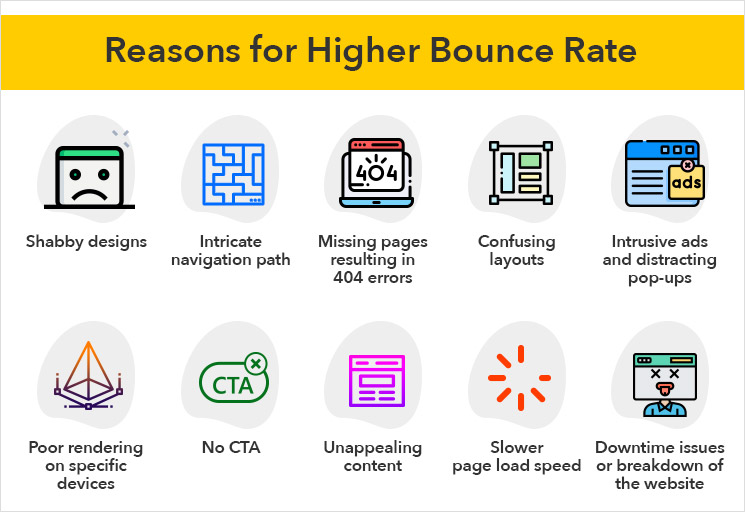 First, there could be myriad reasons for a higher bounce rate -
Shabby designs
Intricate navigation path
Missing pages resulting in 404 errors
Confusing layouts
Intrusive ads and distracting pop-ups
Poor rendering on specific devices
No CTA
Unappealing content
Slower page load speed
Downtime issues or breakdown of the website
If you have a well-built Shopify store and you are to kickstart your marketing campaigns, you need to make sure that your store is devoid of the above problems.
Blazing Fast Websites
Of all the potential reasons for a higher bounce rate, slow page load time is possibly the most lethal. More than 40% of desktop users and 53% of mobile users drop off if the page load speed is more than 3 to 5 seconds. The numbers are troublesome especially if you have invested a considerable amount of resources on your store setup. This is also the reason for many cases of abrupt cart abandonment. You can use the help of a professional Shopify developer to take actionable steps as a remedy for this issue. Some of the remedies include reducing the images and other media content, streamlining the site's navigation, removing any unnecessary plugins and extensions.
Quality Content
Improve the quality of your website copy and content. Having informative, interesting, engaging content captivates the website visitors. It creates a great first impression and affirms your authority in the industry. Be it compelling content for your landing pages or product description, or useful and informative blog content, you can make a comprehensive coverage of various topics. You can create quality backlinks, pillar pages, and more to address the needs of the users in a clear and concise manner. This also enhances your SEO and grabs the visitors' attention. This inevitably requires some forethought and well-thought-out planning which definitely results in a great outcome.
Stellar Site Design
If only designers and developers build your Shopify store to reduce the bounce rate! It goes without saying that having beautiful and elegant web interfaces reduces the bounce rate drastically. But unfortunately, to many entrepreneurs' chagrin, it is just an afterthought. Not every ecommerce agency gives the same attention to the aesthetics as much as they give to technical aspects of your website. It would be a dreadful experience for the visitors if the UI design is chaotically cluttered. Pick the right Shopify theme, colors, font, and images that are easy on customers' eyes. Skynet Technologies also follow the best practices like ADA rules and WCAG compliant rules to make your Shopify store accessible to everyone. This reduces the bounce rate and improves the engagement rate.
Revamp the product pages
Understand what constitutes the necessary product information that the customer looks for when he makes a website visit. Cluttering the product pages with unnecessary information may create confusion and it affects the user experience. The prospective buyer may tend to bounce off and even get swayed away to your competitors. It's a tricky endeavor as you should still provide the requisite and useful information if otherwise, the prospect may look somewhere else for that information. Product description, manufacturer details, user reviews, ratings, and frequently asked questions should be on the product page that might help the potential buyer in making a better assessment. The discount labels, product videos, product recommendations, and live chat option to better assist the prospects is also highly desired which increases the sales.
Intuitive Navigation
Most of the time, the website visitors tend to drop off soon after they visit your landing page or home page due to sub-par experience. A robust eCommerce site boasts a humongous content and web pages. The visitor should be able to navigate smoothly and seamlessly while exploring the pages. They shouldn't feel like they are lost in a maze with a confusing sales funnel. They shouldn't find the landing page complex, difficult to navigate, or irrelevant content. Hence, navigation elements should be as intuitive as possible. You can improve your keyword research to target better and only those who are qualified leads would visit your web store and stay on your website.
Clear CTA
Clear the clutter! Playing around the website navigation without a definite CTA is an overkill. Once the website visitors engage with your content, there must be a clear call-to-action that drives them in the desired direction. Resist your temptation to overwhelm your customers which ultimately results in a "paradox of choice" phenomenon. There are higher chances of your customers getting spoilt for choice and may delay or give up making the purchase ultimately. So limit the number of pathways and drive them to make a decision with a clear CTA.
Optimize Mobile Experience
As customers prefer on-the-go shopping, mobile commerce started to grow at a staggering pace. Hence it is important for Shopify stores to optimize their website for mobile phone users. The complex layout may seem to be difficult for the mobile users and they may have to spend a considerable amount of time scrolling, pinching, and zooming their screens. This results in a higher bounce rate.
Optimizing your website design for mobile users acts as a nudge and makes them come back to your website owing to seamless experience and ease of use. Building responsive websites may seem to be a painstaking task if you don't have experienced developers on your team. Another irritable element on mobile phones is the distracting popups and intrusive adverts, so make sure you don't clutter your mobile screen with these elements.
Conclusion
Conduct a website audit to uncover any anomalous issues on your website. This may reveal broken links, unanchored pages, slow load speed, and other latent issues. You need to finetune your solutions that can improve the quality of your Shopify store. The process of reducing the bounce rate may seem tedious, however, the end goal is to create an engaging and highly converting Shopify store which brings in more sales and increased revenue. You may also get some professionals on board to optimize your site while you focus on your business goals.
Let's Find out and Discover More Opportunities for Your Business Website! Click the button below and we would get back to you with a brief SEO audit of your website.
Shopify SEO service you need to help show up your store more frequently in search, drive more traffic, attract more shoppers, and increase your online sales. Skynet Technologies always strive to remain updated to the latest SEO updates to keep the website or store on Google, Bing, Yahoo and another search engine approved. We have a bunch of creative and qualified internet marketing professionals having years of expertise and capability in developing the right strategy for SEO, SMO, SMM, SEM, PPC, Affiliate Marketing, Email Marketing, Content Marketing, Google Shopping and more to hit the millions of minds!