How much does a Shopify Website Design Cost?
Shopify is one of the leading ecommerce platforms for businesses across the globe. Irrespective of the industry you hail from, this platform has impeccable capabilities to offer. Creating an online store, reaching a wider segment of audiences, and selling products are straightforward with Shopify.
Due to the amazing benefits, Shopify provides such as seamless integration, zero server cost, an app store, a range of themes, etc., it has become immensely popular among businesses. Thereby, a significant number of organizations are using Shopify to manage their ecommerce.
If you are operating an offline business and planning to go online, Shopify is one exceptional platform to opt for. Now if you have decided to use Shopify, you might think of its cost to design the website for your business.
The cost depends on which type of website you wish to create. The cost of an ecommerce website is more than a simple informational website. Similarly, custom Shopify website charges may differ as per the level of customization. The level of user experience, the complexity of site functionality, website security, content creation, etc. are some factors that affect the cost of the Shopify website.
Peruse the article till the end, if wish to know about Shopify website design cost and more.
Factors that influence Shopify website design
The cost of a Shopify website design varies per the combination of factors an organization uses. The more you invest in your Shopify website, the more it will return to you. However, you must analyze the cost minutely and invest wisely as per your business and industry niche requirements.
A few crucial factors that impact Shopify website design and development cost are:
Platform cost
Design
Development
Domain and website hosting
Payment and Point of Sale (POS)
Content creation
Maintenance
Marketing
Let's discuss these factors in detail.
1. Platform
Shopify shopping cart software and the hosting infrastructure both are managed by Shopify itself because it is an online hosted platform; thus, you only need to pay a monthly fee to use this platform. The fully hosted Shopify Plus plan starts from $2000 per month or a variable fee for higher volume businesses.
Initially, you can choose some basic plan and as your business grows, can switch to advanced options. All the plans offer options to sell unlimited products, but plan prices vary based on different elements such as the number of inventory locations, number of accounts, shipping, online payment, and transaction fee (if you are using some other payment options and not Shopify payments).
Shopify has three plans (other than the hosted one) – Basic Shopify, Shopify, and Advanced Shopify and their prices are $29, $79, and $299 per month respectively. So, whichever plan you will select, and the elements mentioned above decide the cost of your Shopify platform.
2. Shopify Website Design
Shopify has a wide array of paid and free themes that can be used for your store's design. And using its in-built tools, you have options to customize your store's design, color, tone, etc. as per your requirements. You can browse the themes according to your industry, niche, catalogue, etc., and start customizing them. Moreover, Shopify gives you the liberty to get the themes from third-party marketplaces if you are not finding a suitable one in the Shopify marketplace. The cost of Shopify themes varies and goes up to $350 (approx.), whereas on a third-party marketplace, it can fluctuate in between $49 to $350.
For custom Shopify design and features, web designers follow unique page templates based on client's industrial requirements. For Shopify ecommerce stores, it will require to design product pages, blog pages, category pages, promotion / offer page, checkout page, shopping cart page, etc. So, the number of unique page designs and the enhanced custom functionality requirement (for example, integration with custom CRM, ERP, marketplace, Predictive Analytics, etc.) for Shopify store will quickly add the cost of custom Shopify store design and development.
The designers create mock-ups, wireframe and custom liquid themes as per your briefs, then they start working on website layout and design part. The more complex your design will be, the more agency or designers will charge. Generally, the custom Shopify website design costs in between $10,000-$20,000, although it depends on the different page types design and complexity of the project.
3. Shopify Web Development
The Shopify marketplace has a collection of several paid and free extensions / apps, which help you to extend or customize the functionality of the Shopify store. These extensions / apps provide almost every sort of features and functionalities enhancement to your Shopify website. You can hire the right Shopify web developer or agency to do all these integrations to meet your business needs.
Shopify has an exceptional checkout process, and many stores leverage that benefit. However, if you need a custom checkout and other features, you can approach for custom Shopify development.
These web development agencies have fixed charges for every work they do to develop your Shopify website, and it extends as per the features and functionalities demand. The charges may apply between $10,000 to $40,000 including design and then extend as per your business requirements and the extensions agency purchases for the site. Although, the proper planning for the required functionality can save you thousands of dollars.
4. Website hosting infrastructure
When you have opted Shopify platform to run your online store, then you don't need to worry about a hosting plan and SSL certificate. Register a domain name and other things will look after by Shopify, which is not the case with other platforms. The Shopify plan includes maintenance of the shopping cart and server software, hosting, and SSL certificate.
It means you have to bear the cost of domain name and rest charges will be included in the Shopify plan. However, if you've approached a web design agency for Shopify website design and development, they might look for hosting as well; thus, charges will oscillate accordingly.
5. Payment and Point of Sale
This factor indirectly adds to the cost of operation. How? To accept payments either you use Shopify payment methods or integrate with third-party payment processors. These third-party methods levy extra charges on you. Therefore, many website owners prefer to use Shopify payments in order to maintain at-par rates.
The cost of Shopify payments varies as per the plan you have opted for. Though, Shopify comes with many pre-integrated third-party payment processors. But if you still wish to have some other payment processor, you can go ahead with them by paying a little extra to Shopify.
The transaction fee for Shopify payments per transaction is-
For Basic Shopify it is 2.9% + 30c
For Shopify it is 2.6% + 30c
And for Advanced Shopify it is 2.4% + 30c.
The transaction fee for third-party payment processors that you are supposed to pay to Shopify if not using Shopify payments.
For Basic Shopify – 2% per transaction
For Shopify – 1% per transaction
And for Advanced Shopify – 0.5% per transaction
Also, note that your third-party vendor will charge you per transaction fee, which will depend on the plan you've taken from them. And if an agency is doing these integrations for you, then cost will be more because the integration charges of agency will sum up in this cost.
6. Content Creation
This is a most important factor for any website or online store. You must have an idea of content creation best practices and also that if your content is appealing then you can outreach organic customers by pleasing search engine bots. However, knowing the practices and practically applying them are two different things. Thus, to avoid blunders and create the best content, you must hire content creators. It will certainly increase the cost of website development but eventually, you will have the desired aftermath. Content creators' charges are also dependent on their expertise and on-going market rates. Generally, the agency you hire for design and development, they have their content creators as well.
7. Shopify Store Management and Maintenance
It is hard to chalk out the maintenance cost of the Shopify website because you cannot predict any technical crisis in advance. However, you can keep updated with the latest Shopify updates to ensure the website's performance, rest leave on Shopify; it looks after the website software and server (as mentioned above).
Shopify is a simple, yet complex platform and you need a professional team to maintain and manage your online store. You might be able to maintain the basic elements, but the professionals will handle its design updates, product updates, security issues, enhancement of features, etc. Shopify maintenance plan varies as per agency's process. Maintenance cost of an ecommerce Shopify site may range in between $1000 to $2000 or more per month depending on the agency you hired for Shopify development maintenance.
8. Marketing
Your Shopify store is not performing well on search engines. Do you know the reason? One of the crucial reasons can be the lack of the right Shopify online store marketing strategies implementation. The right digital marketing strategies are the key to generating traffic and increasing conversions.
Strategies like search engine optimization, pay per click campaigns, social media marketing, and content marketing are result-driven marketing methods. The cost for each digital marketing strategy is different and it varies from organization to organization.
Most digital marketing agencies have fixed plans for SEO and social media marketing. Whereas PPC campaigns depend on your monthly budget and marketing goals. The right digital marketing agency will create suitable marketing strategies within your budget.
Marketing cost including SEO and digital marketing can vary $2000 to $10000 or more per month.
Based on all above factors, cost of a Shopify website design, development and marketing may start from $5000 and go up to $50,000 or more.
Wrapping up
Basically, Shopify web design cost completely depends on your business requirements. The more intricate website development you need, the more you have to pay. However, you cannot avoid the above-mentioned important factors. These are the bare minimum elements that you must have for a successful website.
Most important, hire the right Shopify web design and development agency that can give you the exact solution you've asked for within your budget. Skynet Technologies is Shopify partner agency who provides custom Shopify development with SEO and other marketing service. Fill out form below to request a quote to know more about our Shopify development services which can boost your business sales.
Related blogs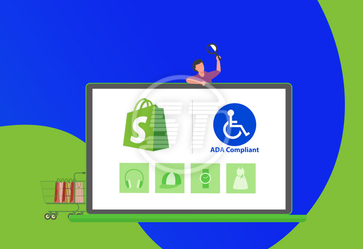 How to make your Shopify website ADA compliant?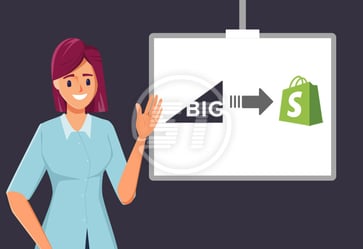 Migrate BigCommerce to Shopify with Ultimate Guidance!