Migrate BigCommerce to Shopify with Ultimate Guidance!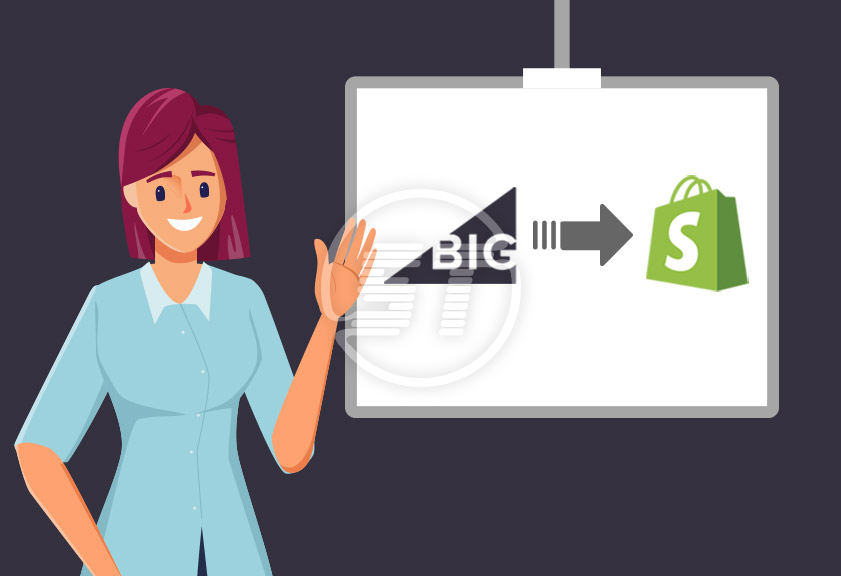 The common refrain of any online merchant is choosing the right ecommerce platform for their online store. And for some reason, if it is inadequate or unsuitable, he needs to begin his hunt again to find an alternative and this isn't as easy as it seems. Migrating to a new ecommerce platform is bound with plenty of challenges. The ease of your store migration depends on the method you choose. You can either choose a partner for enabling seamless transfer of your data. Alternately, you can also deploy automated shopping cart migration tools.
Reasons for Migrating from BigCommerce to Shopify
BigCommerce undoubtedly is a wonderful platform to get your online business started for both sleek stores and robust ones with unlimited bandwidth. However, the next progressive step for an ecommerce shop is to migrate to a robust platform.
In a recent survey, it was found that nearly 50% of the BigCommerce migrations are to Shopify. So what is the gravity factor towards Shopify? Shopify has built-in scalability and offers robust features. Others being -
Easy setup process
Value for money
Unlimited Scalability
Huge collection of Themes
Wide range of Payment Gateways
Diverse add-ons
Blogging Facility
Smart SEO
High security
Professional customer support
With the aforementioned reasons, you can be assured that Shopify can improve your ecommerce growth.
Challenges in BigCommerce to Shopify Migration
Both BigCommerce and Shopify are user-friendly platforms. However, they differ in their underlying SaaS frameworks and run on different architectures. The corresponding functionalities and web tools are also different. If you are seeking to migrate from BigCommerce to Shopify, there is no template to map your BigCommerce store date onto Shopify. So, you may tend to face certain technical challenges in the process.
BigCommerce to Shopify Migration Process
We have diverse options when it comes to BigCommerce to Shopify migration.
Manual BigCommerce To Shopify Migration
Assisted BigCommerce To Shopify Migration
Automated BigCommerce To Shopify Migration
Manual BigCommerce To Shopify Migration
As the name itself suggests, you are laboriously lifting the entities from the BigCommerce store to the Shopify system. You can also use BigCommerce's export tool to share the entities through a data file. There are multiple rounds of such procedures involved in this process and you also need to customize these entities as per the Shopify store structure. It requires a heck of work that takes weeks to months for the migration completion with a higher error/omission rate.
One should be technically proficient in both platforms to complete this process.
Assisted BigCommerce To Shopify Migration
You can hire a team of professionals to handle the migration process on your behalf. They import the data from BigCommerce and export it to your Shopify store. It is less cumbersome than manual migration, but the trick is to find the right expertise and experience to handle this painstaking process. The cost involved may also be higher. You need expert ecommerce migration services who may come up with a heavier invoice.
Automated BigCommerce To Shopify Migration
This happens to be the most popular option among all the three, the reason being the automatic transfer of the data without any hassles. They are accurate, less expensive, and also take lesser time to migrate to Shopify. One of the highly recommended tools is the Cart2cart migration tool, an all-inclusive migration tool supporting more than 80 platforms for shopping cart data transfers. The coolest thing is in just a couple of hours, you can complete the migration process. With proper care, you won't lose any of the data like product details, orders, and more.
Step-by-step Tutorial
Set up your Shopify store - You might want to have your corresponding Shopify store before your start the migration process. Register an account with your preferred plan and the rest is a breeze as it is an intuitive setup. Let the default theme stay, you change it post-migration.
Install Cart2Cart - Install cart2cart migration app and launch it. You can begin the BigCommerce to Shopify migration from the dashboard.
Enter BigCommerce Source details - Before proceeding to migrate BigCommerce to Shopify, enter your BigCommerce details. There would be automatic prompts and you need to enter the details - source store URL, access token, client Id, and API path.
Setup your Shopify Target store - Select the Shopify option as the target cart and add the Cart2Cart migration tool to your target Shopify store.
Pick the store entities to migrate - Pick the data you want to transfer to Shopify. The data items include products, reviews, categories, customers, orders, manufacturers, blogs, coupons.
Select Your additional Migration Options - Customize the migration by making minor tweaks by choosing the additional options like Migrate short & full descriptions, etc. However, these are not for free.
Try Demo Migration - Once you have chosen the entities and customized the BigCommerce to Shopify migration, you can perform a free demo. Assess all the elements and correct if there are any anomalies.
Complete the Full Migration - Once you are sure about everything, you can go ahead and perform the full migration. The system will send you an email alert once the migration is over.
Post-Migration Care
Post-migration, evaluate your new store to the minutest detail to make sure everything is in proper shape. Make sure the overall structure is not disturbed and the entities are mapped out rightly. Check whether all the data elements are migrated. Once you confirm that everything is done, you can then focus on customizing your Shopify design and changing the default theme.
Wrap-up
Most ecommerce entrepreneurs dread migrating to a new ecommerce platform owing to the risks involved. But if BigCommerce to Shopify migration is on the horizon, then don't take a back step. Shopify is a versatile ecommerce platform and is definitely worth migrating to. And no migration is easy and hassle-free and so is this. You can either choose the automated tool or talk to our able developers who can help you traverse this process of migration easily.
Get Ready to leverage easy and affordable platform migration from BigCommerce to Shopify. We ensure an effortless and secure migration of products, customer data, orders, and other information without any data loss. With our professional assistance, you can have a smooth and seamless cart2cart migration. The best Shopify experts at Skynet Technologies give you outstanding migration services with the best service packages. Let us know about your requirements and we'll get back to you as soon as possible!