Migrate Wix to WordPress – A Step by Step Guide!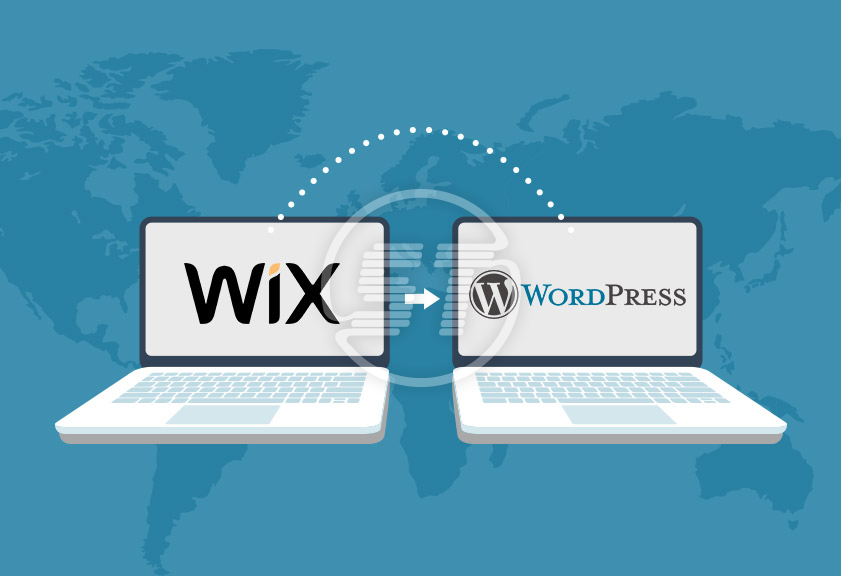 Wix is a simple and budget-friendly website builder option quite often used by the new website owners as they don't have to dread the technical aspects of the website. They just have to sign up for the hosting, pick a suitable theme, and start building their web pages with an easy drag-and-drop editor. With Wix website builder, you have all the building tools and hosting, purchase a custom domain, and predesigned templates for building interactive websites.
With time, the website needs changes in terms of scalability or robustness. They might also have to include more functionality features like live chat, customer engagement forms, and more. So, the Content Management System (CMS) like Wix may have its own limitations and may stall your business growth process if you cannot quickly adapt to the changing conditions. In that case, you don't have to worry about starting all over. You can simply choose a self-hosted domain on CMS platforms like WordPress and migrate your Wix website to WordPress. Wix customization options are limited when compared to WordPress.
Here we break down the migration process into pre-migration, migration, and post-migration steps. Let's get started.
Pre-migration Process for migrating Wix to WordPress
Before you kickstart the migration process, you need to some preliminary tasks to set up the migration process.
Purchase Web Hosting

Sign up for a hosting service for your WordPress website. You can opt for managed hosting if you are looking to replicate a similar experience as that of Wix. Go for a good quality managed hosting service for reliability and high performance. Regular caching of your website, running malware scans, and daily backups, updating the themes & plugins will be automatically taken care of by it.

You need not worry about the tech aspects and focus on improving the content, costuming the design, and more to enhance the interactivity of your WordPress website. Once you are done with choosing the web hosting provider and type of hosting, choose the plan that offers the storage, bandwidth, and security required for your website.

Set up a Temporary Domain

Once you are done with choosing a web hosting plan for your WordPress website, you can then think of a domain. Your Wix website will still be live at this juncture, so we can go for a temporary domain for your WordPress website.

Install WordPress

Most of the hosting service providers offer an automated WordPress installation process. Once you chose and set up a temporary domain, you can log in to your new web hosting account. You can select and install WordPress.

Change Permalink settings

You need to change the permalink structure of your website in the WordPress dashboard. This is to ensure that your website is optimized for the search engines. You can log in to your dashboard by clicking on the 'Proceed to Customer Area' and navigating to the 'My Accounts' tab in your SiteGround account. You can click the 'Go to Admin Panel' button where you would be directed to your WordPress admin dashboard. Navigate to the settings and choose the permalinks option.

Install a Theme

When you go for Wix to WordPress migration, your pages, posts, media content can be exported from the Wix site and imported into the WordPress site. But it is possible to do the same with the template. So, you can quickly find a suitable WordPress theme for your new website. You have options to go for a free theme with just one click. You can go for a premium theme on third-party marketplaces and get it on your WordPress site.
Migration Process from Wix to WordPress
There are two ways for exporting your Wix website.
RSS Feed Option
Automated Migration Plugin
Export Wix Website Using RSS Feed

This is also a semi-automated process wherein you import your Wix posts using RSS Feed Method. You can locate your RSS Feed by adding /feed.xml at the end of the URL. You can save this with the .xml file extension option on your system. Head over to your WordPress dashboard and click on the Import option under the Tools section on the left side. You can click on Run Importer and import the .xml file which you just saved. Once the file is imported, you need to ensure that all the posts are uploaded and clean up any formatting issues on your WordPress site.

RSS Feed migration automates only the importing of your Wix posts but you'll have to import the pages and media manually. Most of the Wix websites don't have too many pages and hence shouldn't take a long time. You can log in to the Wix dashboard, navigate to the pages, copy them, and paste them into your WordPress dashboard. For images, you can download them from your Wix site manually and upload them in your WordPress website. If you have them in bulk, you can upload them via FTP.

Export Wix Site Using an Automated Migration Plugin

If you want to avoid the tedious copy-paste options, you can go for this method instead. We have many multiple automated migration services available in the market like CMS2CMS. You can create a CMS2CMS account and provide information like the current platform, here it is Wix, your site address, new platform, and your site address. You can also use the Connector plugin that needs to be installed via FTP.

Install the plugin and complete the payment info for finishing the migration process. You can activate the same in the WordPress dashboard. You can select all the assets that need to be transferred to WordPress content management system.
Complete the migration process once you are ok with the settings. 
Post-migration Process for converting Wix to WordPress
Once you have successfully imported your Wix Content onto your WordPress website, you need to perform a few steps before you launch your website. 
Purchase a Custom Domain
If you were using a free subdomain for your Wix site, you need to purchase a custom domain from your new hosting service provider. But if you already had a custom domain from Wix, you can simply transfer that to your new web hosting account. You can now remove the temporary domain. 
Summary
Note that one isn't better than the other, they are just different. Both Wix and WordPress are excellent choices for building a website. Both platforms are user-friendly and even with basic or without tech skills also, one can create and customize their websites. You can go for Wix if you do not have the immediate need of having out-of-the-box features but a basic site with visual content is enough. Check out our Wix CMS Development Solutions for building visually compelling and interactive websites.
But as your audience grows, you can go for a flexible and advanced CMS like WordPress that offers tremendous functionality and unlimited customization options. Click on the link to know more about our WordPress Development services. You can also request a quote if you want to migrate your website from Wix to WordPress. Our team of migration experts gets it done in the least turnaround time at competitive prices.
Skynet Technologies offer unmatched services in making a secure migration from one platform to WordPress or upgrade to the latest version. We take the hassle out of migrating your current CMS to WordPress and remove all the roadblocks in the migration process. We smooth out any intricacies involved in migration and improve or redesign the website in this process. We ensure no technical disruptions, zero data loss, and safe migration while moving your data, designs, and settings. Get in touch with our WordPress Developers to know more!