WordPress 6.4 Shirley was Released - A Sneak Peek on What's New!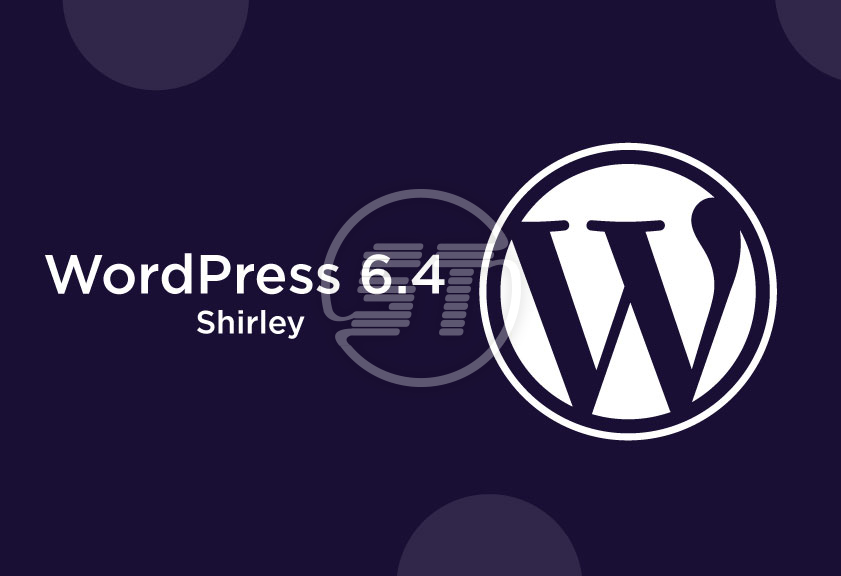 WordPress 6.4 is available now to download and use. It was released on November 7th, 2023, for the public. The WordPress latest version has come up with an advanced default theme with 35 layout patterns and myriad other creative enhancements to improve the editing and development process.
The new version 6.4 is also named "Shirley", after the iconic jazz artist Shirley Horn. Perhaps her dedication, influence, and boundary-breaking success is the reason why makers gave her name to WordPress 6.4.
Craft your content with more ease and make it compelling with WordPress 6.4 by using its new features. The latest version offers more flexibility in building blocks to create innovative designs.
WordPress 6.4 – New Features & Additions!
Twenty Twenty-Four theme

The multifaceted default theme Twenty Twenty-Four makes site editing a breeze. The theme has been crafted keeping three important use cases in mind and they are writers, artists, and entrepreneurs. This theme's flexibility makes it perfect for every type of website. Other than the Twenty Twenty-Four theme, there are many readymade templates and patterns to create a world of possibilities with only a few tweaks.

An altogether improved writing experience

The latest WordPress 6.4 has an array of enhancements that are a boon for a smoother writing experience. Keyboard shortcuts are newly added aids in the List view that only focus on the writing and not on the interface. The parent block has got new attachment of a recently developed toolbar interface for navigation, list, and quote blocks. It is an exceptional and handy addition for content creators.

Command palette improvements

Command Palette was first introduced in WordPress 6.3, which is a robust tool to search quickly, perform tasks aptly, and accelerate workflow. Now, WordPress 6.4 has its renovated design and updated commands to perform block-specific actions.

Categorize and Filter patterns

To simplify the website-building process, patterns can be used to leverage the potential of blocks. The new WordPress 6.4 has a feature to organize blocks with custom categories. Updated filtering in the patterns section of the inserter is the reason behind a more intuitive process of finding patterns.

More design tools for more creativity

The new set of design tools are efficient assets for building appealing and properly functional layouts. Background images can be changed in Group blocks for unique designs and image dimensions can be kept consistent using placeholder aspect ratios. If you want to add buttons to your navigation block, WordPress 6.4 allows you to do it without writing even a single line of code.

Create more interactive images

WordPress 6.4 has lightbox functionality, which allows your site visitors to enjoy full-screen and interactive images with a click. The feature can be customized globally or for a specific image to enhance the viewing experience.

Rename Group Blocks

Setting custom names for Group blocks to manage and distinguish various areas of content is possible with WordPress 6.4. The customized names will be visible in the List view.

Images in the List view can be previewed

Gallery and Image blocks have a new preview feature, which enables you to locate and visualize the exact position of images in your content at a glance.

Patterns can be shared across the site

If you want to use custom patterns on other sites as well, WordPress 6.4 gives you the option to import and export those patterns as JSON files from the Site Editor's pattern view.

New Block Hooks

Now developers can automatically insert dynamic blocks at specific content locations using Block Hooks. It will enrich the extensibility of block themes via plugins. This feature is known as a developer tool because it understands their preferences and offers them full control to add, delete, and customize auto-inserted blocks as per their requirements.

Performance Updates

WordPress 6.4 contains 100+ performance-related updates in to provide a faster experience. The developments are profound, and they all focus on template loading performance for different themes, optimization of autoloaded options, and usage of the script loading strategies "defer" and "async" in the core.

Accessibility highlights

Shirley or WordPress 6.4 is committed to making the platform accessible for maximum users and thereby it has brought several List view improvements and aria-label support for the Navigation block, including other highlights as well. Moreover, the admin user interface contains button placement enhancements, Site Health spoken messages, and "Add New" menu items context. More accessibility updates can be found here.

Some other important points to remember

WordPress 6.4 will work best with PHP 8.1 or PHP 8.2.

And it has disabled attachment pages for new installations.
YOU MAY ALSO LIKE: Custom WordPress Development Service
Take-aways!
The latest WordPress 6.4 or Shirley is not about gigantic features, but these small features are made to create huge impacts by bringing significant user experience. Many people are excited about this new release of WordPress including Katie Keith (CEO of Barn 2 plugins) and Andrew Wilder (NerPress.net).
In Josepha Haden Chomphosy's (Executive Director of WordPress) words, "Many of the features and enhancements in WordPress 6.4 fall in the 'small but mighty' category. Along with the adaptable beauty of the Twenty Twenty-Four theme, these updates help content creators and site developers alike save time and effort while delivering the high value, low hassle WordPress experience the world has grown to expect."
To download the latest WordPress 6.4, update the current site automatically from the Dashboard > Updates menu in the site's admin area or get help from the release archive.
Read instructions for the installation and updating process and if you are new to WordPress, go through the official document from WordPress and know where to start.
Would you like to begin using WordPress 6.4 now?
WordPress 6.4 is all set to hit the floor with tons of exciting improvements and some new additions. The above-mentioned updates are those which are shown in the Shirley version.
For hassle-free version upgrades or migration, you can hire WordPress developers. We provide custom WordPress development services whether you want to design or develop a new WordPress website, upgrade, revamp or migrate your existing WordPress website; or require WordPress maintenance and support. Request a free quote or reach out [email protected].