Make a Right Choice Between Multi-Vendor Marketplace and Multi-Tenant SaaS Based Ecommerce Solution!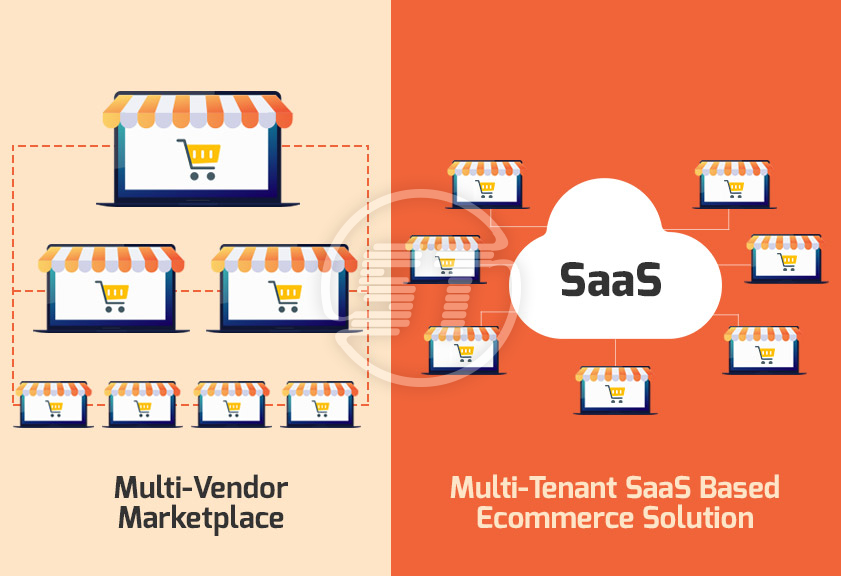 Multi-vendor marketplace and multi-tenant SaaS solution, both have been a buzz word in the ecommerce industry for quite a long time. With plenty of benefits, both solutions are helping vendors across the world to grow their business.
So, which module are you using? Or are you a novice and thinking of beginning with any of the platforms?
Ecommerce itself is an alluring industry, which you might have been witnessing for a while now. And here we have two most important facets of this industry, multi-vendor marketplace and multi-tenant SaaS solution. Imagine the level of attraction!
These solutions have increased the business capacity of vendors and sellers. Those who are already using these solutions are aware of its magic and those who want to start with these solutions, we shall help them to uncover the truths, myths, and differences about both the solutions.
Let's find out what is a multi-vendor marketplace and multi-tenant SaaS solution, and which one is suitable for your business.
Multi-Vendor Marketplace
A multi-vendor marketplace is a platform where multiple vendors can sell their products in a single place sharing the same database. There is an admin who manages all the vendors, their products, transactions, and the admin can approve and disapprove the vendors as well. Examples of Multi-vendor marketplace are – Amazon, eBay, Etsy, etc.
Multi-Tenant SaaS based Ecommerce Solution
The multi-tenant ecommerce-based model is like a virtual mall of different stores, where distinct sellers have their own space with domain/subdomain names to sell their products. In a multi-tenant ecommerce solution, you have full control over your store's activities. Product, inventory, sales, orders, transactions, everything is under your control.
There are many ecommerce platforms available now which provide multi-tenant ecommerce solutions. For e.g., Aimeos, Bagisto, Shopify, Adobe Commerce, BigCommerce, Sitecore Commerce, and more.
Multi-vendor Marketplace vs Multi-tenant SaaS Solution
Until now, many businesses have used either multi-vendor or multi-tenant platforms to establish their brands and sell their products. To grow exponentially, to acquire a user base quickly, and to lower the risk in business, such business models are really helpful in the current frequently trend-changing market.
Let us compare both the business models to select anyone.
Features

Multi-vendor Marketplace: There are limited features for sellers in the marketplace, for example vendors cannot change currencies to multiple natives, they cannot add or eliminate any payment gateways or any other sections. Also, every new activity or integration requires admin permission.

Multi-tenant Ecommerce: It has many helpful features for sellers. You can enable and disable any section as per your business need quickly since you have the whole control in your hand. Features like multi-lingual platforms, multiple currencies, multi-channel, multi-source inventory, integrate any other module, and many more are there to enhance the functionality of your store.

Payment and shipping

Multi-vendor Marketplace: Marketplaces do not provide flexibility in payment and shipping options. They have a few integrated choices, and sellers have to use them only. Sellers or vendors are not allowed to add their desired payment and shipping options.

Multi-tenant Ecommerce: Seller/vendor can enable or disable the payment and shipping option. They also can integrate new choices without seeking anybody's permission.

Ownership

Multi-vendor Marketplace: The vendor does not have a ownership of the marketplace platform they are using. Vendors have been assigned their dashboards from where they can operate the business.

Multi-tenant Ecommerce: Here, you have ownership of your store space completely. You can customize your store, its layout, and can improve user experience also by putting in effort. To divert traffic to your store, you can do marketing activities as well.

Custom Domain

Multi-vendor Marketplace: In the marketplace, vendors do not have any feature like custom domain.

Multi-tenant Ecommerce: Multi-tenant solution provides the facility to use your own domain name to sell your products from the store. With custom domain, vendors will get benefits, such as flexibility of store, no more hosting restrictions from the provider, URL and email address will be completely as you want.
Which one is the right choice?
Above comparison is on some significant points that are crucial for a business. Clearly, a multi-tenant SaaS solution is giving you more freedom and features. Although it may require more effort to scale the business, at the same time, you will get the satisfaction of running the business exactly the way you want.
If you are a novice and you have to build your brand image, then multi-vendor ecommerce marketplace management is a good option. By taking advantage of your targeted marketplace, you will get access to your target segment, which is an effective way to start a new business at a readymade setup. Multi-vendor marketplace gives your business much-needed exposure. You get a chance to share a space with many well-known brands. Your target audience starts recognizing you. You do not need to put effort into marketing and branding.
A multi-tenant SaaS-based ecommerce solution will be the best option to select if you want to expand your business at a global level. Every tenant here is practically a site owner who is running their business with many other virtual Neighbours. This cloud-based solution provides you with authentication, authorization, flexibility, scalability, and availability.
Select any of the solutions according to your business vision, goal, category, and target audience. Both are the right choice, it's just a matter of business approach.
In a nutshell
Both multi-vendor marketplace and multi-tenant SaaS solutions are anytime a better option to expand your business. Most importantly you reach your intended audience too easily in a truly brief time. Multi-vendor marketplaces and multi-tenant approach have their proven track record.
They both have their pros and cons, which you cannot evade. But they have created many success stories. Now it's your turn to carve your success story using any of these solutions.
The biggest fact and myth for both the platforms is the same and that is, they help build your business from nadir to zenith. Apparently, they are making provision for you, business success is ultimately your effort.
Compare and select any solution and flourish your business!
Whether you are looking for a multi-vendor marketplace or multi-tenant SaaS solutions, you are at the right place. With a technically skilled team of ecommerce experts and the right technology stack, we offer advanced ecommerce development services for creating fully functional digital storefronts. Contact us at hello@skynettechnologies.com or submit the following request free quote form to know more about ecommerce development services.