Pimcore 10.4 and 10.5 minor releases: August 2022 update!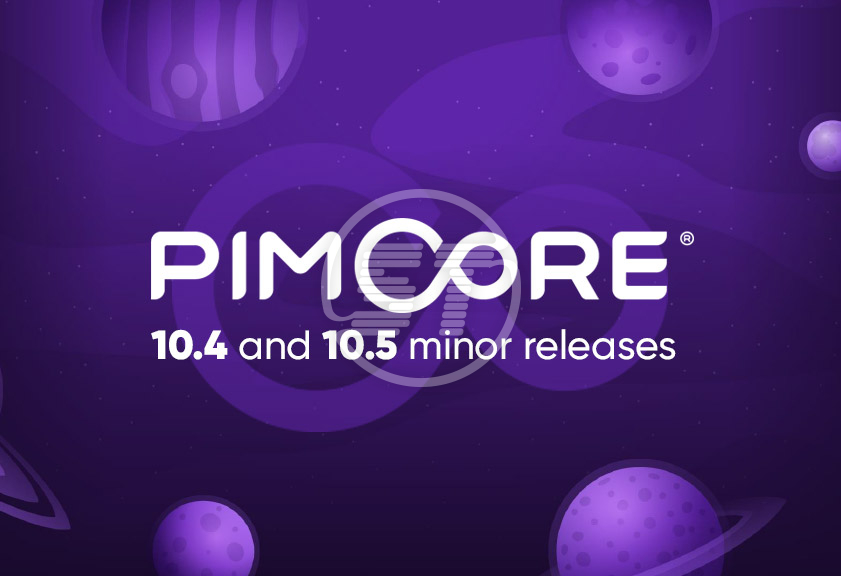 Pimcore has created a buzz across the world in a truly short span. It is one of the most competent and structured PIMs. Lately, the platform has released Pimcore's two minor versions 10.4 and 10.5. Version 10.5 is the last minor version of Pimcore 10 and that is the reason makers have paid special attention to its foundation and maintenance work. You can also consider it as the beginning of Pimcore 11.
This PHP software has already impressed with its impeccable solutions for managing and distributing data. And now these new minor versions are cherry on the top with umpteen additional features. Let us know what Pimcore 10.4 and 10.5 are holding for their users.
New features and technical updates of Pimcore 10.4 and 10.5 Versions
1. User interface updated features
A. Performance improvements for big datasets (10.4)
This minor version holds some significant performance improvements that have been made to Big Datasets in grids and trees and non-admin users can be able to do additional permission checks. Any which ways, better performance is the key to exceptional user experience. Therefore, this version is all set to improvise the UX for sure.
B. Properties (10.4)
When we are discussing user experience, let's see how it will get improved in Pimcore 10.4. A user will be able to see the predefined file name instead of the key in the grid, which will increase comprehension.
C. Asset Tree Optimization (10.4)
Asset preview section optimization has upgraded the overall performance of the platform and reduced the server load as well.
D. Data Object – Custom layout for object bricks (10.5)
Pimcore 10.5 enables you to configure custom layouts for object bricks, thus you will have more flexibility for defining custom layouts and configuring layouts for object brickfields as well.
E. Documents – Brick Preview Tooltip (10.5)
When you create a brick in Pimcore 10.5, it is possible to add preview content. The feature will appear as and when the user will try to add a brick.
F. Additional delete confirmation window with the item name in it (10.5)
If a user deletes some specific elements like targeting rules/groups, custom reports, thumbnails, classification store, etc. then in Pimcore 10.5, additional pop-up windows get implemented before the user takes the action. The pop-up window contains the item name to be deleted, which can avoid the accidental deletion of any essential element.
2. Technical improvements
A. Pimcore 10.4 Improvements
Pimcore version 10.4 comes with store versions that depend on the store size into a dedicated database, which reduces the load on the file system and eventually improves the performance.
This version got profound thumbnail improvements to refine the performance (combination with (remote) object storage like S3) and image optimization routines.
Code quality has been also improved in version 10.4 and it get integrated with PHP stan level 5.
B. Pimcore 10.5 Improvements
With Pimcore 10.5, it is possible to add width, height, and file size to the cache to fine-tune the remote storage usage.
Ceaseless deprecation fixes and updates of PHP doc for parameter types and return types happened in this new minor version.
Pimcore 10.5 supports the new Symfony bundle structure and uses native JS events for core events in admin UI.
There are many additional events get added in version 10.5 for further customizing options.
It has a new authenticator-based security system.
And several other improvements are coming with Pimcore 10.4 and 10.5 minor version releases.
Gear up for the upcoming Pimcore version
Pimcore 10 has reached its peak and the new release will be Pimcore 11, which might happen soon in a few weeks or months. Thus, before Pimcore 11 arise, you make sure you have updated your system for the latest version. As of now, you must update with these two minors (10.4 and 10.5) releases and be prepared for the upcoming version.
Some key areas on which Pimcore 11 might focus
Upgrade to all the major dependencies including Symfony (upgrade it to Symfony 6) that are crucial for the platform's performance.
Introduction to precise typing parameters and return types.
It might outsource some specific modules to separate packages and bundles to make this exceptional platform more lightweight, focused, and simple to customize.
Additional advancements and fine-tuning will be there, without a doubt.
Therefore, stay updated, and start using Pimcore 10.4 and 10.5; Pimcore will soon touch another milestone with its upcoming version 11.
Are you ready for the latest Pimcore releases?
Pimcore is one of the exceptional platforms we have around for simple and complex product information management. Despite being a newbie, it has managed to grab everyone's attention with its incredible features and functionalities.
All the previous versions of Pimcore have their peculiarities and the two new minor releases are expected to be no lesser than their predecessors. As mentioned above, Pimcore 11 is scheduled to release soon, thus, you must revisit your system and upgrade it with new versions to make it ready for the forthcoming delivery of Pimcore 11.
We are proud to be known as a Pimcore Silver Partner. We deliver full service Pimcore development including PIM, DAM, CMS, design, multi-channel e-commerce, integration, maintenance, and support to SMEs, large businesses, international organizations, and web development agencies.
Our team of certified Pimcore developers to enable personalized brand experiences, real-time customer engagement, omnichannel enablement, and more to your Pimcore website or application. Get in touch with us at hello@skynettechnologies.com or submit the following request free quote form.