Compare & select the most suitable Pimcore Cloud Edition (SaaS) and scale your business faster!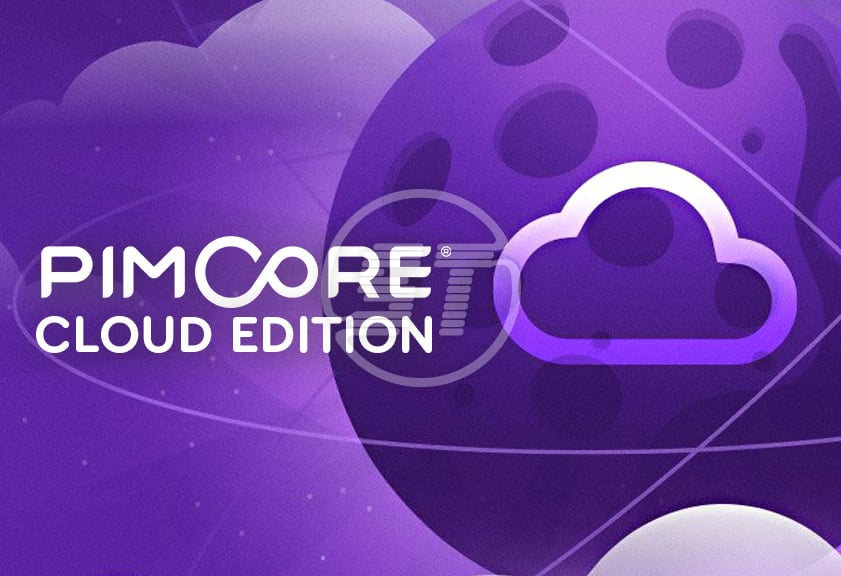 Pimcore never fails to impress with its out-of-the-box features, functionalities, and distinct editions. Its cloud edition is one of the best and fastest deployment editions. The Pimcore's cloud edition is a no-code solution and you can do complete customization of this model, based on configuration only. To speed up innovation and achieve cost efficiency, cloud edition is a great choice.
You will be able to deliver an outstanding digital customer experience using Pimcore cloud edition for handling products, customers, and digital media assets with master data as well. It provides a stable solution for enterprise data management. Cloud edition has Pimcore's all the core functionalities including product information management (PIM), master data management (MDM), digital asset management (DAM), and headless content management (DXP) with product and asset experience portals, product content syndication, and many more other features.
Pimcore cloud edition provides a flexible and reliable data hub to manage omnichannel marketing. It has three different packages (Starter, Professional and Ultimate) and you can choose any one as per your business requirement. All three variants have a ready-to-use and user-friendly setup without technical customization.
Previously, we shared a quick overview of Pimcore enterprise edition. Now, we have made a thorough comparison of different cloud edition packages to make it easier for you to choose from them.
Comparison of the three Pimcore Cloud (SaaS) Edition packages
| Features | Starter Cloud Edition | Professional Cloud Edition | Ultimate Cloud Edition |
| --- | --- | --- | --- |
| Who can use it | This package is a good option to start with Pimcore data management essentials in the cloud. | For enterprise level data management including headless CMS. | Advanced and gigantic projects that require maximum scalability. |
| Sizing | Up to 10 users accounts and 50000 data objects are allowed. It provides unlimited languages support and 100 GB access storage. Three datahub configurations are permitted. | Professional edition has 35 users access and 100000 data objects can be managed. Unlimited languages, 250 GB access storage and five datahub configuration allowed. 1000 headless documents can be managed with 1 experience portal. | Here you get 100 user access, 500000 data objects, and 350 GB access storage. With unlimited language support and 10 datahub configurations, it provides five experience portals and 10000 headless documents management. |
| Data Management Feature | You get core features of data management (PIM/MDM/DAM) with this package. Data Importer extension and Advanced file support is available to manage the data efficiently across the channels. GraphQL API can be used as an add-on. | Starter package features are included in professional package as well. Additionally, GraphQL API support is in-built in this package. High-performance Rest API, Enterprise asset metadata, and Advanced object search Pimcore Marketplace extensions are available with this package. You can use Direct Edit, Adobe/ Microsoft integration (CI HUB) and Enterprise translation management as an add-on. | This package has got all professional package features. No need to take add-ons. Direct Edit, Adobe/ Microsoft integration and Enterprise translation management also support ultimate package. Moreover, Product Content Syndication (Productsup) is added advantage with this high-end cloud edition package. |
| Experience Management Feature | Headless DXP/ CMS and Experience Portals are not a part of this package. | Professional package has these two (Headless DXP and Experience Portals) features included. | Ultimate package of cloud edition also has Headless DXP and Experience Portals features. |
| General Features | Admin & Shared Translation available. You can try add-ons of Reports, Notifications, Dashboards, and Perspectives. | With Admin & Shared Translation all the starter package add-ons are included in Professional package. Workflow Designer is also a part of this package. | Professional package's all general features are encompassed with Ultimate package. You get additional SSO (OpenID Connect) with this cloud edition pack. |
Pimcore Custom Cloud Edition
Pimcore has always supported enterprises with efficient data management. Enterprises have large data chunks and have challenging complexities in data management with PIM, MDM and headless DXP. The flexibility of the cloud edition helps enterprises to create a suitable configurable environment as per your business challenges.
Benefits of Pimcore Cloud Edition
Pimcore cloud edition aids in getting accelerated innovation without infrastructure and admin interface customization requirements.

Cloud edition increases the cost-effectiveness of your entire project. It has affordable entry-level pricing with various subscription licensing options.

Faster deployment of data management helps you add more resources to new solution development.

It has the ability to understand every business's needs. Thereby, it constitutes a suitable base for scalable data management.

Pimcore cloud edition doesn't require a professional to configure it. You can set it up easily according to your business requirements.

Cloud edition assists in reducing the downtime of your website with optimized and improved solutions.

Pimcore cloud edition's infrastructure has Amazon Web Services that ensure sturdy and cutting-edge data security and data privacy mechanism.
Which Pimcore Cloud Edition is right for you?
You must choose the suitable Pimcore cloud edition for your enterprise data management & custom application maintenance. The starter package of Pimcore cloud edition provides a quick start for essential data management with a focus on importing, managing, and exporting critical data of your business.
If you have to manage comprehensive data, Pimcore Professional Cloud Edition is the right choice for you. It helps you handle enterprise digital asset management with convoluted metadata and extensive data & asset management. For an aggregated data and content hub, Professional Cloud Edition has headless content management and portal functionalities.
Pimcore Ultimate Cloud Edition has the full power of Pimcore Cloud Edition. It is apt for a complex huge data management project. It has many additional and useful features which you don't get with the other two packs, such as Direct Edits, Adobe/ Microsoft Integration, and Product Content Syndication up to 500+ channels.
Choose your plan carefully, because currently upgrading or downgrading of plans is not available due to potential conflicts among data models. Changing the plan might affect the functionalities of your Pimcore platform. However, the Pimcore team is there to help you with a suitable migration path on request.
Wrapping up
Business growth can be acquired through new technologies and transformation in operational efficiency. Pimcore Cloud is one such platform that enhances the quality of data management and provides an economical, effective, and easy-to-use system.
Pimcore Cloud editions provide you with high-performance solutions with robust security and storage for massive chunks of data. With regular updates and new features, the Pimcore cloud edition takes your enterprise data management to the next level.
Deploy Pimcore Cloud Edition in any environment and solve your data and experience management challenges efficiently.
We are proud to be known as a Pimcore Silver Partner. We deliver full service Pimcore development including PIM, DAM, CMS, design, multi-channel e-commerce, integration, maintenance, and support to SMEs, large businesses, international organizations and web development agencies.
Our team of certified Pimcore developers enable personalized brand experiences, real-time customer engagement, omnichannel enablement, and more to your Pimcore website or application. Get in touch with us at hello@skynettechnologies.com or submit the following request free quote form.