Shopify vs WordPress – Which one is the Best Ecommerce Platform?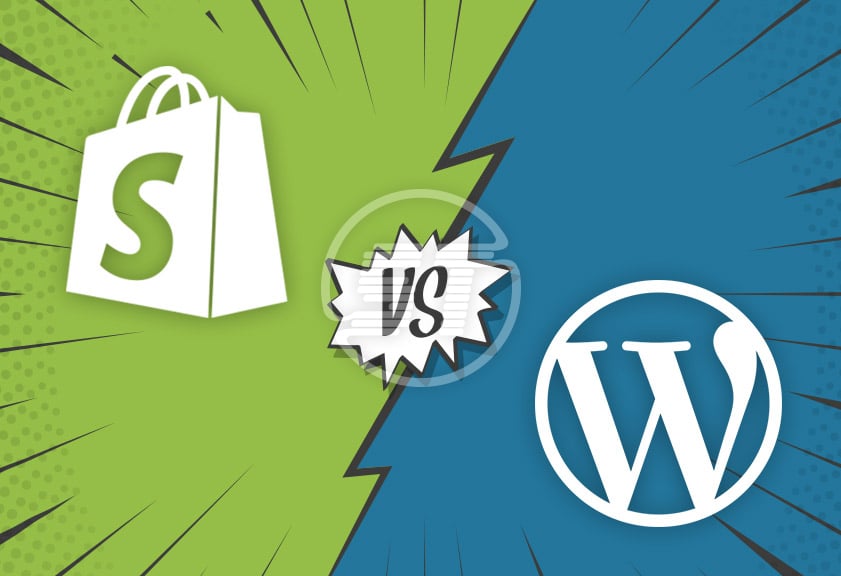 The global pandemic coronavirus created a massive disruption to retail shopping. A staggering increase in the stay-at-home orders made many businesses shift their operations from brick-and-mortar stores to online stores. The stats reveal that there is a shocking decline of 14% in the in-store sales in the US while a huge spike is seen in ecommerce sales.
As ecommerce operations are growing leaps and bounds, many entrepreneurs are taking the business online. Even small businesses are going digital to bank on the unprecedented ecommerce growth. However, building an ecommerce website isn't easy for everyone. Picking the best ecommerce platform is one of the daunting challenges for retailers and young entrepreneurs.
We are here to compare and contrast two of the best ecommerce solutions available - Shopify vs WordPress to help the budding entrepreneurs find the right platform that suits their business needs.
Overview
Both Shopify and WordPress are known to be among the most user-friendly website creation platforms.
Shopify is a leading ecommerce platform used by many young and seasoned entrepreneurs alike to build and design their retail stores. Shopify provides you a domain name, ecommerce plugin, a shopping cart, and a whole range of templates that can customize as per the branding needs. One should be able to build a website with zero tech and design skills. Being a SaaS tool, you can just use the services with a monthly fee and not worry about owning the software copy.
WordPress is another ecommerce or website building software that can also be used with a minimal coding background. This is an open-source solution and offers great flexibility and customizations. It is incredibly extensible and offers many themes and third-party add-ons. WooCommerce is one of the most popular WordPress plugins that helps you to set up your store in no time.
Features
Shopify is a single-purpose driven solution intended only to build an online website for a retail store. Simply put, Shopify offers a specialized service. Once you log into your Shopify account, you find a number of tools that can be used perfectly to build your retail store.
A dynamic shopping cart, payment gateways, promotions, coupons, and any other additional services - Shopify has got you covered.
You can also import information from other email marking tools and data files.
It also provides you access to a wide marketplace with SEO tools, social media sharing, robust inventory management services, and much more.
Accounting tools can also be integrated to help you track your taxes.
Simpler and dynamic shopping cart and many third-party payment gateway integrations.
Secured Platform
WordPress isn't specifically created for ecommerce sites like Shopify. You can create websites of any kind with WordPress. It also comes with many flexible tools and plugins that can build and transform your website. WooCommerce and other plugins help one to build an online storefront with added payment options, SEO tools, designs, and niche templates.
Ease of use
Shopify is easy-to-use regardless of your background. Even with zero tech skills, you can kickstart your ecommerce operations without any external developer help. It offers the most convenient and easier way of building a website with no specialized skill set. Many knowledge base documents and guides are available to assist you if you need it. Shopify is not just easier to use but also comes with its own payment solution.
WordPress is one of the most popular and easiest CMS to use. But one needs HTML and rudimentary development knowledge while building and hosting the website. However, WordPress enjoys a huge user base all around the world that offers resources, guides, video tutorials, and webinars to help you get started and learn along the way.
Pricing
Shopify comes with varied pricing plans like basic Shopify, Shopify, Advanced Shopify, Shopify Plus which is negotiable, and Shopify Lite with a basic monthly price. You can go for a 2-week trial version before you make a final decision. Before you choose a plan, look at all the offered features and themes for different plans. While Shopify Lite is the base version, Shopify Plus is the most superior version with many advanced features. It is relatively affordable especially if you are in your inception stages and you can upgrade to the premium versions if you need more.
WordPress is self-hosted but the pricing plans depend on a lot of other variables. The themes and designs, hosting fees, third-party integrations can cost you additional money. If you are from a non-tech background, you may have to expend on a developer who can assist you with the build. The other expense could be for the hosting - shared hosting service which is cheap but not ideal for enterprise-level projects and managed hosting providers which offer safer and faster websites but expensive. It doesn't come with any free trial.
Templates
Visual aesthetics can make or break your customer experience. With shoddy designs and development, there are higher chances of customers hitting that back button and leaving your e-store without completing the purchase.
Shopify comes with an elegant set of themes and templates that suits your business needs. You can find numerous professional and attractive templates that are easy to edit and use. They are also mobile-responsive making the website visually appealing on any device.
WordPress comes with a massive number of themes and templates making it the most popular CMS in the world. However, even with a huge selection, not every theme is suitable for ecommerce websites. You need to drill down into the massive list to find the perfect theme for your e-store. A huge consolation though is that WordPress theme works with WooCommerce plugin too. While picking a theme, go for a reliable source without compromising the security of your website.
Ecommerce Tools
With Shopify, you can build an ecommerce store with a dynamic dashboard and robust product listings. You get the following with Shopify sites-
Inventory Management System - Effectively organized and managed.
Product listings - Description, images, pricing, and more.
Personalized Experience- Customized recommendations for the customers
Catalog Management - To help find the services and products with ease.
Cart Integration - An abandoned cart feature is integrated with any email marketing tool to follow up on the lost sales.
Content Strategy - Effective and informative blogs and pages that boosts your online presence and brand reputation.
Payment Integrations - Many popular payment options are available for the customers.
Tracking - Detailed tracking of purchase orders
WordPress ecommerce features depend on the plugin used, the most common one being WooCommerce that comes with the following features -
Various shipping & pricing options for collection, delivery and more.
Location Tracking tools to track down the customer address and ship the packages to the right address.
Automated email integration that sends customers emails at various points of the conversion funnel including at cart abandoned points.
Product reviews and customer testimonials.
Analytics tools integrations that can help with traffic trends, growth, and conversions.
SEO
Shopify comes with a basic SEO - with things like SSL that can keep your website secure sending out the signal to Google that your website deserves to be at the top of search results. XML sitemaps and 301 redirects (if your page doesn't work or you changed the name)are also automatically created. The downside is you cannot use leading SEO solutions like Yoast and also creating clean URLs gets clumsier. However, since there is a lot more than clean URLs, with other plugins, you can work on improving search listings.
WordPress comes with Yoast - one of the most popular SEO tools in the market. This plugin provides guidelines on how to improve your search rankings. You can also create clean URLs and SEO-enhanced XML sitemaps.
Customer Support
Shopify offers support as a standard with every plan. For the Shopify Lite plan, you can get the basic assistance via chat and email support. For other plans, even phone support is available. Many community forums are also available to quickly clarify your questions.
WordPress, being a self-hosted platform, doesn't come with a lot of support. But quite often, the forums and customer websites provide you with the requisite information. A specialized WordPress developer also offers an immersive form of support. When you use third-party plugins and add-ons, those vendors also offer some form of assistance.
Dropshipping Options
Dropshipping is an option that avoids stocking and having a retail store and products of your own. You can opt for a plugin tool for dropshipping.
For Shopify, Oberlo is the most used dropshipping platform. Oberlo allows you to find the products, add them to your Shopify store, and start your operations.
For WordPress, there is a one-time-fee plugin Airdropship that does the same.
Conclusion
Both Shopify and WordPress have a lot to offer to eCommerce businesses and there is no one-size-fits-all solution for having a perfect shopping experience. If you need an ecommerce website quickly and you need support along the way, Shopify is hard to beat. On the other hand, if you are going for a startup website offering ecommerce functions or a customizable blog platform, WordPress seems to offer such dynamic flexibility and scalability.
Choosing Ecommerce Platform for your business can be a confusing experience but, we will help you to choose the best ecommerce platform out of Shopify or WordPress, your Store will be able to deliver the superior products your brand. Both of these ecommerce platforms can help if you run into any snags along the way. There should be nothing stopping you from pushing your ecommerce business to success. Contact us to get more info about Ecommerce Solution!