How much does it cost to make a website ADA compliant? What are the factors that impact the cost?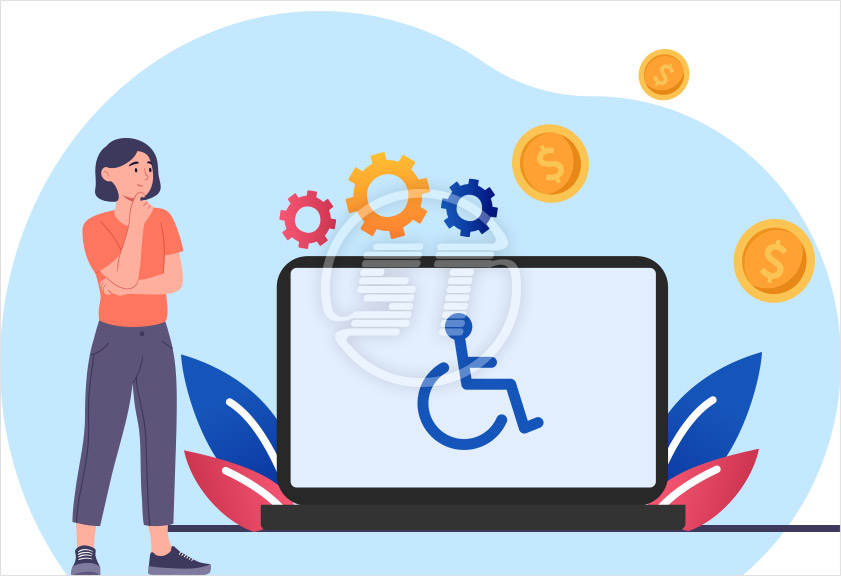 ADA or the Americans with Disabilities Act is around for a long but lately, you must have heard lawsuit news against organizations which were not adhering to ADA guidelines.
ADA Compliance have made several users' lives easy by providing them accessible information on internet. Since there is profound number of users who have some sort of disability; thus, the US and other countries have made it compulsory to adhere to these guidelines.
Therefore, creating or maintaining an ADA compliant website is morally or legally obligatory for organization. Whether you are a small, medium, large enterprise, or any size and type of business, we have an ADA web accessibility and compliance solution to make your website and digital assets accessible. However, every business needs to select an option based on their website size, number of digital assets, budget, turnaround, and accessibility compliance level requirements.
We have developed an All In One Accessibility widget (with 23 features) which is ideal for start-ups and basic level business websites who intent to have user experience enhancements and basic accessibility. All In One Accessibility Pro (with all 50 features) is ideal for small to medium size businesses websites who want basic level accessibility compliance. It reduces the risk of lawsuits. It can instantly make your website accessible and provide compliance up to 20% to 40%.
We are providing solution package (All In One Accessibility Pro Plus) which includes web accessibility monitoring, PDF compliance monitoring, automated web accessibility testing, digital accessibility evaluation, reports for automated evaluation, and remediation tracking. It is ideal for all medium to large organizations, ecommerce business, non-profit organizations, and public sectors. It can make your website compliant up to 90%.
Another solution package (All In One Accessibility Pro Premium) is ideal for websites and digital assets of medium size business, ecommerce business, large enterprise, state and local government entities, public and private sectors. It includes web accessibility monitoring, PDF compliance monitoring, automated and manual testing, digital accessibility evaluation reports for automated and manual evaluation, remediation tracking, human expert auditing, accessibility program management and remediation support. It can make your website compliant up to 99%.
The four principles of ADA website accessibility!
WCAG 2.0, 2.1 and WCAG 2.2 guidelines have suggestions for making an ADA compliant website for users not only in the US but across the globe.
WCAG has four basic principles for a compliant website, that are –
1. Perceivable
Website content must be comprehensive including text, images, videos, and other media content. For users who cannot read or hear, there should be an appropriate alternative so that such users also can understand the content. For example, alt text must be there for non-text (images) content, audio clips should have transcripts with them, form fields should be distinguishable, text and image contrast ratio are suggested as 4.5:1, texts are allowed to zoom up to 200% without losing the context or functionality, etc.
2. User-friendly / Operable
The website should be easily navigable, and users should be allowed to utilize all its features. Whatever elements you have kept on your website, must have some logic, and ensure users will be able to access them all without any hassle, such as the main navigation menu, PDFs, etc. Also ensure, keyboard navigation is there, all the sub-headings are in a logical way, pause and stop options are mandatory with moving content, descriptive headers and labels, etc.
YOU MAY ALSO LIKE: How To Make PDFs ADA Compliant
3. Understandable
The content should be relevant and easy to understand. If any feature needs to be explained, there should be proper instructions to use that feature. For example, easy language, readable text, navigation on each page should be consistent, errors must be identified in multiple ways (with colors and through text), etc.
4. Robust
The website must deliver a similar experience to all the users whether they are directly accessing website content, or they are using assistive technologies to peruse the content. For example, if a user is taking the help of a voice processor to hear a piece of content (JAWS, NVDA, Voiceover), they must obtain the same information you wanted to convey.
Factors that impact the cost of making website ADA compliant!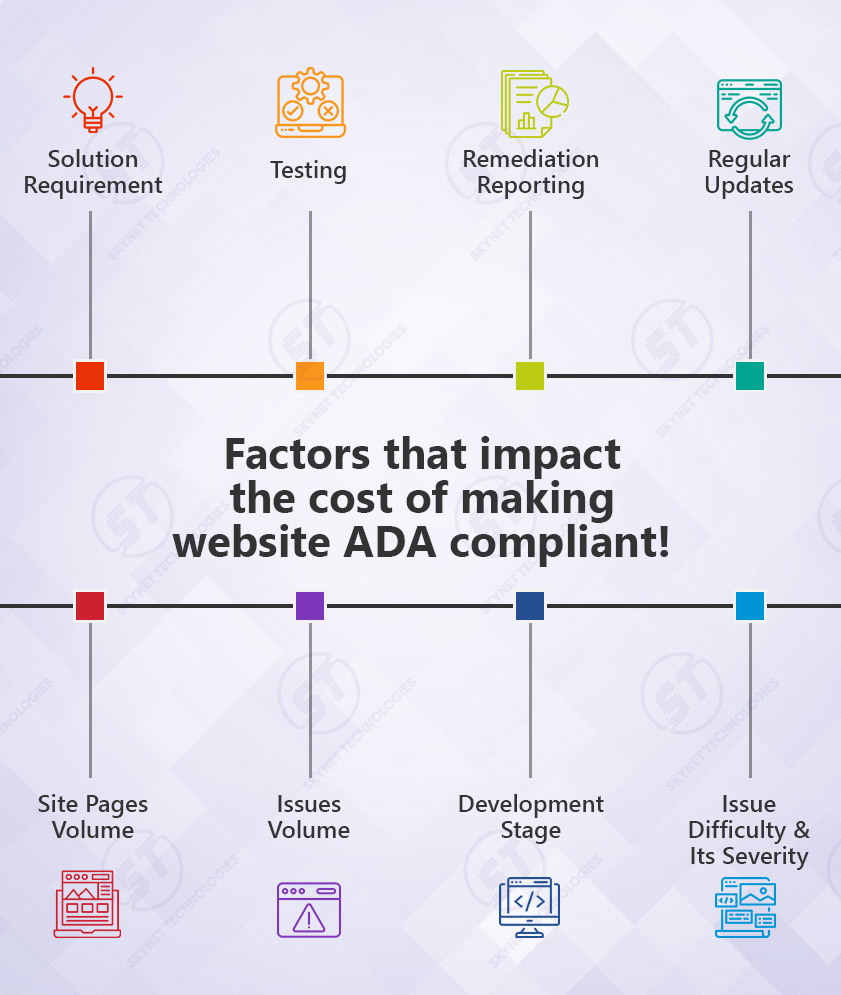 Solution requirement – The selection of the solution package is based on your business website size, number of digital assets, accessibility compliance requirements, and ongoing updates.
Testing - Another factor that impacting the cost is the testing – Automated and manual human expert testing. The cost is depending on the option you have selected from Automated or Manual Human Expert testing or a hybrid option combining both.
Remediation reporting - When it comes to remediation, it Involves legal teams and all the stakeholders for accessibility evaluation. The cost applies based on that.
Regular Updates – The regular updates also impact the cost whether any updates are requiring moving forward for not breaking lawsuits.
Site Pages Volume – When it comes to create an ADA compliant website, it pages volume impact the cost directly. The more pages, the more time and effort it will take to build or maintain them as per ADA guidelines.
Issues Volume – Number of issues diagnosed on the website pages while ADA audit, influence the cost of ADA compliance development.
Development Stage – If website is on development stage, the overall cost differs than re-creation of an existing website. At development stage, ADA testing and improvement goes simultaneously.
Issue Difficulty & its Severity – There can be some issues, like layout alignment, that take time to get resolved. Some defects or issues are difficult to find and solve. A few issues' remediations get done instantly, while some other require hours or days to rectify them.
How much does website ADA compliance cost approximately?
ADA website design and development requires a whole bunch of effort in the right direction and comprehensive planning as per the project's requirements. Thereby, the development cost varies site to site, as per their size and complexity. The three main steps are suggested for a compliant website -
Compliance Audit - An existing website's ADA compliance audit can reveal its actual state of compliance; thus, review or audit the website, in first phase and then make it compliant as per ADA or WCAG standards. ADA website audit might start from around $1000 to $3500 and beyond. However, it solely depends on the size and complexity of your website. Thus, the audit cost varies as well. There are some factors to consider while hiring a web accessibility agency.

Remediation - Once the testing is done, it requires to fill the gaps found during the audit. The ADA accessibility remediation is the process of converting or creating your website, applications and documents or any other kind of digital assets into compliance with recognized standards such as WCAG 2.0, 2.1 and Section 508 of accessibility. The cost to update a website according to WCAG and ADA standards can take anywhere from $6000 to $20000 and beyond.

Ongoing Monitoring - If once this whole process is done, it doesn't mean you are sorted. Just like SEO, ADA compliance is also an ongoing process. Adjustments must be made if any pages, modules, add-ons to the website.

Ongoing compliance maintenance and monitoring may range from $800 to $1500 per month or depending on the state where you are based in, website platform, website complexity, size and market rates.
In a nutshell, website ADA compliance is an ongoing investment. However, this investment is anyways worth it as you save your website from embarrassing lawsuits. You might be knowing that lawsuits are not only expensive, but they damage your brand image as well.
Repercussions of not making a website ADA compliant!
Your website might be held accountable if you own a non-ADA compliant website.
You might have done this unintentionally and discrimination against people with disabilities was not your agenda, but somehow you deprived such users from accessing your products, services or some sort of useful information like career or information regarding employment, hence you will have to face its consequences.
Huge fines, image disruptions, license cancelation, and many other repercussions organizations have faced. Thus, it is better to create or update web solutions as per ADA guidelines.
Don't forget to check out our blog on how to avoid ADA lawsuit?
Wrapping up
"The power of the web is in its universality. Access by everyone regardless of disability is an essential aspect." - Tim Berners Lee
Website compliance with the Americans with Disabilities Act (ADA) can be overwhelming at times. However, ADA web development is essential if you don't wish to get trapped in lawsuits.
Are your business website and other digital assets ADA compliant? Or Are you looking for guidance on ADA web accessibility standards? With a team of experts, we provide full-service ADA website accessibility including audit, strategy, design, development, remediation and support services which compliance with accessibility regulations such as ADA, WCAG 2.0, 2.1, and Section 508 within your budget. Contact us at hello@skynettechnologies.com or fill out form below to request a free quote.