How does your website stack up with web accessibility legislation in Virginia?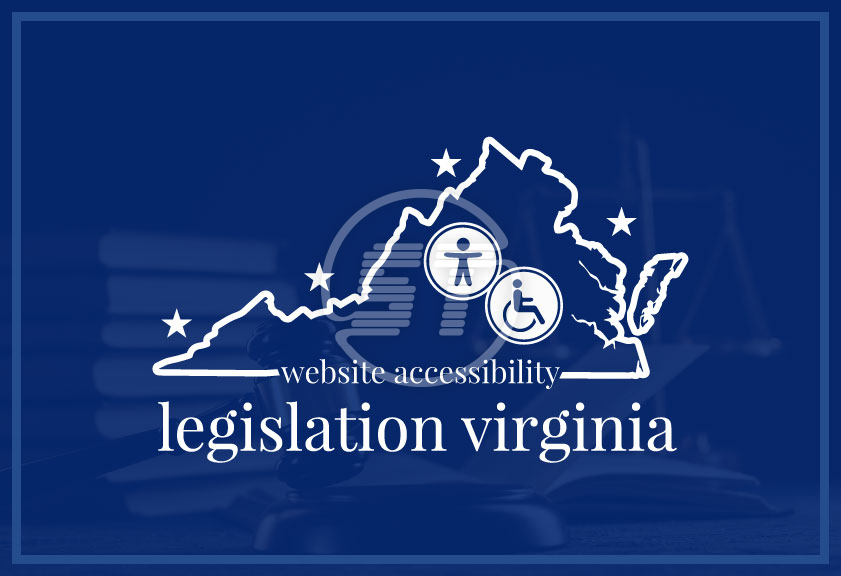 Virginia has its own web accessibility law known as the Virginia Information Technology Access Act. The most important federal law is Section 508 of the Rehabilitation Act of 1973. This law requires all state agencies, colleges and universities, and other public organizations to make their websites and other electronic information accessible to people with disabilities.
Applicable web accessibility laws and policies in Virginia
The Virginia Information Technologies Agency (VITA) has developed the standards for all state agencies. These standards are based on the WCAG (Web Content Accessibility Guidelines) 2.0 level AA international standards for web accessibility.
The standard focuses on every type of disability and covers each aspect of website elements, but it has quite specific requirements for closed captioning. VITA web standard says that "Captions must allow Web audio and video to be perceivable to those who do not have access to audio and understandable to a wider audience. Section 508 [1194.22 (b)], which is a part of the Virginia Website Standards, states that equivalent alternatives for any multimedia presentation shall be synchronized with the presentation."
Captions are required to be synchronized, which means text should appear on the screen with its relevant audio.
They must be equivalent to that of the spoken words.
And the caption should be accessible using screen readers.
Other than the VITA requirements, Virginia follows below web accessibility standards:
Section 504 and 508 of the Rehabilitation Act of 1973.

Section 504 prohibits programs and activities that receive federal funds from discriminating against individuals with disabilities. Section 508 provides requirements for information technology accessibility for federal agencies.

The Commonwealth of Virginia's Information Technology Access Act.

It requires all public higher education institutions to ensure that all IT tools and software are accessible to everyone.

Title II of the Americans with Disabilities Act.

The act focuses on the accessibility of all state and local governments' websites and ensures no individual is left deprived of any program, service, or beneficial activity.

Web Content Accessibility Guidelines 2.0 and 2.1.

It requires WCAG levels A, AA, AAA, and other latest published guidelines to be followed by all the state agencies. WCAG 2.1 is mostly used in lawsuits, and negotiated settlements, and is referenced by Policy No. 7215.

Virginia Tech Policy No. 7215, Rev. 2: University policy

states, "EIT will comply specifically with Section 508 of the Rehabilitation Act as amended ('The Final Rule') and conformance with 'Web Content Accessibility Guidelines' (WCAG) 2.1 AA from the World Wide Web Consortium (W3C)."
Code of Virginia
According to Title 2.2-2012, procurement or development of information technology shall be made in accordance with the Virginia Public Procurement Act (Title 2.2-4300 et seq.).
Each procurement of information technology must be reviewed by the CIO (Chief Information Officer) and approved based on the review report, including approval of all agreements and contracts prior to the execution of procurement. Thus, if an agency or business is planning to buy a software or ecommerce solution from a third-party vendor, the solution/software must adhere to defined WCAG standards to operate in Virginia.
Take a look at the official document to know more about the Code of Virginia.
How do accessibility standards impact digital products?
The accessibility standards are meant to improve web page usability so that everyone has easy access to all digital resources available.
Web Content Accessibility Guidelines (WCAG)
These guidelines are universally accepted and make all digital assets accessible to everyone. Thus, Virginia has included them in their digital accessibility standards to improve the usability of every website and application. The standards focus on disabilities like blindness and low vision, deafness, cognitive limitations, limited movement, speech disorders, photosensitivity, and a combination of these disabilities.
Authoring Tool Accessibility Guidelines (ATAG) 2.0
This standard mainly provides guidelines to design web content authoring tools that are used by those authors who have some sort of impairment.
Core Accessibility API Mappings 1.1
API mapping standards are meant to describe the semantics of web content languages to accessibility APIs.
Portable Document Format/ Universal Accessibility (PDF/UA)
It contains the ISO standards for universal accessibility of PDF documents.
EPUB (Electronic Publication) Accessibility 1.0
To make EPUB (Electronic Publication) content accessible, these standards help.
Digital Publishing WAI-ARIA Module 1.0
Users of assistive technologies who navigate through long-form documents will get a defined set of WAI-ARIA roles. The roles are derived from the EPUB Structural Semantics Vocabulary.
Personalization Semantics Content Module 1.0
These standards define a vocabulary of terms that can be used to enhance web content with information about control, symbols, and user interface elements.
Applicability criteria and penalty for non-conformance
Virginia is taking digital accessibility on priority thereby if websites/applications are found non-compliant with Section 508 and ADA, then they will face civil actions. However, undue burden exemption is available, which is applicable only if the state agency or business has genuine reasons and cannot alter some parts of their websites or applications.
Wrapping up
Web accessibility legislation is a growing priority in Virginia. Educational institutes, businesses, and all state agencies are increasingly recognizing the importance of digital web accessibility and including WCAG standards in their designs. This is not only helping people with disabilities but also uplifting overall user experience. However, there is still more work to be done to ensure the accessibility of all digital resources to all Virginians.
Skynet Technologies, a proud member of the International Association of Accessibility Professionals (IAAP) and W3C takes immense pride in its valuable contributions to the global accessibility community.
As a specialist in WCAG 2.1 AA website accessibility, we provide full website accessibility remediation services including design, audit, consulting, remediation, support, and ongoing maintenance. Reach out by submitting following form or email at [email protected].