Skynet Technologies has become an organizational member of the World Wide Web Consortium (W3C)!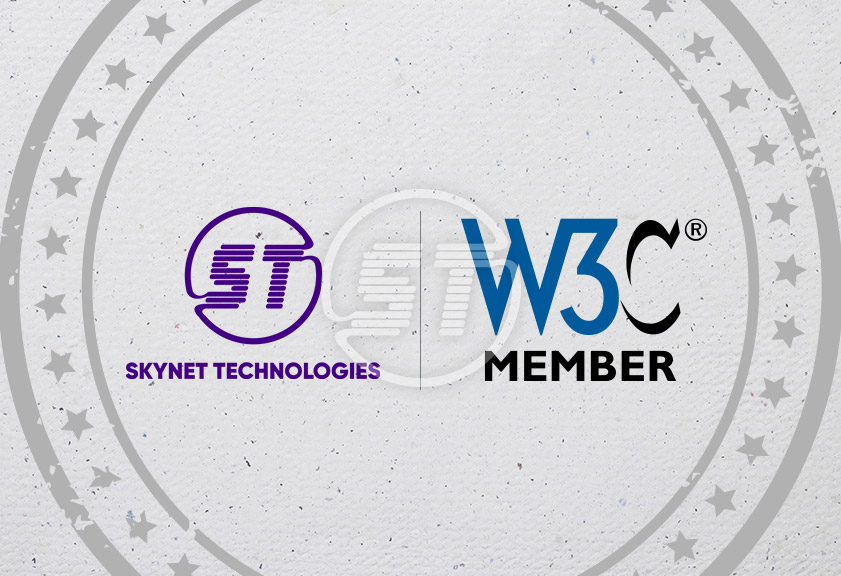 Skynet Technologies is delighted to announce that we have become an organization member of the World Wide Web Consortium (W3C) in November 2022. The primary mission of W3C is to educate people about digital accessibility and create an accessible web world for as many people as possible. We will now accompany W3C to cater to a wider segment of audiences and help them to access useful digital information.
The W3C membership will upskill Skynet Technologies' resources to provide more accessible and usable solutions for our clients. They will bring the most recent changes with the latest technologies to accord digital accessibility to everyone.
About World Wide Web Consortium (W3C) (www.w3c.org)
The World Wide Web Consortium is an international community of Member organizations, their in-house team, and people around the world who work together to develop web standards. It was founded in 1994 by Tim Berners-Lee and its mission is to lead the web to its full potential.
The World Wide Web Consortium plays a key role in creating accessible and usable digital experiences for organizations by providing a set of defined standards; called Web Content Accessibility Guidelines (WCAG) designed to offer digital content accessibility to each user on the web regardless of their physical abilities.
They take feedback from disabled communities who depend on assistive technologies (AT) on a regular basis to operate the internet, and accordingly keep updating WCAG and other standards of compliance to help billions of lives.
How are we learning, engaging, and adapting to the latest standards and modern technologies?
To be a member of W3C receives plenty of benefits and rewards. Such as, the member gets chances to interact and work directly with leading organizations and individuals of the w3c. All the members get an opportunity to give strategic direction by reviewing the activity proposals and operational policies. We will also start receiving these and myriad other benefits that will aid then in shaping the future of our clients as well.
Additionally, Skynet Technologies will be allowed to participate in the World Wide Web Consortium's working group, business group and interest group to carve different modern technologies that directly or indirectly influence businesses and their customers.
W3C works rigorously to improve web and assistive technologies experiences. The World Wide Web Consortium has defined some standard best practices of web development, which incorporate general principles of web architecture and services, recommendations about programming languages such as HTML and CSS, and umpteen other areas of the web. Previously, the standards were not enforced on organizations. However lately, with increasing web need and necessity, W3C standards have become mandatory for each digital asset to adhere with.
Since Skynet Technologies is now an active member of W3C, we interpret WCAG and other standards more accurately and deliver compliant solutions better than non-W3C members. Web Content Accessibility Guidelines conformance keeps on upgrading; thus, organizations need to work on accessibility constantly. No one can afford to leave it unattended for a long span. We have been helping organizations for many years to inculcate accessibility into their digital solutions and now we will raise our quality bar utilizing this membership with W3C.
We strongly believe that "Digital accessibility is a key component of diversity, equity, and inclusion!"
By becoming a member of W3C, we are excited to engage, learn, and contribute in any way to make the web more accessible for everyone. We just do not want to stay informed about modern technologies, features, latest accessibility standards, and tools; but also, to bring and share our own ideas to strategic discussions about the web's future. We are participating and increasing our efficiency in various aspects of web technologies development including accessibility, security, privacy, internationalization, and more.
Our mission is to help businesses and government agencies to improve web accessibility for all. We will utilize our W3C membership to reinforce our web accessibility knowledge for maximum results; so, we can guide our clients in increasing digital accessibility while minimizing time and cost. As a W3C member, we will keep our solutions ahead of the curve to ensure our web solutions are compliant with the latest standards and reduce the risk of digital accessibility lawsuits. We already have teams of trained developers and designers who can create compliant web solutions and now being a member of W3C will be a feather on the cap for us.
Our membership with W3C has given us an opportunity to contribute to the future of online accessibility standards and to support businesses in keeping up with their web accessibility goals.
For more information about us, please visit https://www.skynettechnologies.com or get in touch with us via [email protected].
Disclaimer – *The information contained on this page is provided for informational purposes only, and should not be construed as legal advice on any subject matter. We request you to consult a professional lawyer or agent to get legal advice on any subject matter. You should not act or refrain from acting on the basis of any content included in this site without seeking legal or other professional advice. The contents of this site contain general information and may not reflect current legal developments or address your situation. We disclaim all liability for actions you take or fail to take based on any content on this site. The operation of this site does not create an attorney-client relationship between you and Skynet Technologies USA LLC.