Which type of accessibility standards apply for ADA compliance mobile app?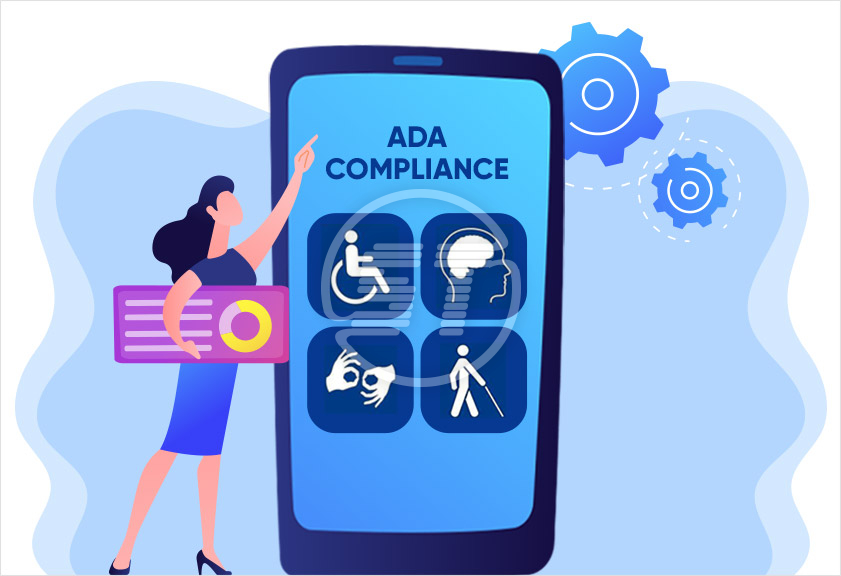 Have ever wondered how many new apps are being born every month? How many app downloads are happening all over the world? We have some breathtaking numbers with us! Nearly 100k new Android apps and 30k iOS apps are being released every month and staggeringly more than 200 billion app downloads have happened in just one year! Mobile has become the highest traffic generator today. With this, many digital companies have started to roll-out their apps to improve their digital visibility. These mobile apps need to be user-friendly and accessible by everyone.
YOU MAY ALSO LIKE: Web Accessibility Testing Tools
As mobile apps are continuously evolving, just like how web accessibility guidelines have been established by various international guidelines, there has been a need for the slow evolution of standards to address mobile app accessibility. To inculcate the principles of inclusion and fairness on the web, mobile accessibility must also be prioritized. People with disabilities and impairments must be able to utilize the benefits of these digital apps and services. It has to be a standard, not an exception. So logically, after ADA web accessibility, the next logical frontier in the pursuit of a more inclusive digital world is mobile.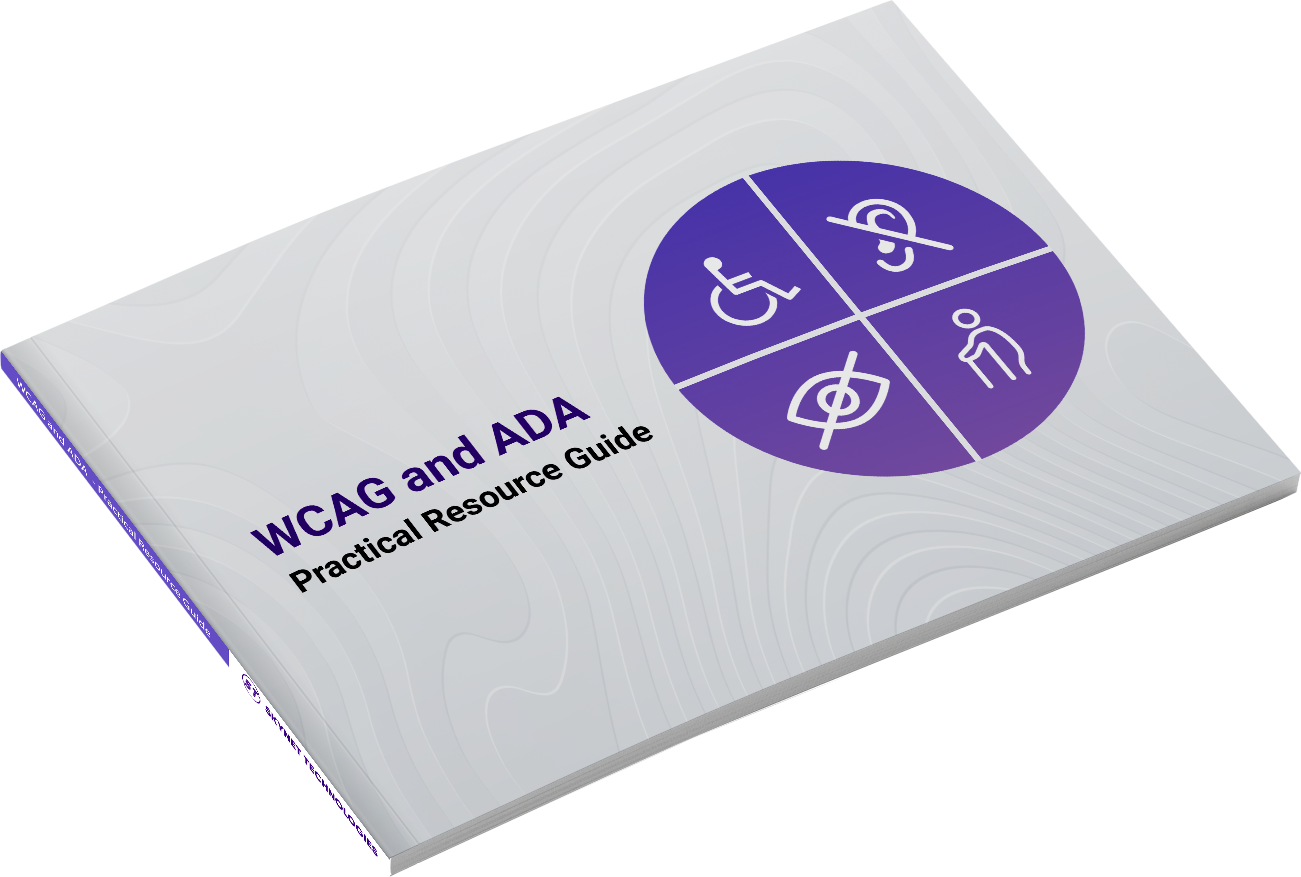 WCAG and ADA Guide
A Practical Resource Guide for Achieving Digital Accessibility Compliance
The Web Content Accessibility Guidelines (WCAG) provides technical specifications to improve the accessibility of web content, websites, and web applications on desktop computers, laptops, tablets and mobile devices for people with a wide range of disabilities — including auditory, cognitive, neurological, physical, speech and visual disabilities.
REQUEST ADA GUIDE
The accessibility standards for ADA compliance mobile app
As mobile apps became an indispensable part of our everyday lives, US Federal Courts have interpreted the accessibility clause in the Americans with Disabilities Act (ADA) as requiring all the mobile apps to be accessible to the disabled without any discrimination. This is imperative considering that nearly more than 50 million people in the US are disabled and depend on apps every day. And despite the stellar stats about mobile apps, not all hadn't been created in compliance with the accessibility guidelines.
Mobile apps are also covered by the same accessibility standards as that of the web. Americans with Disabilities Act (ADA) which provided guidelines for web accessibility, the same rules are valid for the mobile apps. They have to follow Web Content Accessibility Guidelines (WCAG) 2.2 standards including multimedia access. Though WCAG doesn't specify anything about mobile app accessibility, however, the same criteria outlined in WCAG 2 stands relevant in the case of mobile apps as well. The W3C also mentioned the best practices for mobile apps, they are not accessibility specific although they do promote accessibility.
How can you make your mobile apps ADA compliant?
If your mobile apps are not ADA compliant, you could find yourself liable to legal penalties under ADA. Hence, one needs to refocus their ADA compliant Web Design efforts in order to make mobile apps easily navigable. You need to restructure your mobile app by following the accessibility standards namely ADA and WCAG 2.1 guidelines. Before we go further, first conduct a mobile ADA accessibility audit to note down any shortcomings and check where you stand in your accessibility score. There are many accessibility requirements for mobile apps, however, when it comes to ADA compliance, we are presenting here a few elements:
Provide a transcript with multimedia
Many mobile apps come with either audio or video files and how do you think a disabled user will be able to view or hear the multimedia content. Users with visual challenges and hearing disabilities should have a way out of this impediment. They should have an option to use captioning on your video, and a full-text transcript for audio files in order to make your mobile app ADA compliant. When applying captioning, make sure synchronization is happening to avoid unnecessary confusion especially when your app requires quick actions based on the audio commands.
Colors Compliance
Color blindness is one of the most common problems faced by internet users. Nearly 8% of the people face this and this becomes a hindrance while accessing your mobile app. It gets difficult for people to perceive the colors on their apps especially when these colors are in close proximity. For instance, most people suffer from red-green color blindness and if your app uses these two colors, then you need to provide an alternative way to make that accessible to these users. In the majority of the cases, if you could specify what color it is, that itself serves the purpose.
Easy to understand Error Messages
While you are filling out the forms or submitting a form, errors are likely to happen. The error messages are critical here to help the user to understand what went wrong. People with disabilities may find it hard to perceive any onscreen error prompts. So, it is better to make sure you encode your error messages properly so that they would be understood by the screen readers and other assistive technologies to help the users. Also, you need to avoid the common practice of using red color while indicating the error messages as color blind people may have a hard time perceiving the error message. A clear error message can reduce confusion and you can avoid the risk of losing customers.
Other mobile app ADA compliance accessibilty technologies
You can take advantage of the accessibility features such as text-to-speech, gesture technologies, haptic feedback offered by iOS and Android platforms. Visual impaired users make us of Talkback in Android and Voiceover in iOS. You can try these and see how your app performs in terms of accessibility. Your developers should be familiar with these technologies and make sure to include them in your strategic plan in order to make your app accessible to all.
You can add these to the web accessibility checklist and make sure you improve your mobile accessibility. You should let your developers know these and find remediation to make your mobile app widely accessible and avoid expensive lawsuits. It might be challenging even for the developers as the regulations are slightly confusing for mobile apps. We recommend an ADA compliance audit to identify the issues, rank them in order of severity, and find remedial measures.
At Skynet Technologies, we deliver ADA compliance mobile app services which incorporate all the features and designs to make it more professional and inclusive. We help to maximize the compatibility of your app with the current and future technologies as well to improve accessibility. We create new accessible mobile app or can make existing mobile application ADA compliance from various platforms such as iOS, Android, Flutter, React Native or any. We can develop any WordPress website, ecommerce website or online store or mobile app an ADA Compliant.
Interested in a free ADA compliance audit of your website or app?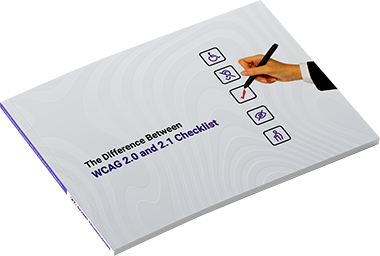 The Difference Between WCAG 2.0 and 2.1 Checklist
The WCAG 2.0 and 2.1 checklist covers web accessibility of all the content and is not specified to any technology or industry. It has created a roadmap to deliver a better exclusive online experience. The WCAG guidelines are helped you to address those with auditory, physical, speech, visual, learning, cognitive, neurological, and language disabilities.
Explore how to bring your digital properties or assets into compliance with the latest Web Content Accessibility Guidelines (WCAG) by downloading our interactive WCAG 2.0 and 2.1 checklist now.
Download Now