ADA Compliance Requirements for Websites & Applications in Nevada!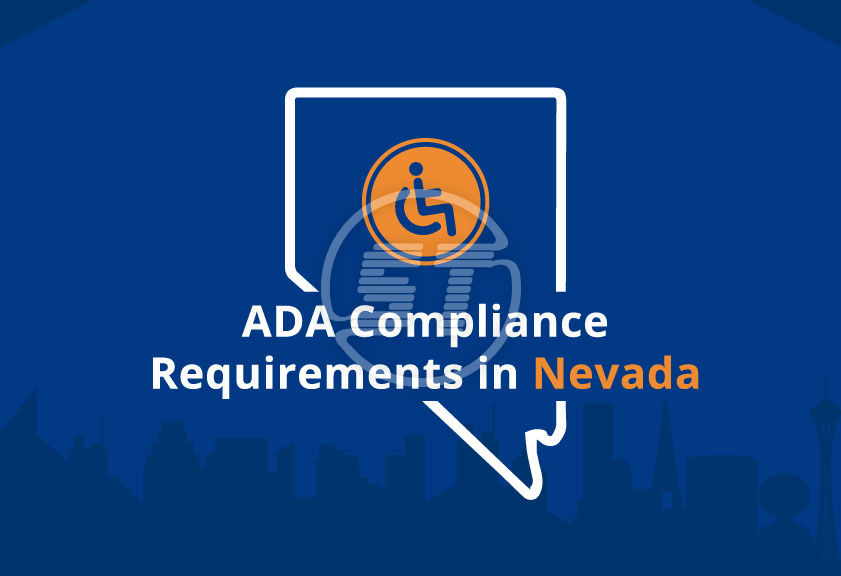 The State of Nevada accessibility guidelines apply to all entities based in Nevada. To improve information and communication technology acquired and/or developed by organizations operating in Nevada, Section 504 and 508 (part of the Rehabilitation Act of 1973) and WCAG (Web Content Accessibility Guidelines) 2.1 standards are enforced by the Office of Civil Rights (OCR).
Previously created or published content is also expected to modify its structure to comply with these accessibility requirements. The Department of Administration and Enterprise Information Technology Services Division together work towards providing technical assistance and training to ADA coordinators designated for all state entities or government agencies.
YOU MIGHT ALSO LIKE: How to avoid ADA lawsuit?
What are the applicable areas of ADA digital accessibility guidelines in Nevada?
Websites including electronic documents, video, and multimedia.
Any content created in electronic formats like emails, spreadsheets, text documents, presentations, and social media posts.
Software applications including internal and public facing applications.
IT products such as telecommunication, individual desktops, laptops, etc.
From creation to procurement of the above and myriad other technologies and services need to adhere with ADA and WCAG accessibility standards.
Authoritative laws that impact accessibility policies in Nevada!
The Rehabilitation Act of 1973 says that every electronic and information technology required to be developed, maintained, or procured by state entities must be accessible to individuals with disabilities. Section 508 was originally added to the Rehabilitation Act in 1986, and it received significant expansion with its amendment in 1998.
Section 504 requires all agencies to provide equal opportunities to participate in programs and benefits run by the government. Furthermore, state entities must provide auxiliary aids such as braille devices, audio tapes, interpreters, captioning for video, and other methods to ensure website accessibility. Auxiliary aid can be requested by people with disabilities and agencies need to consider their requests.
Section 508 suggests that all state entities are required to ensure comparable access and use of all electronic information technology to everyone.
502 of Section 508 is meant to include interoperability with Assistive Technology to enable accessibility for every software platform and tool.
503 of Section 508 says websites/applications must permit user preferences to override platform settings for color, contrast, font type, font size, and focus cursor.
WCAG 2.1 requires content to conform with its standards and design a website or application to the given recommendations. The W3C encourages the use of the most recent version of WCAG to stay updated with modern web accessibility policies.
YOU MIGHT ALSO LIKE: Difference between ADA and Section 508
Pragmatic policies that are enforced on websites and applications!
The government of Nevada has enforced the applicable laws (WCAG 2.1 and Section 508) on all federal, public, and private entities in Nevada. The laws are not just limited to services and platforms offered by the Department and include all outside vendors and services as well.
Accessibility policies include:
WCAG 2.1 standards

It is the state of Nevada's current approved accessibility standards. Every website must conform to WCAG 2.1 level A and AA. Whatever content a website is offering to its users, should be accessible and if it is not, then it is the entities' responsibility to provide alternative options to access the content.

Here is a list of some of the requirements for a website/application (as per WCAG 2.1 level A and AA conformance) to make it accessible.

Graphics – websites ought to have simple images with alt text, animations must be avoided (if not necessary), and dynamic content needs to be accompanied by stop, hide, pause buttons, etc.

Colors – color contrast is an important facet to look upon; and essential information should not be color-based only.

Downloadable files – PDF files and other documents must be accessible.

Data tables – rows and columns need headers for better comprehension, table cells must be grouped.

Multimedia – video, and audio clips should not be longer than the suggested time limit.

Forms – its response time, labels, and other controls need to be checked.

Keyboard – only keyboard navigation is necessary.

Text-only pages – required to be reviewed carefully to ensure readability.

Development policy

The state of Nevada entity ADA coordinators is responsible for ensuring that the website and every tool/software related to it must be governed by 502 (interoperability with assistive technology) and 503 (applications) of Section 508, and by WCAG 2.1 as well.

Procurement policy

Every software, technology, and tool used to develop or maintain digital properties in Nevada must follow the procurement policy:

The state of Nevada entities is obligated to ensure that accessibility requirements can be early planned for purchases through any procurement method to include accessibility.

Procurement policies must be designed according to 502 and 503 standards of Section 508 and WCAG 2.1.

Maintenance

Once remediated, websites must be maintained to adhere with ADA guidelines, and all latest content is expected to meet each compliance guidelines.
How to meet the website accessibility compliance?
Primarily, if you are about to commence a new project, accessibility considerations must be there from the beginning to avoid inaccessibility problems.
Ensure all team members understand ADA accessibility guidelines so that they can curate and place elements aptly on the website. A trained team can help in reducing project overdue and there is no risk of delayed projects.
Website remediation needs a thorough review of the entire website to fix each inaccessible element. And once website remediation or new project designing is done, its testing under WCAG 2.1 conformance level A and AA is mandatory.
YOU MIGHT ALSO LIKE: Cost to make website ADA compliant
Wrapping up
Concisely, each law that is applicable in the state of Nevada focuses on incorporating accessibility in the electronic information technology.
Fostering accessibility and improving user experience is the basic idea behind instilling digital accessibility. The fewer accessibility issues, the wider the market reach for any state agency will be. Here to note that remediating websites for WCAG accessibility has become easier by using quick web accessibility improvements widget (such as All in One Accessibility).
Skynet Technologies, a proud associate member of the International Association of Accessibility Professionals (IAAP) and a recognized participant in W3C takes immense pride in its valuable contributions to the global accessibility community.
As specialists in WCAG and ADA website accessibility, we provide a wide range of services to meet a variety of diverse needs. Whether you require quick accessibility improvements or a complete overhaul of your website accessibility, you can count on us to meet your requirements. The range of services we provide covers every aspect of website accessibility, including design, audit, consulting, remediation, support, and ongoing maintenance.
To further the cause of digital accessibility and inclusivity, please do not hesitate to reach out to us either at [email protected] or via the provided contact form. Our mission revolves around aiding you in enhancing the accessibility of your digital presence and improving inclusivity for all.