Adobe Commerce 2.4.5 has been released – What are the exciting features?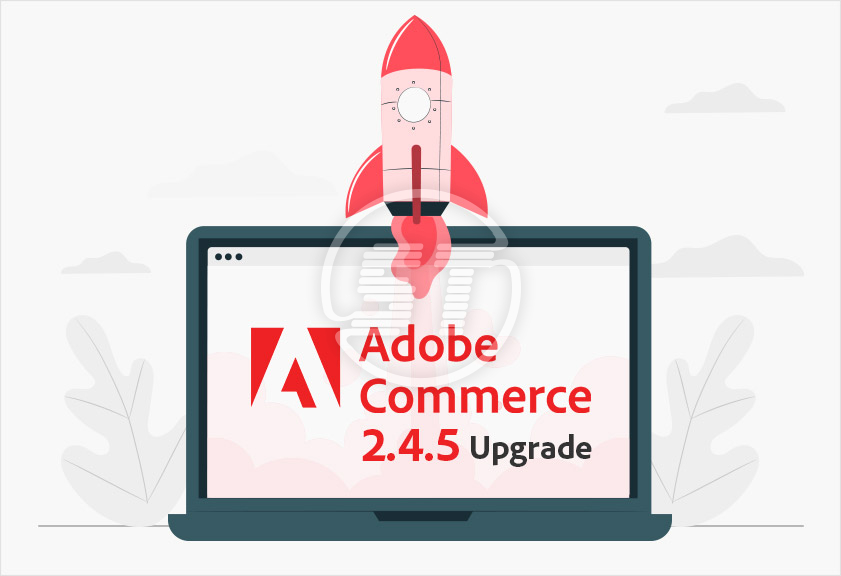 Are you ready for the new Adobe Commerce 2.4.5? Do you know what is new with this recently released version?
Adobe Commerce 2.4.5 has been released on August 9, 2022. The latest version has arrived with updated platform quality, improved GraphQL caching, new payment methods, many accessibility updates, performance improvements, and whatnot.
The latest release also has got fine-tuning in the integrated Google modules. Moreover, it includes live search functionality for B2B users. Approx. 400 quality fixes with myriad improvements you get with new Adobe Commerce 2.4.5.
Now, Adobe Commerce (Magento) store owners are ought to upgrade their stores with the latest version to leverage its advantages. Read the article to know about the worth of upgrading adobe commerce to a latest version the upgraded features and functionalities of Adobe Commerce 2.4.5
YOU MAY ALSO LIKE: Adobe Commerce 2.4.6
Improved features of Adobe Commerce Version 2.4.5
Platform upgrades
Adobe Commerce 2.4.5 is compatible with ElasticSearch 7.17 for on-premises Adobe Commerce stores.
OpenSearch is the default search engine for version 2.4.5.
Adobe Commerce 2.4.5 and Magento open-source 2.4.5 both support composer 2.2.
TinyMCE 5.10.2 is supported by the new Adobe Commerce 2.4.5.
Moreover, jQueryUI (1.13.1) is compatible with this latest version.
The upgraded version also updated the DHL integration schema from v6.0 to v6.2.
All the JavaScript libraries have been updated to their latest versions.
All outdated dependencies are removed.
Composer dependencies are also updated to their latest versions.
Security Upgrades
20 new security improvements and settlements have been done in Adobe Commerce 2.4.5.
reCAPTCHA support for Wishlist sharing, gift card forms, and creating new accounts.
Improvements in inventory templates security.
ACL resources to inventory get added support.
The HtmlPurifier library can be used by the MaliciousCode filter.
Performance and Scalability Upgrades
Indexing time has been reduced significantly in the latest release.
Primary indexes' numbers have been reduced from 3 to 1 for the catalog_product_index_price_tmp table. This will improve the performance of the primary index.
GraphQL Upgrades
Faster page load speed to improve the shopping experience by the quickest rebuilding of unified storefront GraphQL schema.
In Adobe Commerce 2.4.5, GraphQL API can consume the authorization token's expiry date and time with the help of JSON web tokens (JWT).
Session usage is removed from the HTTP header.
Adobe Commerce 2.4.5 allow you to disable all the session cookies for all GraphQL operations.
Payments
This latest version of Adobe Commerce introduces Apple Pay for all the merchants on the product details page, mini cart, shopping cart, and checkout workflow.
Eliminated Braintree KNOUNT fraud protection from Adobe Commerce 2.4.5 codebase.
For all Braintree payments, the option "Always request 3DS" has been added.
PayPal pay later option is available with this version for the merchants operating from Spain and Italy.
Store admin can preview the options PayPal Credit Card and Pay Later in the backend.
PWA Studio
Adobe Commerce 2.4.5 is compatible with PWA Studio v.12.5.x.
In this version, PWA studio collects shoppers' behaviour data for web analytics.
Live Search
For B2B customers, a live search option has been introduced in Adobe Commerce 2.4.5.
Google Analytics
The new Adobe Commerce 2.4.5 has a set of in-built modules for Google Analytics, Google AdWords, Tag Manager, and Optimizer which is an added advantage when it comes to integration with Google services.
Integration with Adobe IMS
Merchants can integrate Adobe Commerce authentication with Adobe IMS authentication workflow to simplify the login process for Adobe Commerce.
Branding and Style Update
With the latest version, the admin has the choice to coordinate with Adobe's brand strategy and work on headers, footers, data grid colour upgrades, and navigation elements.
B2B
The latest version has optimized database data that is required to implement the Shared Catalogue features. This SKU multiplication reduction results in a performance boost. Earlier, Adobe Commerce used to duplicate each SKU in the catalogue for every Shared Catalogue. But now unique SKUs get directly assigned to the Shared catalogue.
Adobe Sign
Now merchants can add a signature agreement page to Adobe Commerce checkout that is powered by Adobe sign.
There is much with Adobe Commerce 2.4.5. You will come to know about this latest version when you will upgrade your store. Seek the help of your Adobe Commerce developer team.
Upgrade compatibility tools in Adobe Commerce 2.4.5
Improvements and enhancements include:
Schema changes and incompatibilities will get identified by database schema validation.
In Adobe Commerce 2.4.5, UCT identifies code deprecations and provides precise recommendations to resolve all the issues.
Incompatible changes within a method or constructor signature are now easy to identify with the help of method signature validation.
DI configuration validation verifies references to removed non-API core classes in di.xml and preferences for core classes and interfaces.
More fixed issues in Adobe Commerce 2.4.5
At the time of Admin URL customization, Adobe Commerce does not toss an exception.
Myriad core code issues have been fixed in the latest version.
With the help of Klarna, an upgrade from Adobe Commerce 2.4.2 to 2.4.5 becomes easier.
The path to Adobe Commerce Analytics is no longer hard coded.
Accessibility has improved in Adobe Commerce 2.4.5. Now the platform has become more comprehensive and easier to use for all users.
Adobe Stock sign-out becomes simple.
Calculation of cart total for bundle products is now more correct because the Product Sub-select rule is applied.
The entire page cache is not visible as disabled in the admin if the Adobe Commerce cache is flushed and use_stale_cache is enabled.
The address search pop-up in checkout does not cause DOM errors.
The SQL query has been optimized to avoid locking the whole quote table, which used to affect quotes after disabling the cart price earlier.
And much more. Please go through the release notes of Adobe Commerce 2.4.5.
Wrapping up
As you have seen, Adobe Commerce 2.4.5 is all set to refurbish your store. Every facet of the store has been covered in this upgrade to provide you fine-tuned store experience. So, what are you waiting for? Upgrade your Magento 2 store to Adobe Commerce 2.4.5 for sturdy security, unerring performance, and exceptional UX.
Reaching out to a professional is a better choice because they will upgrade to the newer version without hampering your current store's data and SEO.
We are Adobe Bronze Solution Partner. We provide end-to-end adobe commerce solutions including UI/UX design, platform migration & upgrades, API / integrations, multi-vendor multi-channel marketplace, multi-tenant solution, performance optimization, Google core web vitals implementation, digital marketing, omnichannel strategy, Adobe Commerce store ADA compliance & security, product information management solution, and more. omnichannel innovation and full-funnel service for every kind of business. Our Adobe Commerce experts worked with many kinds of businesses and they can help you achieve your business goals according to your needs. Get in touch with us at [email protected] or submit the following request free quote form to know more.